The Story behind the BU Wind Ensemble's New Album, Expanding Spaces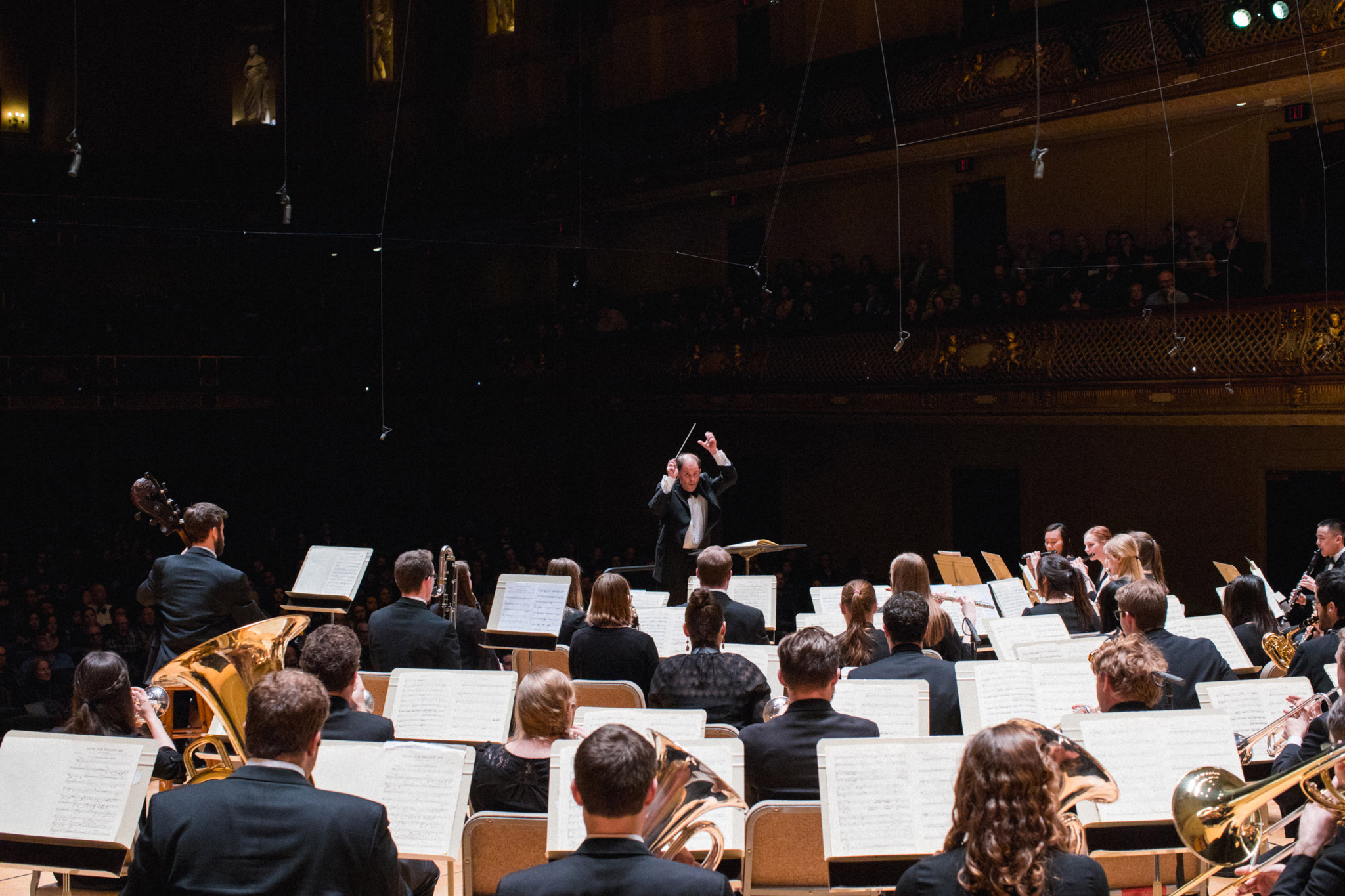 Music
The Story behind the BU Wind Ensemble's New Album, Expanding Spaces
Believe it or not, BU professors have lives—and passions and projects—outside of their lectures and labs.

Recently, four College of Fine Arts School of Music composers and the Boston University Wind Ensemble and its conductor released an album of contemporary classical music called Expanding Spaces. The music on the album, on the Summit Records label, features performances by the Wind Ensemble's more than 80 wind, brass, percussion, harp, and piano students and was recorded at WGBH Studios. Expanding Spaces is the culmination of an extensive and professional collaboration of seasoned and emerging musicians.

BU Today spoke with conductor David Martins, a CFA master lecturer in music, composers John H. Wallace (CFA'03), a CFA assistant professor of music, Ketty Nez, a CFA associate professor of music, Rodney Lister, a CFA lecturer in music, and Richard Cornell, a CFA professor of music, as well as students from the ensemble, about the music's inspiration and how the album came to be. Interviews have been edited and condensed for clarity.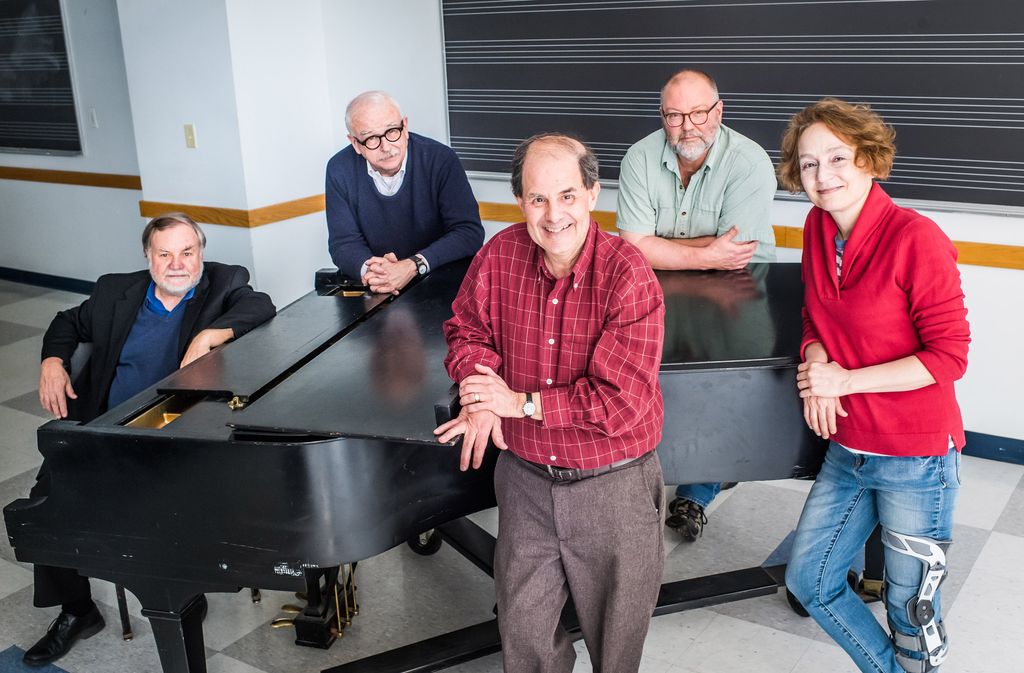 David Martins, conductor: What wind ensembles used to do was tour. You'd send a group out and they'd be invited to a festival. But that's cost-prohibitive now. So I thought, let's see if BU composers are willing to write pieces for us. That way we can show off their work and the students performing them.

Richard Cornell, composer, Solar Prominences: When Martins suggested the project, I realized Solar Prominences had never actually been recorded. I wrote it back in the '80s. The piece was sort of lying around. At the time I was excited about new photos from NASA'S SOHO Project—the satellite that searched the sun—and the kind of rhythmic activity of dissonance, and harmony.

The BU Wind Ensemble got the piece in really good shape. I'm very happy about what they did.

Katharine Hurd (CFA'16,'19), clarinet: It was wonderful to be able to take part in my first serious recording project in such a professional environment. Recording at WGBH made me feel like the University was willing to invest time and money into the School of Music.

Martins: We'd plan out chunks of the pieces: "We need to get the balance in this or that." "Can we just focus on measure seven? I think we can get more freedom in the expression of phrase." And before you know it, the students are performing as if microphones aren't in their faces.

Jobey Wilson (CFA'20), euphonium: David Martins is one of my favorite people in the world to perform under.
Hayley Miller (CFA'17), flute: [David Martins] prepared us extremely well, helping us dig deeper in understanding the music by bringing in the composers to work with us and approach the pieces in different ways.

Rodney Lister, composer, Squares and Oblongs: Squares and Oblongs takes its name from a passage of The Waves by Virginia Woolf. It starts with a clarinet and a flute, and it echoes. The backbone of it is this series of duets. It kind of speeds up as it goes. It's sort of a loop.

Squares and Oblongs is dedicated to Lister's mentor, Peter Maxwell Davies.

Martins: With Rodney's piece we were really working with the hierarchy of the voicing—which instruments need to come out here more?

Jesse F. Colford (CFA'18), tenor saxophone: I remember Ketty Nez's Four Scenes from Juliet being a dense and challenging piece. The moment that stands out is when we created a tone and color that made her say, "That's it!"

Ketty Nez, composer, Four Scenes from Juliet: I'm not a wind performer. I'm a pianist. I don't know what it's like to hold your breath! Martins said, "Write a 10-minute piece about space. It took a couple of years to get done. I used textures from my opera Lina and the Wolf. And I thought, let's just try and see what happens.

Martins: Four Scenes from Juliet has a complexity of rhythm that's extraordinarily difficult.

Colford: Our close work with [Nez], along with extra time in the studio, allowed us to overcome musical challenges and become better players.

Jordan Carter (CFA'17), percussion: Martins knows how to communicate effectively to the ensemble to get what he wants without being a tyrant. His approach to rehearsing the music demonstrates a deep knowledge of the score and makes every part feel as if it is the featured part.

John H. Wallace, composer, The Vacant Shore: I think I was the last of the four to get performed. When I was thinking about what to write, it had been about a year after my father passed away. I was dealing with all that stuff. And I was reading this poem by Longfellow, "The Tides." He had written this right after his second wife died a horrible death. There's this metaphor of the waves, grief that rolls in and rolls out. At the end, the idea turns away from the grief and to acceptance and moving on. I thought that was a very uplifting thing. It just struck a nerve with me. And I used that as a kind of jumping-off point.

Martins: Vacant Shore is very tonal compared to the other pieces.

Wallace: In the music there are these waves of sound that come in and wash over you. And there's a digression in the center, where the music gets a little more quiet and a little less active, and then works its way back to a repetition of the original material, and ends as a more uplifting piece.

Martins: Though the four pieces on the album were written completely differently from each other, they work together. Students now have a CD that was commercially produced, and it puts the Boston University Wind Ensemble on the national and international stage.

Hurd: It was an honor to be selected to work on a project that will be held up as some of the best work that the BU Wind Ensemble can produce. Looking back now, it seems vaguely surreal.

Miller: Working with a group of people to reach a communal goal is a special experience that brings a sense of unity.

Hayley Miller (CFA'17) and Kevin Grainger (CFA'15,'17), who performed on Expanding Spaces, met playing in ensembles; they plan to marry in September.