To Do Today: The Patios at City Hall, an Oasis in the Center of Boston
Urban setting features farmers market, beer, mini golf, and puppies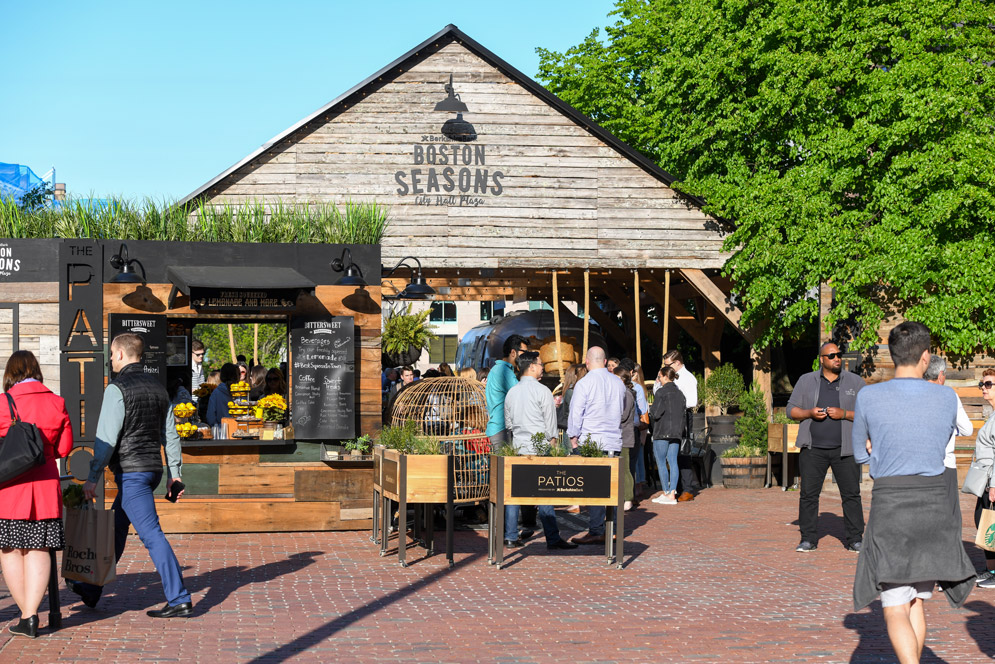 Looking to unwind in the middle of the city this summer? The Patios at Boston City Hall Plaza have returned, with an improved lineup of events and places to eat.
New this year is a farmers market, called Boston Public Market at City Hall, with vendors like Berkshire Mountain Bakery, Koshari Mama (Egyptian street food), and Stillman's Farm.
The farmers market is open on Tuesdays and Thursdays through November 19, from 11:30 am to 6:30 pm, overlapping with the food trucks arriving at 5 pm, making for enjoyable, food-filled evenings at City Hall Plaza. Food trucks such as Amigos Locos, Sa Pa (Vietnamese), and Get Your Irish On alternate on Tuesday and Thursday evenings until 8 pm.
"The farmers market has only been running for a week, but we're happy with the customer response so far," says Tim Johnson, Boston Public Market marketing coordinator. "It does take time to build customer awareness, and we're confident people will eventually view the market as a convenient place to get groceries and snacks on their way to the MBTA or while they're on a break from work."
If you're parched after all the shopping, check out Wachusett Brewing Company's trailer, serving beer and margaritas. The beer starts flowing at 4 pm Monday through Thursday, 2 pm on Friday, and noon on Saturday and Sunday.
City Hall Plaza also hosts Wag Wednesdays, which brings puppies from Dedham-based dog rescue Shultz's Guest House from noon to 2 pm weekly. Last year, the popular program led to 200 applications and 30 adoptions.
In addition to food, drinks, and dogs, the Patios have power outlets, WiFi, mini golf, and the permanent pop-up cafe Bittersweet Homestead.
Influenced by the popular beer garden trend, the Patios debuted in May 2018, and at the same time, the venue appeals to families. Created as part of a three-year revitalization plan for the area, in conjunction with Berkshire Bank, the Boston Garden Development Corp., BRM Production Management, and artist Jeff Smith, the Patios aim to provide an "urban oasis" in the heart of the city, between City Hall and Faneuil Hall.
The Patios at One City Hall Plaza are open every day through August. Take an MBTA Green Line trolley or Blue Line train to Government Center or an Orange Line train to State Street or Haymarket.