Finding the Inner Light in Painter Edward Hopper's Characters
CFA's Yo-EL Cassell's latest movement work also inspired by Magritte, Harry Chapin
If you're familiar with the paintings of Edward Hopper, movement probably isn't the first word they bring to mind. Even the ones with people in them have a static quality, as they stare out a window or into their coffee. But Yo-EL Cassell doesn't see things the way most of us do.
His movement theater piece Sunlight Interior arises from Hopper's paintings, which Cassell has long loved. But he takes the feelings they inspire in him and goes somewhere else entirely.
"The Hopper paintings embrace light, how light comes from behind, above, and around," says the College of Fine Arts assistant professor of movement, who conceived and directs the show, presented by his InMotion Theatre Thursday through Sunday, April 18 to 21, in CFA's Studio ONE.
Cast members double in various roles and even in the ensemble, playing characters you'll remember if you know Hopper's work, including the Usher and the Nighthawks.
"The characters you may see in a Hopper painting—what if they stepped into the light, what would that story mean?" Cassell asks. "And I thought that story might be a lot like the work of Magritte, the office worker who yearns to fly, or the dreamer who yearns to be a butterfly. They're embracing their inner light."
In part that's why he also pulls the imagery of the surrealist painter Rene Magritte into this physical theater production. Cassell is something of a magpie; he collects disparate elements into the artistic nests he makes for himself. Sunlight Interior is the companion piece to a 2005 production, Moonlight Interior, he staged in New York, and in it, besides the two painters, he is pulling inspiration from the Wim Wenders film Wings of Desire and the Harry Chapin song "Mr. Tanner," about a barber who closes his shop at night and sings to himself and feels whole.
"The song has become sort of the role model for these separate but relatable vignettes that support each other and kind of overlap, that celebrate what it means to step into the light, to embrace your inner light even if it's dangerous, sensual, exciting, and joyful," Cassell says.
As he put it in a short essay about the project: "What if we as individuals had the chance to embrace our inner light or sunlight interior—our passions, vulnerabilities, and desires? What would happen when we actually step into the light to embody a life that seems so attainable but inaccessible?"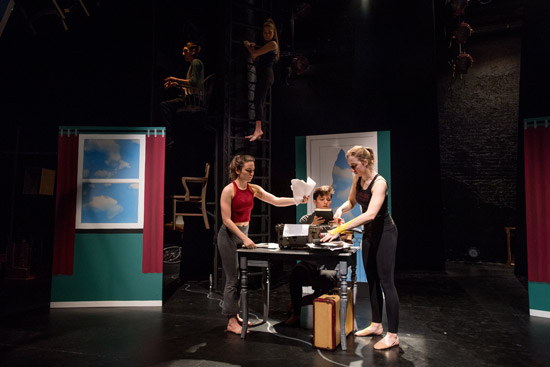 When grad student Cayenne Douglass (GRS) started BU's MFA playwriting program in September, someone told her she should work with Cassell, so she sought him out, and "instantly loved his generosity of spirit," she says. He told her about InMotion and the concepts for Sunlight interior and she signed on immediately, ending with a credit as text contributor. "I trust Yo-EL so much that even before I saw a complete run, I knew whatever he would do would be beautiful and well thought-out," Douglass says.
When she joined the project, Cassell's script included quotes from several sources, and they began to talk about replacing them with original dialogue that would be recorded and played back during the show as a voiceover, rather than spoken by the actors during the performance. The idea was for the words to better connect each vignette to the overall concept.
"So much of it was in his head," Douglass says. "If you look at the script, it's like a movement blueprint, and there are pictures in it and concepts he's going for, as well as the physical actions, and if you're not in his head, it can be a little hard to follow." A three-hour phone conversation they had over winter break put her on the right path, she says, and from there it was a matter of just trying things to see what worked best, and then trying again.
The dialogue that Douglass wrote for two characters in the show, known as the Lovers, offers echoes of past conversations between them. Other characters' words are straight stream of consciousness. But the butterflies are really direct address to the audience.
Helping Cassell to realize his vision is a large design team of School of Theatre undergrad and grad students, among them scenic designer Christa Tausney, costume designer Azucena Dominguez, lighting designer Mark Fortunato, and sound designer Stephanie Yackovetsky. The cast consists of undergraduate acting and theater arts students. Many, including Douglass, have taken Cassell's movement classes and she says that gave them a shared vocabulary.
In any collaboration, you invest in the person before the project, Douglass says. And while she acknowledges she is not "super-quick to trust," the chance to work with Cassell was an instant yes.
"Whenever he has a teaching assistant or an assistant director or me in the room, he always wants to check in and make you feel like your voice is valid and equal," she says. "I think that's rare. Either you have someone who's like, 'I know everything,' or someone who doesn't know what they're doing and is looking for other people to create their piece. It's amazing to have someone who knows so strongly what their vision is, but is also equally open to collaboration."
Sunlight Interior will be performed Thursday at 7:30 pm, Friday at 8 pm, Saturday at 2 and 8 pm, and Sunday at 2 pm at the College of Fine Arts Studio ONE, 855 Commonwealth Ave. Project is supported in part by an Arts Grant from the BU Arts Initiative–Office of the Provost. Tickets are $15, general admission; $10, BU alumni; and free with BU ID at the door, subject to availability. Find more info here or call 617-353-3380.