Sixth Annual BU Giving Day Is Today
Over $1 million in challenge money at this year's 24-hour fundraising event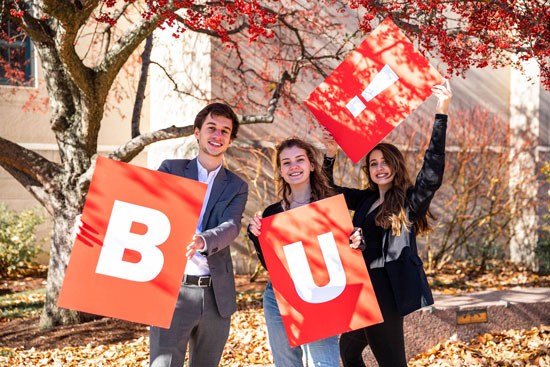 Today marks the sixth annual BU Giving Day, the 24-hour fundraising drive that runs from midnight to midnight (EDT) and brings together alumni, students, faculty and staff, parents, and friends of Boston University to help move BU forward.
Last year's event raised in excess of $3 million from more than 10,000 unique donors. By giving to their favorite school or college, athletics team, club sport, student activity group, or program, donors provide critical support for their causes and help each area earn bonus funds—available for one day only.
"Every gift has an impact at BU, and especially so on Giving Day," says Scott Graham, executive director of annual giving. "Each individual donor has the power to help advance scientific research, change the lives of scholarship students, support our student-athletes in competition, and provide momentum for hundreds of causes at BU."
More than $1 million in challenges available this year
For the first time, this year more than $1 million in challenge funds is available for Giving Day—thanks to generous support from sponsoring donors.
Challenges are tracked via the Giving Day leaderboards, which show the donors and revenue for each BU cause in real time. Visit the Giving Day website to learn about specific challenges, including hourly challenges such as the Most Faculty & Staff Donors hour (11 am to noon today), for additional chances to earn bonus funds for your cause.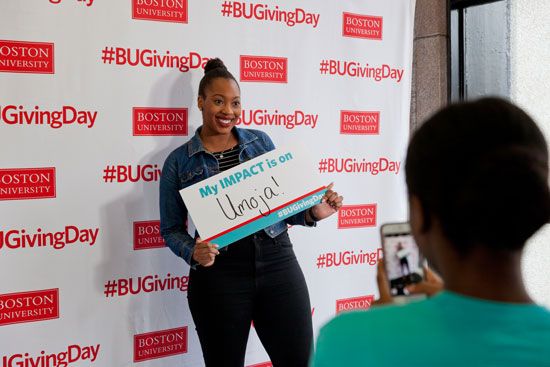 Student clubs & organizations challenge
Student clubs and organizations provide a much-needed home away from home for BU students—places to create memories, build friendships, and develop leadership skills outside the classroom. Thanks to a generous group of young alumni sponsors, $5,000 is up for grabs by the top SAO-approved student clubs or organizations with the most donors this Giving Day. Learn more about the Student Clubs & Orgs Challenge here.
"I'm incredibly excited for the Clubs & Orgs challenge this year on Giving Day, because it's a great way to help our student activities groups earn bonus funds for their programs," says senior Mary Milad (CAS), cochair of the 2019 Class Gift campaign.
Social media momentum
Participants can use the hashtag #BUGivingDay in Facebook, Instagram, and Twitter posts to join the conversation and to check out what others are saying about Giving Day. New this year on Instagram, Giving Day stickers allow you to add flair to your posts (including a sticker of the popular Smiley the Giving Day Robot). People can also "Rhettify" themselves using a new Terrier filter on Snapchat for Giving Day. Learn more about how to spread the word using the Giving Day social toolkit.
On-campus presence
Students, faculty, and staff on the Charles River and Medical Campuses are encouraged to stop by various Giving Day tables for opportunities to receive Giving Day giveways and be featured in social media posts today. The GSU Link will once again feature a carnival with games, food, and prizes from 9 am to 3 pm.
Giving Day is truly a BU-wide community movement. Don't miss out on the excitement today.
#TBT to last year's #BUgivingday! Were you one of the 10,059 unique donors? Tell us what moved you to give? pic.twitter.com/Rpcrl1MeHF

— BU Alumni (@bualumni) March 14, 2019
Stephanie Quinn (COM'09, CAS'09, Wheelock'17), BU director of annual giving, can be reached at slquinn@bu.edu.