Building Bridges Between the Environmental and Racial Justice Movements in Boston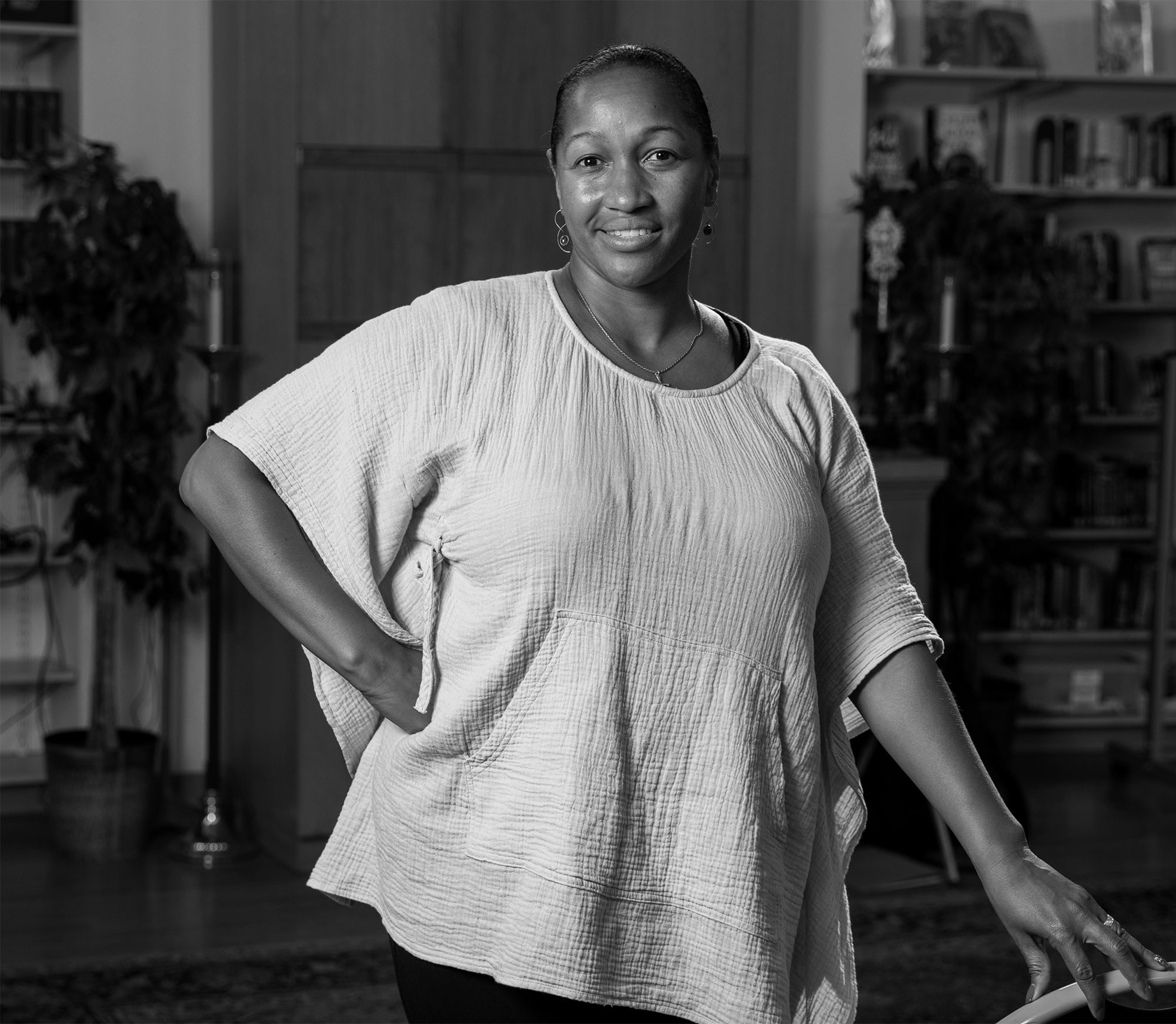 Rev. Mariama White-Hammond
Pastor, Environmentalist, and Justice Activist
They are determined to use their experience, influence, and positions to help make their business, organization, and world a more inclusive place. They are breaking barriers—and then reaching back to help those behind them overcome the same hurdles. They are mentoring students or younger colleagues, hiring diverse candidates, offering opportunities, and ensuring that employees succeed and are promoted so that their workplace and their communities reflect the richness and talents of the country's increasingly diverse population.
They are BU alumni, faculty, and staff—of every race, ethnicity, age, and gender—and they are "Opening Doors" for the next generation.
---
Mariama White-Hammond organized her first boycott at the ripe age of seven, when she gave up Coca-Cola to protest its investment in apartheid South Africa. Now, 33 years later, she is Rev. White-Hammond (STH'17) and she has expanded her portfolio, working for racial justice as part of her activism in the largely white world of environmental protection.
Research finds that nonwhites worry more about the environment than whites, White-Hammond notes. People of color and the poor often live in areas hit hardest by air pollution and hurricanes, the latter intensifying because of climate change. Fighting planetary despoiling not only helps those communities, she says, it also builds bridges with white environmentalists who might become activists for racial justice.
The pastor of New Roots AME Church in Boston, she is the "daughter of black church royalty," as Boston magazine called her: her father, the Rev. Ray Hammond (Hon.'99), cofounded the Boston TenPoint Coalition against gang violence; her mother, the Rev. Gloria White-Hammond (CAS'72, Hon.'09), is a leader in the campaign against genocide and strife in Sudan's Darfur region. Both are physicians.
Bostonia spoke with White-Hammond about the diverse worlds, racial and political, she travels in and how she navigates those that don't often see someone who looks like her.
Q
&

A
With Mariama White-Hammond
Bostonia: What was your experience like at BU?
White-Hammond: I had a good experience. I was in my mid-30s. Some folks were like me—already had careers and were coming back [to school]. It created space to explore where I am theologically and where I want to go after having a bit of life experience. I had a really good connection with my professors.
How did you get started in environmentalism?
My environmental work probably is different from most environmental folks, who start exclusively from a nature-based perspective. I do value plants and animals; I'm a gardener, and I feel connected to the environment. But my approach is more about sustaining all the life on the planet. I've been asking that question [always] about humans; my thinking has broadened to include plants and animals. I see my ecological work as the evolution of the work I've done to think about making life sustainable for everyone. How are we paying attention to the most marginalized and left-out? Our planet is definitely on the list of marginalized, overlooked, and abused.
Did your family open doors for you in ministry?
That's partially true, but that was probably why I was not interested in it for a very long time. As much as I feel called to be a clergyperson, I also think those within many church communities can elevate clergy to the detriment of asking what laypeople are called to.
Teenage rebellion on your part?
I think some of that was rebellion against my parents, and some was having a deep respect for what it takes to do the work. I still believe everybody has a calling, and when you start centralizing your beliefs in a small group of people, you actually minimize what's possible. If everybody was figuring out their calling, it would unlock so much more potential, possibility, power. I think the church is weakened by its heavy focus on just the clergy.

My community organizing experience has a lot to do with how I pastor, helping people find their own connection with God and live out their ministry.

Did you have a mentor?
Obviously my parents have been super-influential, but I wouldn't say that I have only one or two [mentors]. I grew up in a community, a church community and organizing community, where lots of people really invested in me. I could give you a long list. You probably wouldn't have space.
Did you ever consider using your talents in another calling?
Yes. I still do. I am not a full-time pastor. Currently, I do consulting around economic inclusion and justice. I am just as likely to be at the Statehouse as I am to be running a service. I can get into the weeds with you about solar policy. I at one point considered running for office.
Is that still a possibility someday?
Yeah. Who knows? I have my own knitting business. I try not to be constrained by: this is what a pastor's supposed to be. I love that people go, "Wait, you're a pastor?" I'm young and I'm black and I'm a female, and I don't always look like what they expect.
Have you yourself ever faced racism or intolerance?
I've been in many fields where that was the case. I became executive director of a youth organization when I was 22, and I would show up in spaces and people would be like, "Oh, you must be a staff person." And I'm like, "No, I'm the executive director."

I definitely experienced a lot around gender, a lot around race. You have people you're asking to give you money, and they would make assumptions about whether or not you could [handle] it. And I'd be saying to myself, if I were a young white guy seeking venture capital from you, would I be facing the same scrutiny? I go into spaces with other clergypeople who don't believe that women should be ordained. I am in the environmental movement, which is overwhelmingly white.

A good chunk of my life I have lived moving in and out of spaces where people do not look like me, where people question whether I'm competent. Most of the time, people don't say to your face, "I don't think you're qualified." People will start explaining acronyms to me; if I said this acronym to you, clearly I know the word you're talking about. I will signal that I know this field, and they'll still make assumptions about what I know and do not know. The microaggressions are more frustrating than the people who just say racist things.
How did you handle those experiences?
People would like to see diversity if the people who are "more diverse" act like me and have the same opinions as me. A lot of the work is calling out the ways in which the [environmental] movement is exclusive. And sometimes that's hard for people to hear. One of the things God has gifted me with is an ability in multiple spaces to say hard things in a way that allows people to see the humanity of it and still asks them to change.

I've been in places where people have said, "We need to educate low-income communities about recycling." That may be partially true, but I want to call out that those communities create less waste than rich communities. If you really want to move to less trash, you should ask who's creating the most trash and what can we do to educate those folks. People who fly—it doesn't matter how many bamboo forks or recycling they do, you are knocking emissions out of the park.
What can people do in their own workplaces to make them more inclusive?
Start by assuming you are part of the problem and are the only thing that you can change. The people that I have friendships with are people who I can see are serious about their own practice. Secondly, there are books you can read, there are movies you can see, experiences you can expose yourself to, without waiting around for an LGBT person to educate you, waiting for a Latino person to educate you.

I have not yet read this, but "White Fragility: Why It's So Hard for White People to Talk about Racism"—multiple white people have told me it was super-helpful.
Can you talk about the current political climate with respect to diversity?
I am both saddened and hopeful. Nothing we're experiencing is new. For people of color, we may be surprised by the potency of it, but we're not surprised that it exists. The fact that [Donald Trump] got elected means there are millions of people who don't have a problem with his behavior. I believe the administration is encouraging racial animus, but it already existed.
 
It is also pushing a lot of people who were on the sidelines to get off the sidelines. At the same time, I have had to protect myself from too much news—Ayanna Pressley [D-Mass., US congresswoman] is a good friend, I pray for her daily and worry for her safety—I am seeing people who never cared about immigration coming off the sidelines. While we are losing ground right now, it is possible in the long run we will be stronger about fighting these issues.


Do you know BU alumni, faculty, or staff who are opening doors or breaking barriers? Email John O'Rourke at orourkej@bu.edu and recommend them for our "Opening Doors" series.

This Series
Also in
December 4, 2019

November 18, 2019

November 5, 2019