Patriot League Play Begins This Weekend for Softball Terriers
Home doubleheader vs Holy Cross Saturday, third game Sunday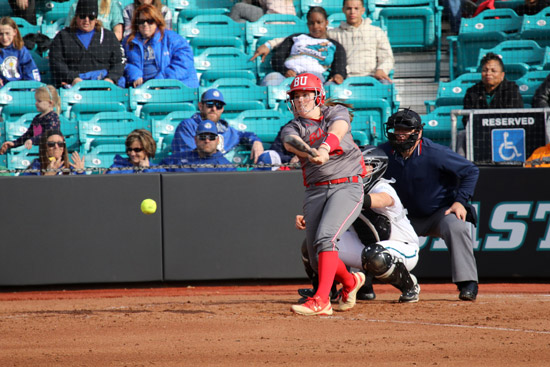 After starting a 12-game trip in California with three straight wins earlier this month, the BU softball team looked to be in for a pleasant surprise. In past games on the West Coast, the Terriers have struggled: even the conference champion 2018 team, which posted the program's best record under head coach Ashley Waters, came away with a 4-8 record.
But there were no pleasant surprises for this year's team. Instead: a nine-game losing streak, the longest since 2015. The trip, says Waters, transformed the offense-driven squad into a scrappy team that fights hard in every game.
"We needed a challenge like that to find our identity," Waters says. "I don't think anything's going to come easy. We're gonna have to grind for every single thing that we get."
This will be especially true on Saturday and Sunday, when the Terriers host intrastate rival Holy Cross in the opening series of Patriot League play.
"If this is the lowest of the lows, we have nowhere to go but up," says senior Alex Heinen (CGS, COM).
The Terriers returned home with a 3-1 win over UMass Amherst March 20, a victory the players describe as an important spark to get them back on their feet. "The Amherst game was a breath of fresh air," Heinen says. "We kind of gained back that confidence."
The team has since split the Nor'easter Classic, convincingly defeating Siena, 5-1, before falling 0-1 to Iona. The three scores since the team's return from California—3-1, 5-1, and 0-1—reflect how BU has survived this season: strong defense.
Behind the league-best 1.75 ERA of sophomore pitcher Ali Dubois (ENG), the Terriers have limited opponents to 2.65 runs per game. The field remains the league's best, with a .967 fielding average.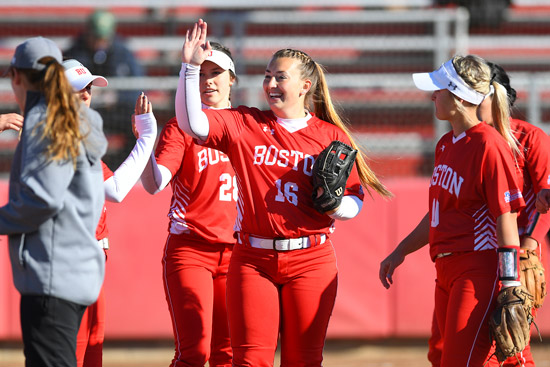 But the offensive end has been a different story. After posting a league-high .292 overall batting average last season, the Terriers now rank fifth of seven, with a .242 average. The early season had proved this team capable of putting up runs, as in February's Upstate Classic, when BU swept the tournament with 7.25 runs per game. Waters says the early team showed off one of the strongest offenses during her tenure.
"We started out showing that, but now it's completely tapered off," Waters says. "We need to own the second part of the year."
The team's struggles are no surprise. Last season's senior class featured four All-Conference Team honorees, among them a Player of the Year and the 2018 Defensive Player of the Year. While the 2019 Terriers have talent across the board, the loss of those veteran players has taken a toll.
"It's really difficult when you come off a year like we've had, and all of sudden your freshman class walks in with a lot of open positions," Waters says. "There were a lot of prolific players who led in statistical categories and helped us prevail in the end."
With conference play launching on Saturday, March 30, the reigning champion Terriers will need their best on both ends to defend their title. No matter the experience, each player will be expected to perform, the coach says.
"If you have a spot in the lineup, you better own it as if you've been here for four years," she says. "We're not a big team on excuses, so if you have a chance to play, you'd better take ownership of it, and you'd better do your thing. I don't care what year you are."
Waters doesn't regard BU as the top team. "I'll never give us that," she says. "We'll always be chasing something."
Right now, the Terriers are chasing a return to the offensive form they began the season with, Waters says. But for Heinen and the rest of the senior class, the ultimate goal is to return to the NCAA Regionals.
"When I came my freshman year, the seniors and upperclassmen wanted me to go to the Regionals as a freshman," Heinen says. "I want to pay it forward and have our freshmen experience that."
The BU softball team hosts Holy Cross this weekend for its first Patriot League series. All games will be at the BU softball field, 89 Ashford St. Saturday's doubleheader begins at noon, the second game at 2 pm. Game three is Sunday, March 31, at noon. Tickets are free.
Senior Jonathan Chang (COM) can be reached at jchang19@bu.edu; follow him on Twitter @jonathanychang.