Celebrating the New Year in Boston
Things-to-do
Celebrating the New Year in Boston
Check out New Year's Eve and Day festivities, concerts, ice skating, and more
Come Tuesday night, we will be ringing in the New Year in typical Boston fashion—which means plenty of live music, ice skating, fireworks, and dazzling light shows. We've put together a list of events and activities that are happening throughout the long weekend, comedy shows, concerts, museum exhibitions, and more.
We wish everyone a happy and healthy 2020.
New Year's Eve and New Year's Day Festivities
2020 First Night Celebration
Tuesday, December 31
Since 1975, Boston's First Night First Day celebration has been the most popular way to end the current year and start the next in Boston. This year's event, which offers free family-friendly entertainment, is expected to draw more than 200,000 people. Most of the action takes place in and around Copley Square. The live musical performances, on the main stage in Copley Square, begin at 11:45 am on Tuesday with a performance from three-part sibling harmony vocal troupe Dempsey Sisters. Other groups performing include female singers Sweet Harmony, the Boston-based retro rock group Morningbird, and the hip-hop/soul artist Daniel Laurent. You can also catch a skating show sponsored by the Skating Club of Boston on the Frog Pond in Boston Common. And the Boston Public Library's central branch in Copley Square will host free family activities and comedy acts throughout the day.
The annual procession from Copley Square to the Boston Common starts at 6 pm and will feature giant puppets, a Chinese dragon, and dancers. Be sure to stick around the Common after the procession for a fireworks display at 7 pm.
As midnight approaches, Copley Square will come alive during its annual Copley Countdown, with live music by "vocal powerhouse" Liz Bills, Roxbury native Najee Janey, and this year's headliner, Single By Sunday, who take to the stage at 11:30 pm and play through midnight. The countdown includes a midnight pyrotechnics and light show. There will also be fireworks over Boston Harbor. The best viewing sites are at Christopher Columbus Park, Fan Pier, and Piers Park.
Boston First Night is free to the public. Find a full schedule here.
Concerts
New Year's Eve with the Boston Pops Swing Orchestra and the Hot Sardines
Tuesday, December 31
This year's annual Boston Pops New Year's Eve concert features the Hot Sardines, a New York–based jazz band. The two groups will join together to perform covers of jazz songs and originals, channeling the music from New York speakeasies, Parisian cabarets, and New Orleans jazz halls. The doors open at 8:30 pm ahead of the show's 9:30 pm start time, and there will be a cash bar with several dining options.
Tickets, ranging from $45 to $145, can be purchased here.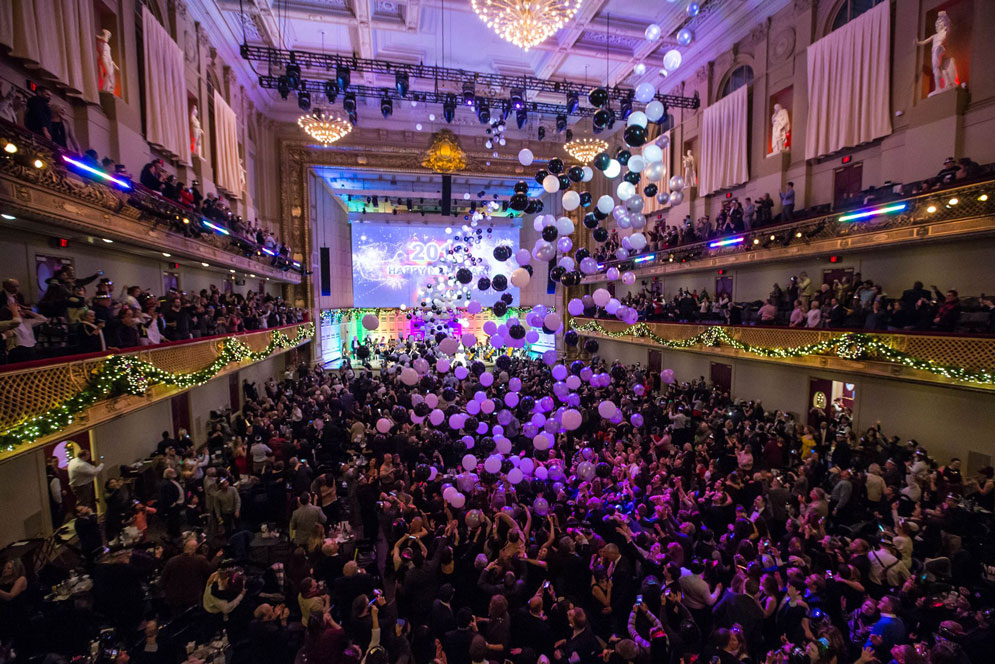 Boston Baroque's New Year's Eve and First Day Concerts
Tuesday, December 31 and Wednesday, January 1
Head to Harvard University's Sanders Theatre on New Year's Eve or New Year's Day to hear the Grammy-nominated Boston Baroque tackle two masterpieces by Johann Sebastian Bach and Antonio Vivaldi's "Nulla in mundo pax sincera." Music director and College of Fine Arts professor of music and historical performance Martin Pearlman will conduct the orchestra. Tickets are nearly sold out, so act fast.
The New Year's Eve show begins at 8 pm on Tuesday, December 31. The New Year's Day show begins at 3 pm on Wednesday, January 1. Tickets range from $25 to $105 and can be bought here for both shows.
Lil Dicky
Tuesday, December 31
Lil Dicky, a comedic rapper from the suburbs of Philadelphia known for hits like "Professional Rapper (feat. Snoop Dogg)," "$ave Dat Money (feat. Fetty Wap & Rich Homie Quan)," and the music video for "Earth," will perform at Big Night Live on New Year's Eve. The show is scheduled to begin at 9 pm and standing-room tickets are available.
Tickets can be purchased here.
Theater and Comedy Shows
New Year's Eve Party at Laugh Boston
Tuesday, December 31
Laugh Boston, a comedy club in the Seaport district, will host a New Year's Eve comedy show to ring in 2020. The lineup features well-regarded local acts like Will Noonan, Sean Sullivan, and Laura Severse. The show will begin at 7:30 pm, and Laugh Boston serves bar food, small entrées, and cocktails.
Tickets for Laugh Boston's New Year's Eve Party can be bought here.
Museums
The Polar Express 4-D Experience at the Museum of Science
Tuesday, December 31, and Wednesday, January 1
The Museum of Science brings the holiday classic The Polar Express to life in 4-D multisensory effects. Based on the Caldecott Medal–winning children's book, the short film tells the story of a young boy who embarks on a magical adventure to the North Pole on Christmas Eve. An exhibit hall admission ticket and a timed ticket are required, so check the website for available times.
General admission is $28 for adults, $24 for children 3 to 11, and $23 for seniors. Admission is free for members. 4-D theater tickets are an additional $6 for nonmembers, $5 for members. Showtimes vary per day: view the daily schedule and purchase tickets here.
December Vacation Week at the Museum of Fine Arts
Thursday, December 26, to Tuesday, December 31
The museum invites people of all ages to take part in a series of hands-on activities based on light. This year, visitors will have a chance to emulate a Persian mirrored-glass mosaic art technique, create rainbow art after learning how rainbows happen, and create a version of what they think a place with endless light would look like.
December vacation week activities are offered daily between 10 am and 4 pm, from December 26 to December 31. The activities are free with museum admission. Hours and admission prices are here (free to BU students and faculty/staff with ID).
Ice Skating
Boston Common Frog Pond
Surrounded by trees illuminated with holiday lights, Boston Common Frog Pond offers storage lockers, lessons, skate sharpening, and rentals (visitors can also bring their own). The Frog Pond was voted outdoor skating rink of the year by USA Today in 2018. Be sure to check out the café for some hot chocolate and other tasty treats.
The annual First Night Skating Spectacular, sponsored by the Skating Club of Boston, returns with a free show starting at 6 pm featuring 2018 Olympic Bronze Medalist Mirai Nagasu.
The rink is open for public skating from 10 am to 9 pm (10 pm on Friday and Saturday) throughout the festive period, but closed on Christmas Day. (The rink will close to the public at 3 pm on December 31 for the Frog Pond Skating Spectacular and will remain closed after the show.) Those under 58 inches are admitted for free, those taller pay $6. Skate rentals are $12 for adults, $6 for kids. Lockers are $5 and skate sharpening is $10 a pair. Ticket sales end 30 minutes before closing. You can find more information here.
Kendall Square
The Community Ice Skating @ Kendall Square outdoor rink offers a great experience for skaters of all ages and skill levels. The rink is open from mid-December to mid-March, weather permitting, so check their Facebook page for updates. The rink provides skating lessons for novices, skate rentals, skate sharpening, and a café. Find a full list of prices and services here.
Kendall Square Ice Skating is at 300 Athenaeum St., Cambridge. Hours for Community Ice Skating @ Kendall Square are here. Admission is $5 for adults, $3 for students with ID and seniors, and $1 for children age 13 and under; skate rentals are $8 for everyone except children 13 and under ($5).