Meet the Alum Behind Boston's Popular Cookie Monstah Food Trucks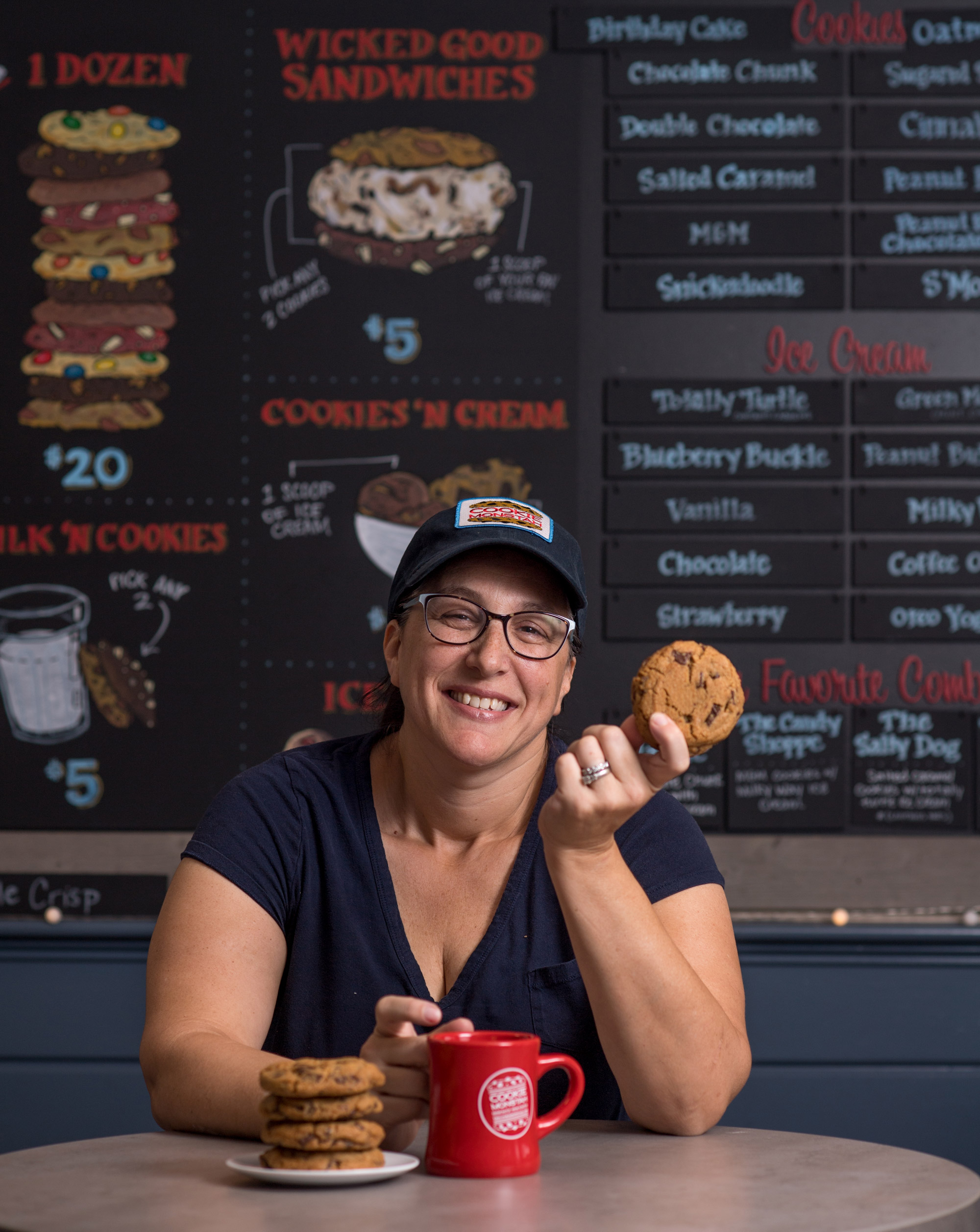 Food
Meet the Alum Behind Boston's Popular Cookie Monstah Food Trucks
Melissa Gale (SHA'95) dishes on her path to success
It's hard not to love creamy ice cream sandwiched between two cookies—and Melissa Gale has spent years perfecting her version of the classic treat. Gale is the owner of the popular Boston-based Cookie Monstah, food trucks and two brick-and-mortar stores that serve up baked-from-scratch cookies made fresh daily, ranging from flavors like classic chocolate chip to marshmallow-smothered s'mores, stuffed with ice cream from Richardson's Farms in Middleton, Mass.

Gale (SHA'95) honed her baking skills after years of watching her mother in the kitchen. "I knew since high school that I would spend my life baking—I used to skip school just to watch my mom bake her chocolate cake," she says.

After her studies at the School of Hospitality Administration confirmed to her that she belonged in the food service industry, she says, she took on gigs making desserts for Boston-area restaurants, including the legendary, but now-defunct Locke-Ober and Joe's American Bar and Grill. She later opened a retail bakery that operated out of the old Filene's department store in Downtown Crossing for several years. During that time, she perfected her classic chocolate chip cookie recipe, a combination of Callebaut chocolate (gourmet Belgian chocolate), fresh local butter, and bourbon vanilla that goes into her dough.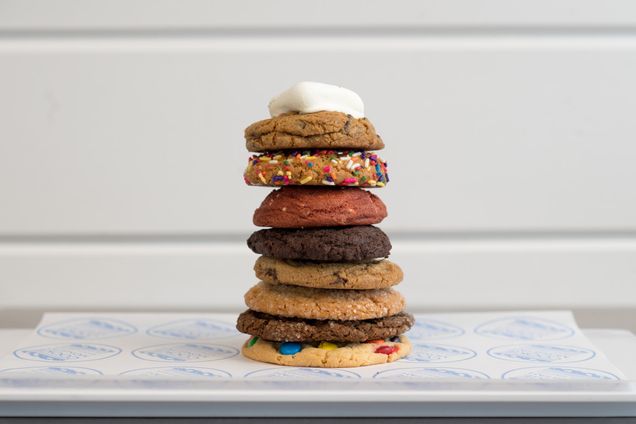 She eventually sold the bakery and managed a Starbucks in Burlington, Mass., for the next eight years. But, realizing that she really missed baking for a living, Gale decided in 2012 it was time to take a risk and return to pursuing her passion. Both she and her husband, Scott Lindeman, who had been a union carpenter for the Big Dig, were unemployed at the time and had just had their fourth child.

"I said to my husband, 'Build me a truck, a cute truck, and let's see where we can go,'" she recalls. So Lindeman worked with Gale's brother to figure out how to make the truck. On the first day, Lindeman took the truck to Cleveland Circle stocked with cookies. "I told him, 'Don't come home with cookies,'" Gale says. "He sold out by 2 pm."

The truck quickly became a hit, drawing crowds wherever it parked. And national attention was forthcoming too: it was featured on the Travel Channel show Bizarre Foods: Delicious Destinations. Today, there are six Cookie Monstah trucks, operating from April to December, serving up anywhere from a dozen to 15 mouthwatering cookie and ice cream options, including combinations like the Tahitian (oatmeal coconut cookies with coconut ice cream), the Red Monstah (red velvet cookies with mint oreo ice cream), and the Cup-O-Joe (double chocolate cookies with coffee Oreo ice cream).
Chances are, if you've spent any time around the city, you've spotted one of the signature light blue trucks plastered on the side with gigantic cookie ice cream sandwiches at heavily traveled spots like the Boston Common, the Greenway Carousel, and the SoWa Open Market. In 2017, Gale opened her first brick-and-mortar Cookie Monstah in Danvers to keep staff busy year-round.
"I don't like to not be busy, " she says. Two years later she opened a second place across from the Burlington Mall. Now, all the dough is mixed in the Danvers location for quality control and is brought to Burlington and baked fresh daily, she says. She sells half a million cookies a year, she estimates, including mail orders shipped around the country. "We ship all over, and there isn't a note written on the packages that doesn't make me stop and think, wow, we are a comfort during times of loss, birthday celebrations, or parents telling their kids they miss them from afar. They all bring a smile to my face."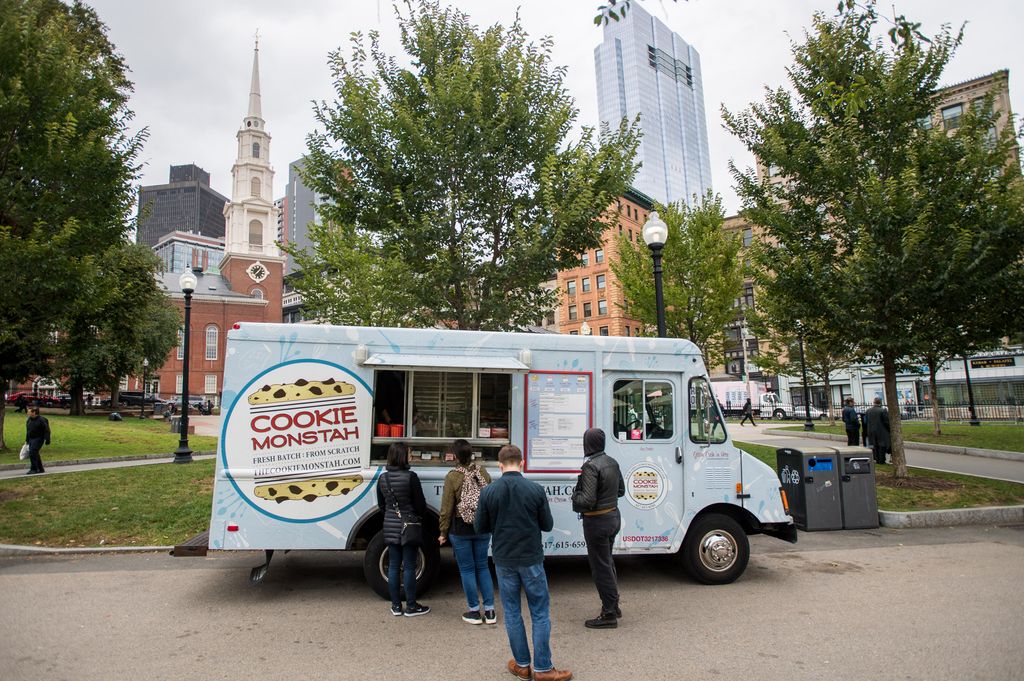 Although the staff has grown, Gale still mixes dough herself as well as "trays up"—packaging cookies for the trucks. And she gets behind the wheel of one of the trucks from time to time. "I also insist everyone from the bakery get on a truck gig once a year to remember why we do what we do," she says. "We bake and mix and scoop, but don't always get to see the end user."

Does she have a favorite cookie? Gale points to the chocolate chunk and the peanut butter, made with "tons of creamy Skippy peanut butter, refrigerated, then scooped, then baked. It gets this great ripple on top. Perfection."

---


"I told [my husband], 'Don't come home with cookies.' He sold out by 2 pm."


---
Inspired by her children's love of the shaved ice they've had on family vacations during the trucks' off-season, Gale and Lindeman last year launched another food truck concept, the SnoMobile. Gale says they created the business for their children. "They saw us build this from a concept to a plan to a truck. I want them to know they can do anything they set their minds to." The truck operates only during the summer months and serves regional versions of the frosty treat, inspired by the kinds you can get in Hawaii, Baltimore, New Orleans, and Nicaragua.

"We never really had a business plan," Gale says about that first Cookie Monstah food truck. The key to the success she's experienced is to "have integrity in your product, surround yourself with people with stamina, and don't ever listen to the noise. Believe in you."