Listen Up: Here's Our Roundup of Boston University Podcasts
BU-tied podcasts on sports, wellness, celebrities, PR, and more, from faculty, staff, students, and alums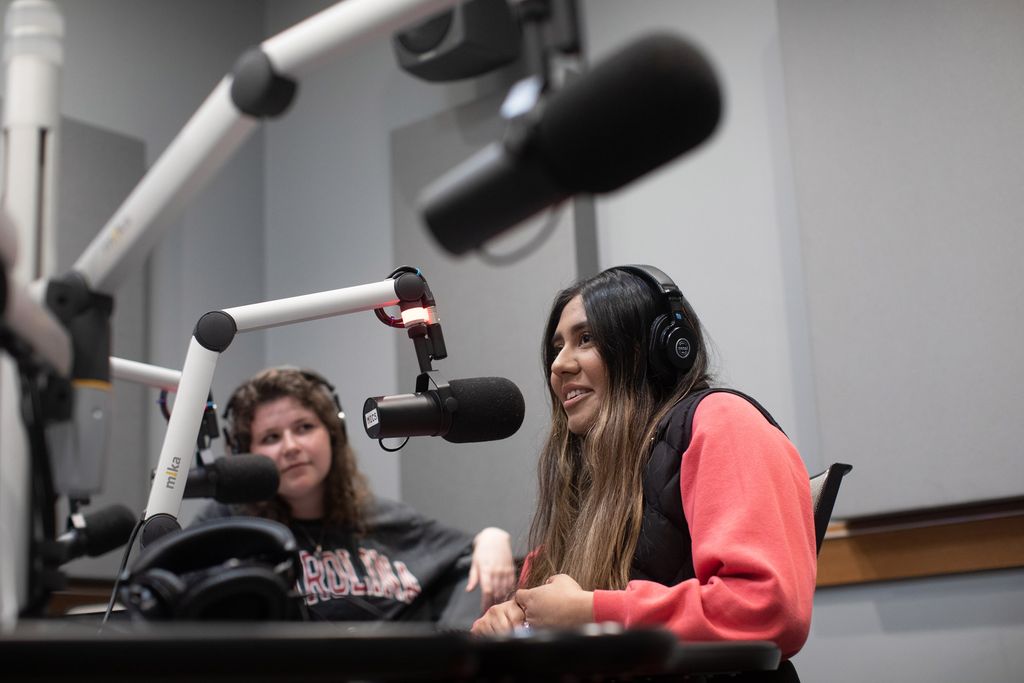 Put on your headphones and listen up. Podcasts are hot (in case you hadn't heard), ever since the award-winning true-crime podcast Serial got more than 300 million downloads. But did you know that there are dozens of podcasts with BU connections—past and present?
Their topics range from managing pain to alums' stories of success to Hollywood and from sports to public relations to wellness tips, and more. In fact, two of the podcasting world's most popular podcasters are BU alums: Marc Maron (CAS'86), whose WTF with Marc Maron has been a comedic sensation, and Bill Simmons (COM'93), who talks all things sports (especially Boston sports) and pop culture on his podcast The Ringer.
Back on campus, here is a roundup of BU-related podcasts—some ongoing, some on break, and some ended, but still worth a listen. Did we miss a good one? Tell us in the Comments section below.
Drama, trivia, fiction
WTBU, BU's student-run volunteer radio station, hosts a number of podcasts. There's YAS and Do You See What I See, each exploring culture and entertainment from different perspectives; Dogtown, which probes the "thin line between truth and fiction" in Boston; The Last Show, "an audio drama about the end of the world and the college radio show that survived it"; a trivia podcast called An Anthill to Die On, and more. As freshmen arrive and seniors move on, expect the lineup to keep changing.
Hollywood
Hollywood Terriers is a podcast from screenwriter Cody Brotter (COM'13), who interviews Los Angeles–based Terriers working in the entertainment industry about their years at BU and their careers in LA, and how they got there.
Issues and debates
Not Fair was a joint venture from students in a narrative radio course and a podcast course taught by Anne Donohue (COM'89), a College of Communication associate professor of journalism. IPodcast reporters "explored how the sense of fairness (or the lack thereof) shapes the dialogue around everything from drug abuse to student debt," according to the podcast website. It was hosted by WBUR associate producer Zoë Mitchell and included stories of inspiration, in-depth reporting, and emotional words around everyday issues people grapple with.
Gary Sheffer and Mike Fernandez, both COM professors, jointly produce the podcast The Crux of Communications, where they talk about trends and issues in the worlds of public relations, business, journalism, and society at large. Their guests have included Wall Street Journal editor Matt Murray, Tom Fiedler (COM'71), outgoing COM dean, documentarian Alex Gibney, as well as chief communications officers from Fortune 100 companies.
If the only things you want from your podcasts are to get smarter or become more worldly, then Boston University World of Ideas is for you. Found on WBUR's website and app along with the station's other podcasts, World of Ideas takes class lectures and campus discussions and simply uploads them into a podcast format for anyone to listen. German political culture? It's there. New perspectives on the African novel? Yep. Henry David Thoreau's legacy of resistance and hope? It's there, too.
Health
This is Boston, so naturally there has to be a medicine-related podcast on our list. BostonMed Talks is a podcast series from Boston Medical Center, BU's teaching hospital. Doctors and staff members cover a range of issues, from allergies to sleep problems to vaccines to swallowing disorders for children, and from dietary issues related to epilepsy to cancer support to common workplace injuries like carpal tunnel syndrome.
You've heard about the occasional absurd health misinformation out there, and so had veteran nutritionist Joan Salge Blake, a Sargent College of Health & Rehabilitation Sciences clinical associate professor of nutrition. Her response? A podcast called Spot On! She's talked about topics like the claim from actor Gwyneth Paltrow that underwire bras may cause cancer and the idea that if you drink enough water, you don't need sunscreen, as Patriots quarterback Tom Brady suggests. "Do you really want to get your health and wellness information from 'Dr. Kardashian'?" asks Salge Blake (Sargent'84, Wheelock'16).
Daniel Alford (SPH'86, MED'92) is a School of Medicine professor of internal medicine and course director for MED's SCOPE of Pain (Safer/Competent Opioid Prescribing Education) program. On his Scope of Pain podcast, he talks about "the complexities, communication challenges, risks, and benefits of prescribing opioids for patients with chronic pain in this exclusive series."
Occupational therapy doctoral student Sarah Tuberty (Sargent) and her friend Nicole Kelly, a former Miss Iowa who lives with a prosthetic arm, produce a lively podcast called Disarming Disability. "As we both have congenital limb differences," Tuberty tells BU Today, "we hope to end social stigma on disability by having candid conversations with experts in the field, connecting the research to those living with disability, and hope to rewrite social scripts on how we as a society understand and perceive disability."
Free Associations was a podcast produced by BU's Population Health Exchange in coordination with three School of Public Health professors: Matthew Fox (SPH'02,'07), a professor of epidemiology and global health, Christopher Gill, an associate professor of global health, and Donald Thea, a professor of global health. Their aim? Take a hard look at the validity of research behind the claims in the latest headline-grabbing health news.
Listen to "How is disability portrayed in the media? Where are we and where are we not?" on Spreaker.
Careers, community, faith
BU alums are a fascinating lot, with great stories to tell, which is the purpose of Proud to BU, a podcast that "features graduates who have a unique story to tell about the unfolding of their career and lessons they have learned along the way." Host Jeff Murphy (Questrom'06), BU Alumni Relations senior associate director of alumni career programs, has interviewed ACLU staff attorney Somil Trivedi (LAW'09), WCVB director of public affairs and community services Karen Holmes Ward (COM'77, Hon.'17), Boston Red Sox photography director Billie Weiss (COM'16), and actor Russell Hornsby (CFA'96), to name a few.
For students who want to dip their toes into the podcasting pool, BU has a course just for you. Known as Hub CC160, it asks six students to conceptualize, research, and ultimately create original podcast episodes. Through it comes the Common Thread podcast, produced out of the Howard Thurman Center for Common Ground. Early subjects have included the recent national college admissions scandal and a detailed look at the BU Hub curriculum. "This cocurricular is offered on a semesterly basis and fulfills a single unit in the Teamwork/Collaboration area," the course description says.
The weekly interdenominational service held each Sunday morning at BU's Marsh Chapel is broadcast on WBUR 90.9 FM, but you can also find its weekly interdenominational Protestant worship service on the Marsh Chapel weekly podcast. Recently, Jonathan L. Allen (LAW'19), Carolyn Hoffman (CAS'19), Denise-Nicole Stone (CAS'19), Katherine Ward (ENG'19), and Karey B. Statin (CAS'18, MET'19) delivered the University's annual "This I Believe" meditations, sharing what their faith has meant to them during their BU studies.