Recent Alumni Help Boston High School Students Follow in Their Footsteps through the College Advising Corps
Education
How Recent BU Alums Are Helping High Schoolers Apply to College
College Advising Corps provides a "near-peer" experience for first-gen students sweating the process
When Miriam Alfaro graduated from BU in May, she went right to work—helping young people like herself get into college.

"It was great that I had just finished college and knew what that experience was like," says Alfaro (CAS'19), who now spends her days at English High School in Jamaica Plain as one of the so-called near-peer counselors who are embedded in every Boston public high school by the College Advising Corps (CAC).

CAC, which is holding its national summit from Monday through Thursday this week at Boston Marriott Copley Place, is a nonprofit devoted to increasing the rates of college enrollment and completion among low-income and first-generation high school students and those from underrepresented communities. Although income is far from the only metric involved, a key stat is that 50 percent of students from high-income families earn a bachelor's degree by age 25, while only 10 percent from low-income homes do.

Alfaro is one of many CAC advisors who fit the profile when they were applying to college. She was the first in her family to go to college. Her parents came here from El Salvador as teenagers, escaping that country's 1980s civil war. They encouraged her to go to college, but couldn't help her with the application process. "They didn't realize it included the SAT and the essay and all the little things that go with it," she says. Instead, her guidance counselor at Boston Community Leadership Academy helped her. Being valedictorian didn't hurt, either. 

"Coming to BU I received a Boston Community Service scholarship, and at the end of the program, my mentor told me about the job," Alfaro says. "What really drew me to it was that I had been in a similar situation to the students. I was in their shoes, so I could relate to a lot of what they would be facing."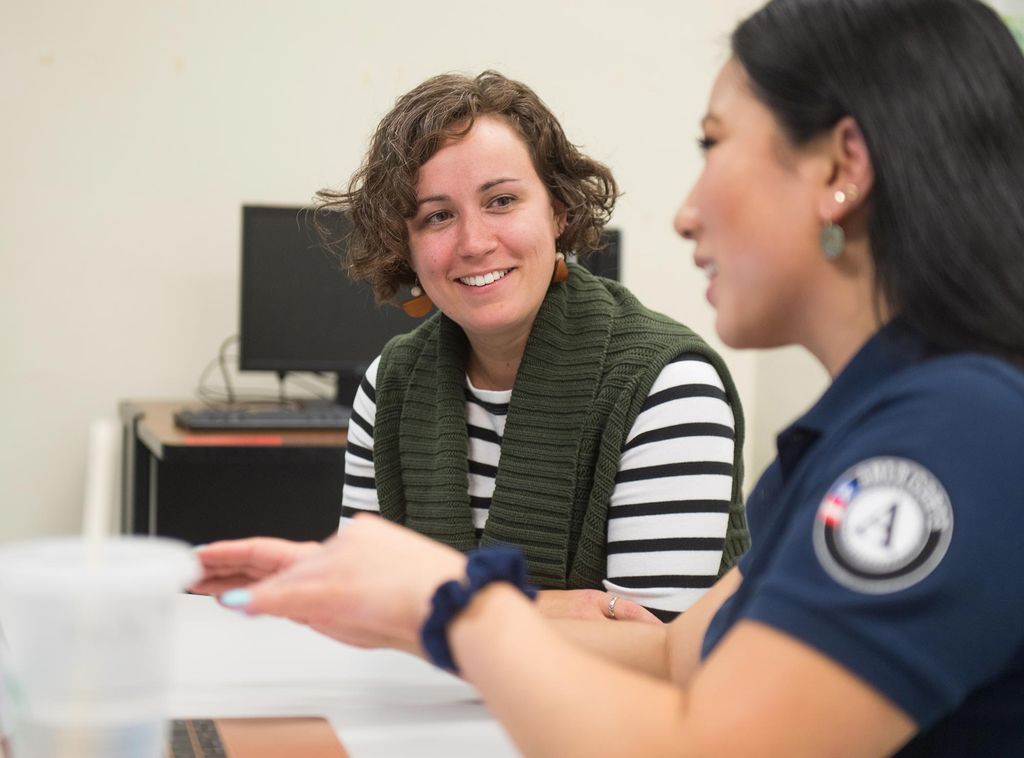 The advisors provide practical support and inspiration as role models, says Katie Hill, director of CAC's Boston operation, run in partnership with BU and AmeriCorps. "Being able to share their direct, lived experience is really important," Hill says. "Some really see themselves in these students. Somebody helped them get to college, and they want to do that for somebody else."

"I just put up my huge flag in my room so they know this is where I'm from and that I speak Spanish, and that is a huge opening," Alfaro says, noting that English High has a large contingent of students from Central America. "I tell them my parents came here when they were really young, and that I'm the first generation to go to college, and I feel like they open up to me more, because they're in the same situation."

Her age also helps the students relate to her.
"You feel like you're talking to someone who knows what you are going through," says English High senior Nedgyn Laloi.

Writing that college essay and working through the application process can be scary even without cultural differences, says senior Angy Bedoya. "There's a lot of things that if I was applying by myself I would have just said yes, but when she explained it to me, I was like, 'Oh, no, no, no!' Like early decision—I thought it just meant applying early, but it means you have to go."

"If I didn't have her, I was never going to do my applications, to be honest," says senior Dariana Perez. "I was so confused, I didn't even know what colleges I wanted to apply to."

BU hosts CAC's Boston program in an office at 100 Bay State Road. Advisors fan out to 30 Boston public high schools as well as a handful in adjacent communities, working alongside guidance counselors who often don't have the time that a first-generation-to-college high school student needs during the process.

The CAC advisors work with students from all grades to get them thinking about their future, but especially with juniors and seniors, helping them work through the complex process of applying to institutions from community college or technical school to private four-year institutions like BU.

"Something that happens a lot with our student population is that they see a college like BU that's competitive and prestigious and say, 'I don't know that I belong there,'" Hill says. "Our goal is to make sure each student has a pathway that's a good fit for them."

---

They're going into or back into these communities and saying in powerful ways, 'Look, if I can do it, you can too.'

---
There are 36 advisors in the Boston cohort, 10 of them BU alumni. Most of the others are from other area colleges and universities. Many identify as first-generation college students, people of color, Pell Grant–eligible, or some combination of the three. Many, like Alfaro, attended a Boston-area high school. They're paid nearly $27,000 and receive BU employee benefits, including tuition remission if they want to work on a graduate degree. Most stay with CAC for a full two-year stint. Nearly a dozen of the advisors have hired on at BU when their two years were up, leveraging their CAC experience with positions in admissions, financial aid, or advising.
Hill launched the program in Boston more than a year before the BU partnership began in September 2015.

Madison Crosby (CAS'19), a CAC advisor embedded at Charlestown High School, discovered CAC at a social-impact career fair at BU. "I've kind of been in a bubble through my high school and college," she says. "I went to a very affluent, elite high school, and I went to an elite university. I say that I'm from Boston, but I felt on graduating that I didn't really know Boston. I wanted to stay in Boston and try to make a difference in this community."

Emily Thoman (CAS'18, MET'20), in her second year in Charlestown, first heard about CAC from a BU career coach. "The more I learned about the program, the more it sounded like something I really wanted to do," she says.

"CAC's mission to increase college access aligns well with BU's desire to provide more low-income and first-generation college students with access to a quality education," says Kelly A. Walter (Wheelock'81), the University's associate vice president for enrollment and dean of admissions. "Given BU's long and rich history of giving back to the city of Boston, we saw this partnership as an opportunity to expand and strengthen our impact on students attending Boston Public Schools."

English High student development counselor Christina Calderon—one of the school's two guidance counselors—says CAC has been a major asset in getting some of the 140 members of the senior class to college.

"When CAC came into our building almost five years ago, it was a huge burden lifted off our shoulders," Calderon says. Guidance counselors serve the whole student body as mentors, teachers, and substitute parents, while the CAC advisors can focus just on the complex college application process. The near-peer angle is key to their success, she says: when students feel comfortable sharing about their lives and family situations, then they're more willing to do the things their CAC advisor may recommend, such as applying to a broader spectrum of schools.
They think, "'OK, I'm going to try XYZ, because you understand where I'm coming from, because you were me,'" Calderon says.

Working in 782 high schools in 17 states, CAC has 829 advisors, more than 100 of them served by the program when they were in high school, according to founder and CEO Nicole Hurd. Roughly two-thirds are people of color, Pell-eligible, first generation to college, or a combination. And the organization has committed to a lot more with its goal to enroll a million students in college by 2025 who might otherwise never have even applied. They are almost halfway there.

"They're going into or back into these communities," Hurd says, "and saying in powerful ways, 'Look, if I can do it, you can too.'"