Finding Archaeological Treasures in Boston's Chinatown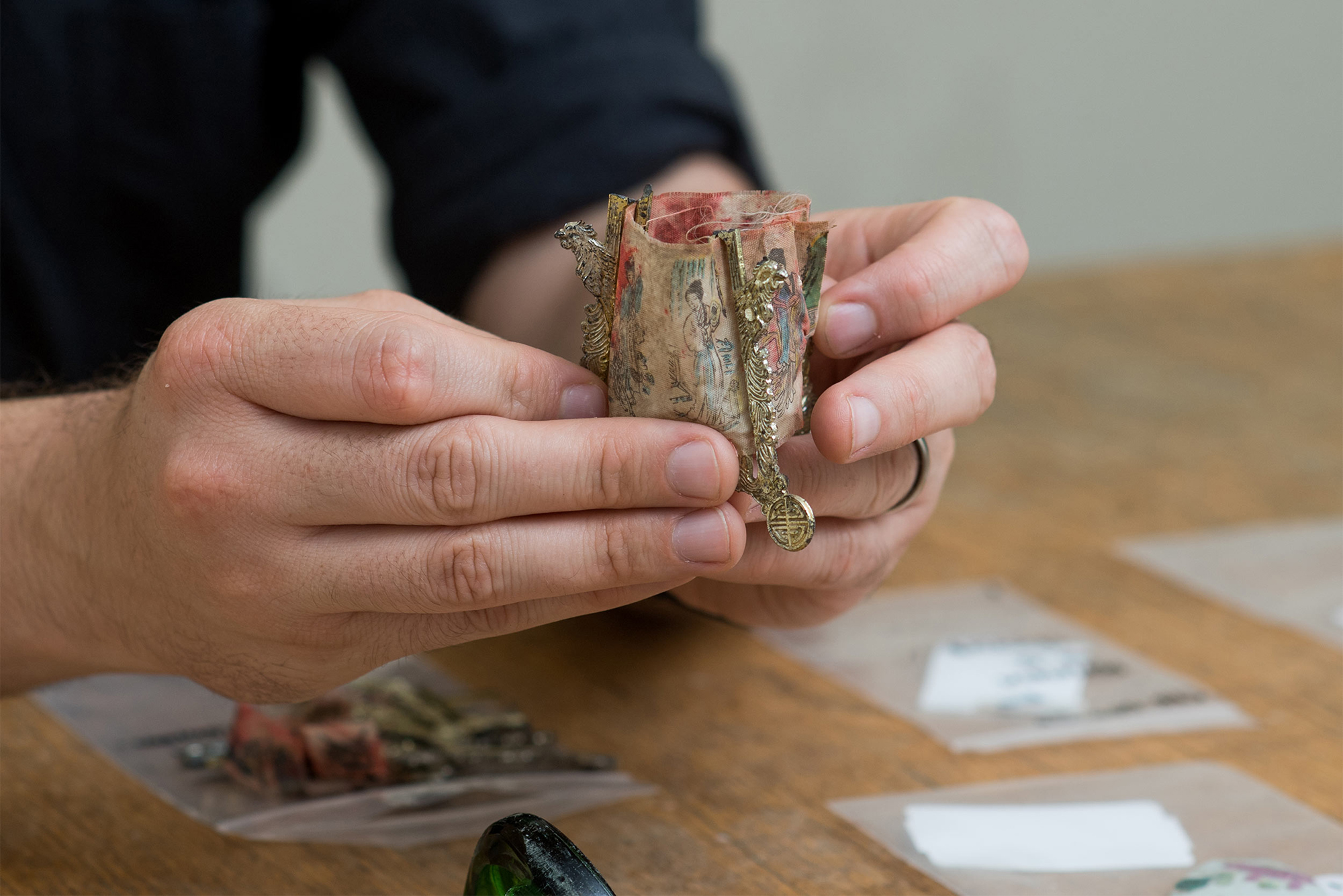 Archaeology
The Alum Digging Up Chinatown's Archaeological Treasures
Joe Bagley (CAS'06) is shedding light on Boston's history of marginalized communities and people
Along with a toy dinosaur leg and a New Edition cassette tape, one of the hundreds of artifacts the Boston City Archaeology Lab team found this summer at a dig site in Chinatown was a worn military dog tag. They weren't sure what to make of it, however, so city archaeologist Joe Bagley (CAS'06), who led the dig on the 200-year-old site at 6 Hudson Street, posted this message to his 16,000 Facebook and Instagram followers:
Mystery artifact! We recently found this copper tag while surveying at 6 Hudson Street in #Chinatown. We think it says "LEO TOLENTINO / 31 / RANDALL / TW??9?40 / MAYNARD MASS" but we can't seem to figure out who that is or what this was used for. Found in 20th century fill.

Before long, the post had 75 comments and 26 shares on Facebook. Among the 34 Instagram comments, one user identified the middle line as Leo's publicly listed phone number: TW7-9340 (phone numbers used to begin with letters). Another noted that she had a neighbor by that name when she lived in Maynard, Mass. He died a few years ago, but his wife was alive and living in a nursing home. She could put the archaeologists in touch with her if they wanted to know more, she said.

And just like that, a property that was once a boarding house and a famous restaurant, and today is a gravel parking lot, had a real human story behind it.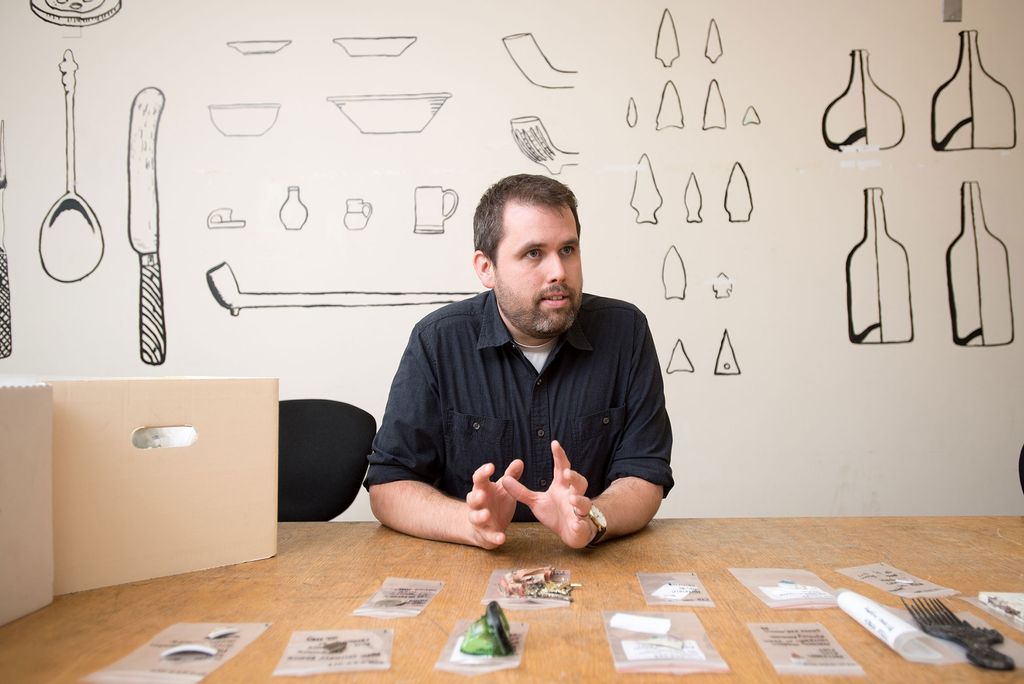 "It's armchair archaeology," Bagley says, sitting at the Boston City Archaeology Lab in West Roxbury. The lab is tucked away off the Jamaicaway, and inside, the ever-approachable and enthusiastic Bagley will show you a large room neatly stacked with acid-free boxes. Inside are relics from digs Bagley and his predecessors have unearthed, like pottery and cannonballs from a colonial tavern and Native American spearheads found on the Boston Common. "But it's not the stuff—it's the stories. It's the items that we have stories for that are really exciting. Some of them are just checking the box, like for instance, there were Chinese immigrants living in Chinatown. We say those illustrate history, they just support things we already know, but it gives us a better idea of what it looked like."

The Boston City Archaeology Lab was founded more than three decades ago with the purpose of preserving the city's hundreds of archaeological sites. Today, the lab has a decidedly BU feel, with two full-time staffers, Bagley and lab manager Sarah Keklak (CAS'09, GRS'13).

Then there are those items that send archaeologists on a completely different path and tell them things they didn't know, like a glass soda bottle they found stamped with "Everglades National Park." These are the questions Bagley will sometimes pose to social media.

Regardless of where he sources the information, Bagley says that he is perhaps most interested in fleshing out the unseen people in Boston's history. Not the white men formally listed on the census, but the women, immigrants, minorities, and children who lived in a house or area, but didn't make the history books.

"We go after archaeology of communities that are underrepresented either in Boston or in general," he says. "Doing so fills in the holes of fleshing out who lived in the area."

6 Hudson Street
Today the site is a privately owned gravel parking lot. During a November 2017 talk at BU's Initiative on Cities, someone in the audience asked Bagley about his "dream dig site." His answer was Chinatown, as his team hadn't explored there before. It just so happened that a Chinese historian was at the talk and connected Bagley with the couple who owned the lot.
Prior to the start of the dig, the team researched the site. They consulted federal census data and city directories, and learned that 6 Hudson Street is near the Chinatown gate and was created when the land was filled in during the 1840s, when the neighborhood was called South Cove.

A dwelling first appeared on the site around 1840, and through the years, it was home to Chinese, Irish, Syrian, and English immigrants, mirroring the population of the surrounding neighborhood. In the 1920s and 1930s, it was the site of the popular restaurant Ruby Foo's Den. There was an apartment-style house on the land until 1988, when it was demolished and the parking lot was formed.

The dig started on July 8 and right away, the team started finding artifacts: Cantonese and Japanese porcelain, Chinese brown stoneware, a Chinese lantern, a glass bottle from Everglades National Park, a hair pick, a toy dinosaur leg, and a New Edition cassette, to name a few. "Sometimes it felt like we were digging through the Stranger Things set," Bagley says. "We were finding Dorito bags from the 1980s."

Chinese brown stoneware, probably one of the older artifacts on the site

Chinese lantern


Melamine

Chinese porcelain


Hair pick

Japanese porcelain

New Edition tape, the self-titled second album

Toy dinosaur leg
The fact that so many of the artifacts were from the 1980s stressed Bagley out at first, but he's come around. "I thought people were going to make fun of us for stuff not being old," he says. "This is one of the few sites we have studied where some of the people who lived in the house are still alive, so we can go ask them questions."

During the dig, the community came out in droves to support the archaeologists. The groundbreaking ceremony had 100 people in attendance, and during the dig itself, people in the neighborhood would come out and watch from behind fences and enthusiastically thank the archaeologists and volunteers for their work.

After three weeks of digging through 1970s and 1980s fill, in late July the dig had to be cut short. The team reached a linoleum and concrete floor and under that, an older brick floor. That's also when they realized they'd hit the water table, about six-and-a-half feet under the ground's surface, so they had to stop because of safety reasons.

The collection is just one of several that Bagley and his team are now investigating. Earlier this year they received a $350,000 grant from the National Endowment for the Humanities that's supporting their cataloging work on more than 200,000 artifacts, much of which had sat in storage for years. It's an exciting and important development, Bagley says, as it allows "armchair archaeologists" and researchers from all over to browse the collections and hopefully contribute more clues and information.

"The goal of our work is as much to find stuff from a community who is still threatened today as it is to discover things about a community whose history isn't well recorded," Bagley says. "Everyone in Chinatown who is Chinese American is really nervous about being pushed out and feeling like they are forgotten about. One of our big goals is to tell people who live in this community: 'You matter.' [Chinese Americans have] lived here for over 100 years—'You are part of Boston's history.'"