Why You Should Keep a Tourniquet in Your Beach Bag
When it comes to mangled extremities, Peter Burke and Tracey Dechert have seen their share. They've operated on people with grave limb injuries from car crashes, motorcycle accidents, dog attacks, and the 2013 Boston Marathon bombings. This is, after all, what trauma surgeons at Boston Medical Center do.
But there is one type of injury that's eluded their operating table: they have yet to treat someone attacked by a shark.
Ever since two great white shark attacks on Cape Cod last year, one of them the first fatal attack since 1936, some beachgoers have hoped to catch sight of a great white themselves. Others have been gripped by a fear of getting into the water that harkens back to the mid-1970s, when Jaws ruled the silver screen. Meanwhile, Cape Cod officials have been debating about what lengths they should go to to protect swimmers from future attacks and what steps they can take at the beaches to be better prepared for the next one.
So while it may be difficult to consider: what exactly would it be like to be attacked by a great white shark? And for trauma surgeons: how would they treat the victim?
Dechert says the first thing to realize is that to a certain degree most severe wounds have things in common: "It'd be like any other injury that leads to excessive tissue damage and blood loss," she says.
Burke lists off all the different types of tissue that can be involved with mangled limbs. "Vasculature, nerves, bone, skin, muscle…all the tissue components," he says. "Depending on how many tissues you have impacted defines whether or not you'll be able to manage the injury or save the limb."
But there is one key difference between, say, a wound suffered in a car crash and a wound sustained in an animal attack. Shark bites, Dechert says, tend to be laden with bacteria. "You have to deal with infection; of course these are dirty wounds," she says. "The shark's teeth can break off into the wounds."

Control bleeding, save a life
Burke, a School of Medicine professor of surgery, and Dechert, a MED assistant professor of surgery, agree that in the event of a severe injury like a shark bite, stemming the bleeding until first responders arrive is one of the most important factors determining whether someone lives or dies.
"You go into shock in stages," Burke says. "The body is good at compensating for injuries….it responds by clamping down on your blood vessels and increasing the heart rate, but if blood loss is big enough, people experience low oxygen delivery to their organs. The brain being the most sensitive."
In addition to controlling bleeding, Dechert says, it's important to keep the injured person warm.
"If you've been swimming in the Cape's cold waters, like you would be doing in the event of a shark attack, you might already be a little hypothermic," she says. "You need to stop the bleeding…get their wet clothes off them, and wrap them up in towels, anything to keep them warm."
Calling 911 is the other obvious step for anyone trying to help a shark attack victim. But as last year's incident showed, on some of Cape Cod's most remote beaches, that's not always so easy.
Calling 911 with no cell service
In August 2018, when a New York man was attacked by a shark at Longnook Beach—a remote National Seashore beach located within, and managed by, the town of Truro—beachgoers were left scrambling to find a strong enough cell signal to complete a 911 call. It was reported that one Good Samaritan even drove as far as a mile down the road looking for cell service. Longnook is one of many Cape beaches that are not protected by lifeguards, who would be equipped with radios. With looming cliffs of sand dunes guarding the beach entrance, a call for help finally went through after someone tried it from the beach's parking area, above the dunes.
Meanwhile, as one witness told the Boston Globe about the victim, "I thought he was going to bleed out on this beach."
"I can educate, I can provide all of the information, I can get that safety message across, but the last decision of whether to heed safety advice is up to the person entering the water."
— Leslie Reynolds
At such a remote location on the Atlantic coast, Leslie Reynolds, National Seashore chief ranger, says poor cell reception is to be expected. "We're a site for the National Park Service—we manage wild places," she says. "There are no cell phone booths at Yellowstone. We cannot eliminate all risk."
Reynolds says spotty cell reception is a regional issue, not just at the seashore. "I can't even have cell phone service at my house," she says.
Nonetheless, she says that in response to last year's shark attacks, the National Seashore will install emergency call boxes—similar to the blue light phones on Boston University's campus—at its six swimming beaches to make sure that calls for help can be placed on land lines, making the need for cell service less urgent. Every year, nearly 50 lifeguards are hired to keep watch over those designated beaches from 9:30 am to 5 pm throughout the summer season. People who venture into the water before or after the lifeguards' hours—or on beaches that aren't patrolled by lifeguards at all—are doing so at their own risk, Reynolds says.
Equipping beaches with Stop-the-Bleed kits
Even after a 911 call goes through, depending on the location of EMTs, it still could take them several minutes to reach the beach. In the event a victim is bleeding severely, that can mean the difference between life and death. To help make lifesaving tools available to people on beaches with no lifeguards on duty, Reynolds says, the Park Service has purchased Stop-the-Bleed kits, which contain gloves, a tourniquet, an emergency bandage, trauma shears, and rolls of gauze primed with blood clotting factors to help stem bleeding.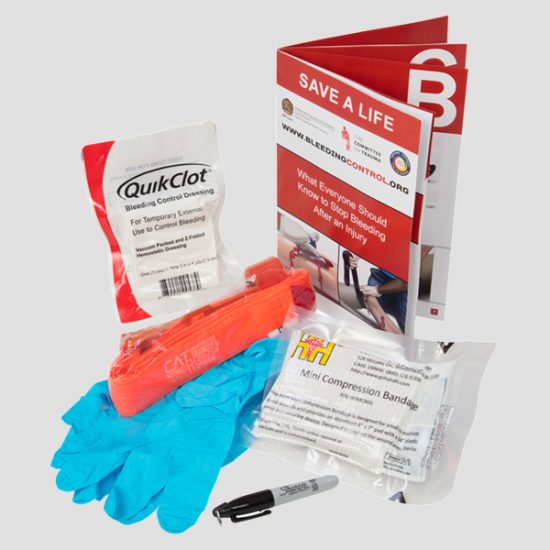 Originally designed for active shooter situations and for use in the military, the kits are now available for anyone to purchase online, and Stop-the-Bleed training classes on how to properly use the kits are offered to the public all over the country.
The kits can be used in the event of "any sort of trauma, car accident, fall, gunshot, penetrating trauma, arrows, a shark bite," Reynolds says. "The techniques are to stop the bleed so that you can get the injured to a level 1 trauma center….The use of Stop-the-Bleed kits buy time."
The Atlantic White Shark Conservancy and the Eastham, Mass., fire department have teamed up to offer the classes to anyone who wants to take them. National Seashore lifeguards will all have Stop-the-Bleed-style kits at their guard chairs, Reynolds says, and will leave one out overnight for beachgoers who stay beyond the guards' hours. In addition, the Park Service will have up to 40 employees trained—even some who simply work at snack stands. All of the park rangers already carry medical jump kits and are trained in tactical Stop-the-Bleed techniques.
Trauma surgeons Burke and Dechert say learning how to stop the bleed is like learning how to do CPR. "If people know how to do CPR, you can save someone from cardiac arrest," Dechert says. "Who knows when you get a chance to do this, but you want everybody to be trained….If you use it because you're the only person who's around, you have the potential to save a life."
The skills could be especially valuable for people who recreate in some of the seashore's most remote stretches, where help isn't always nearby. "We have one oversands quarter where there are no lifeguards for eight miles," says Reynolds. There, the Park Service will strategically place the bright orange Stop-the-Bleed kits so that recreationers can use them in the event of a shark attack or another traumatic injury.
If an attack were to happen with no kit in sight, a tourniquet can be improvised from anything available, Burke and Dechert say.
"A narrow piece of beach towel could be effective," says Dechert. "A narrow strip is better, something that delivers pressure….It's hard to tighten a big blanket."
When placing a tourniquet around a limb, "you want to get above the area of injury, but you want to stay as close to it as possible," Burke says. "You could use a stick to wrap [the tourniquet] around itself. You'll want to look and see if it's stopping the bleeding."
Another sign that it's working? "A good tourniquet is going to hurt a lot," he says.
"The sharks are there"
The reality is that rangers, lifeguards, and Stop-the-Bleed kits can't be everywhere at all times. Reynolds says she feels confident that the Park Service has done a good job with beach signage, like flying shark flags to alert beachgoers to recent shark sightings and promoting use of the Sharktivity app, which displays locations of white sharks wearing tracking tags. On the National Seashore website, frequently asked questions and safety tips about white shark activity are prominently displayed.
"I can't tell you that a white shark isn't swimming by our beaches right now," Reynolds says. "Whether you see a shark or it's tagged or not, our approach is that the sharks are there. We as humans must adjust our behavior when we're recreating in the water—that's the white shark's habitat."
In September 2018, just a month after the New York man was attacked at the Truro beach, a Massachusetts man was killed by a shark at Newcomb Hollow Beach in Wellfleet. He was boogie-boarding at the time of the attack.
Reynolds, who loves to boogie-board, says she's modified her behavior based on the Cape's changing ecosystem. She no longer goes deeper than water up to her knees since shark activity has dramatically increased in recent years.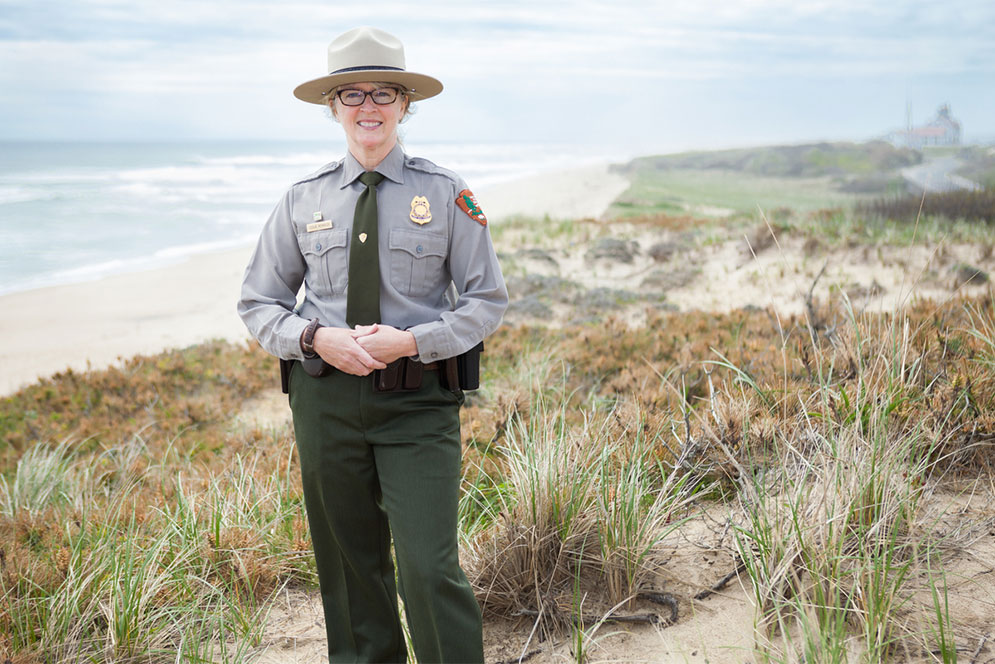 "That risk-based decision the person makes when they're entering the water is theirs alone and I can't control that," she says. "I can educate, I can provide all of the information, I can get that safety message across, but the last decision of whether to heed safety advice is up to the person entering the water."
Shark attacks, ultimately, aren't the only concern. In the last five years, lifeguards have made nearly 700 drowning rescues across the six swimming beaches, she says. And more than 1,000 other people have been assisted out of the water.
"Sharks, I understand, are in shiny lights" right now, Reynolds says. "But the higher risk for us is riptides and shore breaks and currents."
Does she think the shark attacks will scare away any of this year's beachgoers? "Ask me at the end of the summer," she says.
As for Burke and Dechert, asked if they will be making any trips to Cape Cod beaches this summer, both shake their heads.
"Too much sand in your ham sandwich," Burke says with a shrug.
This Series
Also in
April 22, 2019

April 21, 2019