An Essential—and Little- Known—Hospital Career Gains Ground
Wheelock's Child Life Program first in the country to be endorsed by industry's professional group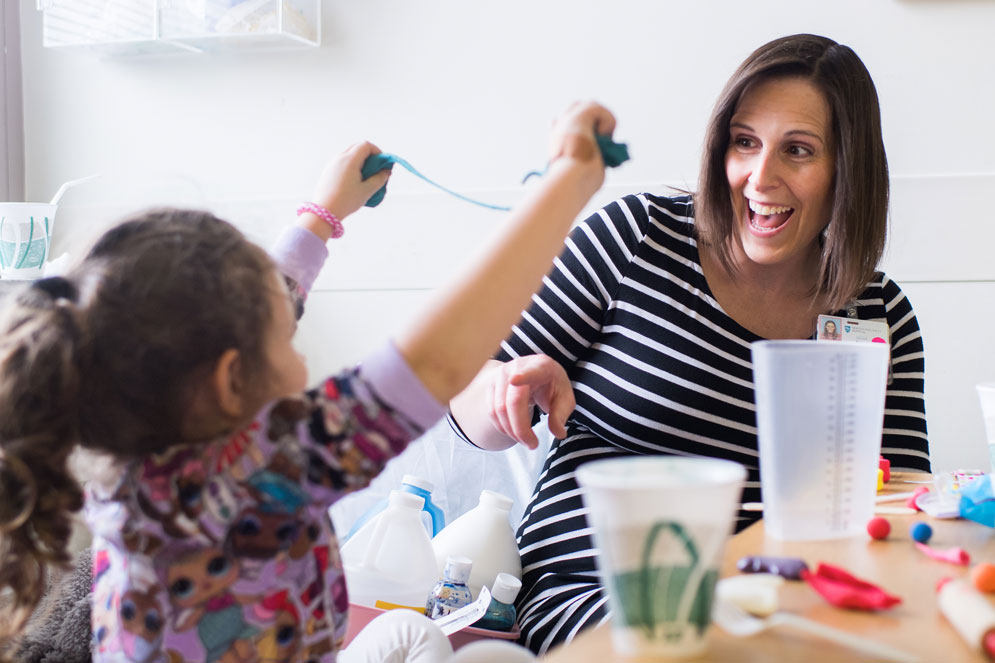 THE BABY BOY'S HOWLS echoed all the way down the hall of the pediatric floor at Newton-Wellesley Hospital. Soothing a baby isn't easy under normal circumstances; it's even harder in an unfamiliar place where strangers come and go. Kristy Berksza (Wheelock'05,'13) was ready to give it a try. A child life specialist, Berksza grabbed a spinning light wand, a container of bubbles, and some board books from her supply closet.
She entered the room to find doctor and dad engrossed in a discussion about the boy's care and diet. Perched on all fours in his crib, the 10-month-old viewed his new visitor skeptically, but as Berksza started blowing bubbles, he stopped crying and his face brightened. Next, Berksza crouched, disappeared from his sight, and popped up, cooing, "Peekaboo!" More drooly smiles. "I'm known as the bubble lady," Berksza said later.
Hospitals can be downright terrifying to children, who are overwhelmed by the doctors and nurses, the needles, and the alien medical equipment. Enter the child life specialist and their arsenal of toys, games, and coping and therapeutic strategies. Trained in developmental psychology, they help patients—from infants to young adults—feel more comfortable during their visit. They reduce stress by explaining in age-appropriate terms what will happen before treatments and procedures and offer coping techniques that make those needle sticks a little less painful. And whenever possible, they interject fun and silliness.
"We use play and psychosocial support to make the hospital less scary for kids," says Berksza, whose patients that day had ailments ranging from a serious allergic reaction to kidney stones. "Children may hear different words than they're used to hearing at home, the food and the smells are different, there are all new people. Through play, we can talk about what's happening."
The child life field took root in the 1960s; Boston's Wheelock College was the first to offer an academic program. Today, BU's Wheelock College of Education & Human Development, created when Wheelock College merged with BU in 2018, is a national leader in the field, says Claire White (Wheelock'79,'84), a Wheelock counseling psychology and applied human development senior lecturer. White is director of the college's Child Life & Family-Centered Care program, which in October was the first in the country to be endorsed by the Association of Child Life Professionals, the industry's major professional organization.
Research has shown the positive impact that these specialists have on their patients, and the American Academy of Pediatrics has endorsed the important role they play in helping both children and their families. The academy reports that interacting with child life specialists leads to less emotional stress, better coping, a clearer understanding of procedures, a more positive physical recovery, the need for fewer narcotics, and a reduced hospital stay. U.S. News & World Report factors whether a child life specialist is on staff in its hospital ranking methodology.
---

WE USE PLAY AND PSYCHOSOCIAL SUPPORT TO MAKE THE HOSPITAL LESS SCARY FOR KIDS. THERE ARE ALL NEW PEOPLE. THROUGH PLAY, WE CAN TALK ABOUT WHAT'S HAPPENING.

---
What's more, the career prospects are promising for grads—the US Bureau of Labor Statistics projects a 7 percent growth in the job market, which tops the national average. Virtually all children's hospitals in the country have child life specialists on staff, and increasingly, general hospitals and other medical settings are seeing their importance as well. "Many pediatricians are aware of the child life field," says White, "but it's becoming extremely well known and experiencing growth because of the consumer. The advancement of family-centered care that focuses on families, and hospitals trying to meet those needs, made the consumer very aware of this."
Building Trust
After a bout of pneumonia, a child may be prescribed breathing exercises to help clear the mucus from their lungs. Rather than asking the child to take a dozen deep breaths, a child life specialist may challenge the patient to a game of cotton ball hockey—blowing into a straw to move a cotton ball across a table and into a goal.
Before a blood draw, a child life specialist might hold up an I SPY board to take the patient's mind off the uncomfortable procedure.
Before an appendectomy, they may walk the patient through the surgery in age-appropriate terms. They might invite the child to put an anesthesia mask on a doll's face. When it's time for surgery, the child knows what to expect.
Child life specialists may also make suggestions to the medical staff. For example, if a child needs to be restrained to a bed during a procedure, they may recommend that a parent hold the patient in a type of bear hug, which serves the same purpose but is less traumatic.
"We build trust with children," says Andrea Colliton (Wheelock'04,'06), director of child life services at Floating Hospital for Children at Tufts Medical Center. "It's not the concept of 'Let's hold something shiny up while they get this needle.' We want them to know that everyone is working together to help keep them safe and their body heal."
When a patient is first admitted, child life specialists individualize the experience, taking into account factors like the child's age, developmental stage (the level at which they can cognitively process), and how many times they have visited the hospital. They ask families how their child deals with stressful experiences at home and for insights into their personality. Is it normal for them to be this quiet, for instance? "If you've had multiple experiences in a hospital, it doesn't mean things are any less stressful," Colliton says. "If a child or a family had a negative past experience, it would shape how they approach their visits. If something went well, we try to re-create that, and communicate that to the doctors and nurses. We empower the families to help support their child."
To that end, a child life specialist can also be a family's sounding board and advocate, listening to their concerns and connecting them to the best possible resources, Colliton says. "We have a conversation with them about how they're doing, if they have other children at home, are they having any financial difficulties?" she says. "Maybe we connect them to a social worker."
When Berksza visited the sobbing baby at Newton-Wellesley, she asked the family if they had anyone to walk their dog while they were at the hospital. She offered an iPhone charger and magazines to the mom of another patient. All of this, she says, removes outside stress so parents can focus on their sick child.
Be Calm and Exude Strength
Before enrolling in Wheelock's master's program in Child Life & Family-Centered Care, students must have volunteered under a certified child life specialist for at least 100 hours. Once they matriculate, they spend three semesters with a small cohort of students and complete two internships, before sitting for the Association of Child Life Professionals certification exam.
A difficult truth facing those who enter the profession is the fact that not all of their patients can be cured, or their illness improved by surgery; some children die.
One of the electives Wheelock offers is bereavement care, since child life specialists sometimes work with terminally ill children or those with life-threatening diseases. While the course deals with grief and loss, it isn't solely about death. "We also talk about chronic illnesses, and other losses in kids' lives," says Paul Thayer (STH'07), Wheelock counseling psychology and applied human development clinical associate professor. "A lot of what we do is using the arts, music, and play, especially. I wish we did more of that with adults; it would be much more effective."
Every week, the cohort of students comes together to discuss what they faced in their internships. Jessica Baker (Wheelock'19) interned in the Hasbro Children's Hospital oncology department in fall 2018, and recalls a patient who had a brain bleed and could not move or communicate. "In the moment, you have to be calm and exude strength, but after, you step away, and that's an appropriate time to feel the emotion," she says. "Having a team to process that stuff with is important."
Ultimately though, the profession is a fun one, the students say, because of the children they serve.
"With younger kids I do a lot of medical prep, so I show and explain the tools the doctor will use," says Kaye Hutchinson (CGS'13, CAS'15, Wheelock'19). "They might have misconceptions about a procedure. One time a little preschool girl needed a CAT scan, and I explained that the doctors were going to take a very important picture of her body, and that she had to stay still like a statue. Before I did that, she thought something was going to happen to her cat."
Carolyn Kurker Gallagher (Wheelock'91,'96), a Wheelock counseling psychology and applied human development clinical instructor, says the profession attracts a certain kind of person. A good child life specialist tends to be patient, kind, compassionate, a good listener, and comfortable with silence, pain, and grief, Gallagher and her colleagues say.
"How do you teach empathy?" she asks. "It's hard to teach someone how to enjoy children and how to be joyful. That's an innate part of someone's personality. When we talk about the essence of our work, I always go back to that traditional model of play. That's something you can't teach a student: how to enjoy getting on the floor and playing with a child."