Alex and Leo, a Story of Love, Healing—and Graduating
The guardian of a badly burned African boy being treated in Boston earns an SPH degree, starts their next chapter
Nine-year-old Leo Ikoribitangaza left the School of Public Health Convocation Saturday, May 18, slightly disappointed. He had been the star of the show—wearing a custom cap and gown, walking across the Track & Tennis Center stage with his legal guardian, Alex Gitungano (SPH'19), even getting cheers from the crowd when his cap fell off.
But he'd missed his soccer game.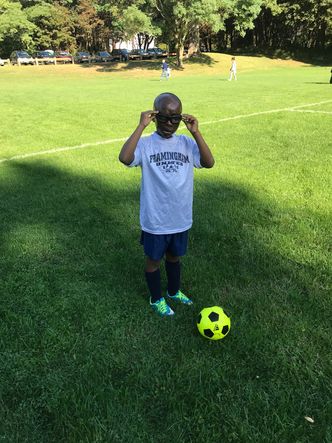 Alex and Leo. Leo and Alex. They've been inseparable since arriving in the United States together in 2014 from the war-torn African nation of Burundi so Leo could receive life-saving medical treatment at Boston's Shriners Hospitals for Children for horrific facial burns he suffered back home when he was only two.
Now, five years later, their lives are forever changed—and eternally entwined. Leo, an energetic third-grader in Framingham, Mass., got the medical care he needed. And on May 18, Alex got his master's in public health from BU—allowing him to begin to hunt for a job in the field, while continuing to learn how to parent a child he never expected to father.
At the SPH Convocation, the pair, whose story was told in a powerful two-part feature in the Boston Globe Magazine in 2015, couldn't walk more than a few feet without being stopped by well-wishers. "I'm really proud of Alex," Leo said, proceeding to tug at him to go get some cookies at the celebration tent set up outside the building.
"Leo calls me Alex, but I've noticed when he's talking about me to classmates or other people, he refers to me as 'my dad,'" says Alex, at 30 a skinny and warmly outgoing talker. "When I share our story with people, I say, 'This is a journey of hope, love, and faith.'"
This is also the story of how the city, and Boston University, helped the two make Boston their home.
The journey from Burundi
Burundi, an East African country that borders Rwanda, is one of the world's poorest areas, with a long history of civil war and violence. When Alex was five, his family fled Burundi's tribal massacres and settled in Zaire (now the Democratic Republic of the Congo). Three years later, war broke out there, too, and they returned to Burundi. "My whole life, I have been through turmoil," says Alex. "My mom lost most of her family to genocide, I lost my cousin, my stepbrother." A devout Christian, he managed to earn an undergrad degree in clinical and social psychology at Burundi's Hope Africa University and worked as a counselor and with missionaries in the area. It was through missionaries that he met Leo.
In 2012, when Leo, the second youngest of 10 kids, was two, his siblings, who were supposed to be watching him, went outside to play as he napped. There was an unattended cooking fire on the ground.
A neighbor rushed in when she heard the child's screams and found Leo facedown in the fire, caught between two molten hot rocks. His lips, nose, and right eyelid were either burned off or badly damaged. A local hospital couldn't do much to help. A South African missionary working in Burundi met Leo, and shaken by his story—without proper medical care, the child would go blind or die from wounds that weren't closing and were at risk of infection—asked Alex if he could help. Leo's parents couldn't leave their other children, and didn't speak English well enough to communicate with doctors here. At first hesitant, Alex prayed and was encouraged by his mom to help. More surgeries for Leo in Rwanda and Uganda didn't go well; the injuries were too complex for the doctors.
Eventually, Leo's story reached Shriners Hospitals in Boston, which specializes in burn care, and they agreed to take him, and absorb all costs of the treatment and surgeries. Leo needed a guardian to accompany him to the United States for six months for the procedures, and Alex was again asked to help. Volunteers raised the money for the trip.
Leo cried saying good-bye to his parents at the airport, but he was excited to board his first plane and to eat new, and plentiful, food. Alex remembers handing Leo crayons and paper on the plane to keep him busy—the little boy had no idea what to do with them.
Welcome to Boston
Alex and Leo arrived in Boston on June 29, 2014. They spent the first two weeks at a hotel in Charlestown, with a network of churchgoers overseeing their stay and orientation to the city. Many of those people are still friends of theirs and came to Alex's SPH Convocation. The beginning was rough, with Leo's first surgery delayed because he'd developed an infection. Alex started to become homesick and felt like he was in over his head.
"I didn't know how to be a parent, how to take care of a kid," he says. "I had my own ambitions, and I felt everything was fading away. Then I started to realize how everything was new for Leo. It took him time to trust what I was saying."
Alex rattles off examples: Leo would eat food too fast, because he was used to not being sure when he would get his next meal. Alex was letting Leo drink too close to bedtime, and he would wet the bed. Leo had never seen a TV before, and arrived here knowing only Kirundi, their native language, so Alex taught him English, the language they use with each other now.
Over the past five years, Alex and Leo have lived with volunteers and friends, eventually moving into their own space—a converted garage in Framingham—with a small kitchen and sleeping space. Alex says that their life in the United States wouldn't be possible without the dozens of missionaries, volunteers, and friends who have helped them along the way. Even today, he relies on a network of friends for help raising Leo—for instance, when he needed a babysitter for an evening class at SPH.
"Alex does not sit on his hands," says Dina Chu, who picked Alex and Leo up from the airport when they first arrived in Boston, never having spoken to them before. "He is very resourceful, very gentle, and is an example of the wonderful things that humans can do for one another."
Coming to BU
When Leo started kindergarten, Alex began to think about how he should spend his time. He wanted to work toward a degree in counseling, so he applied to a few different graduate programs in the area. The School of Public Health accepted him as a visiting student in fall 2016, with the caveat that if he did well in the classes, he would be formally accepted into the program. A fundraising campaign by a friend paid for his first two classes.
Alex was nervous when the time was approaching to find out whether or not he could enroll as a full-time student. He went to see SPH's director of admissions, who handed him a letter signed by 44 of his classmates explaining why they believed he should be allowed to continue in the program, and why he should receive financial assistance.
"Anyone who meets Alex understands immediately that he moves through the world with uncommon care and kindness," the letter read. "If public health is about translation, Alex is a natural student and teacher: from language to language, from country to country, from culture to culture, from science to practice. We urgently need to learn from peers with these skills and experiences if we are to be effective practitioners, both domestically and abroad. A world-class university needs world-class students." Alex cried when he read the letter. He was accepted at SPH, with a focus on program management and global health, and the school's Lamstein Family/JSI Scholarship, which funds the school's students based on financial need and academic merit, covered his tuition. Scholarship benefactor Joel Lamstein, an SPH adjunct associate professor of global health, who serves on the school's advisory board, founded the public health consultancy John Snow, Inc. (JSI), which applies management concepts to public sector issues.
James Wolff, an SPH associate professor of global health and a 2018 Metcalf Award winner, describes Alex as a calm, caring, natural leader who worked exceptionally hard in his Making Programs Work: Program Implementation for Global Health course. He says it was a pleasure to watch Alex excel and inspire his classmates.
Eugene Declercq, an SPH professor of community health sciences and assistant dean of doctoral education, says that "Alex combines his innate decency with remarkable persistence in patiently fulfilling his commitment to improving not only Leo's life, but the health of the population at large. He really is a special person."
What's next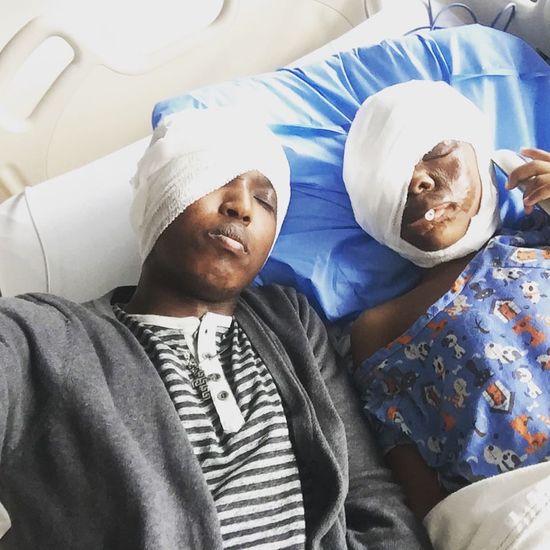 Alex has been by Leo's side for more than a dozen surgeries, with another planned for this summer to work on his scar tissue. Leo is making good progress. His wounds, which long ago in Burundi weren't healing, have closed, and he wears glasses to help him see.
Asked about what's next for the duo, Alex says the family that owns their home is putting it on the market soon, so they need to find a new place to live, preferably in Framingham so Leo doesn't have to change schools. As he's gotten older, Leo has been subjected to teasing, making it necessary for Alex to enroll him in counseling. "His last surgery, they put a mask on his face," Alex says. "His amazing teacher found pictures of LeBron James and judo athletes who wear masks, and then she did a presentation to the class." Last week, Leo had a joint birthday party with a friend, with a rented bounce house.
It doesn't look like they are returning home to Burundi anytime soon. For starters, Leo is still receiving treatment, but also, the Human Rights Watch has deemed Burundi unsafe, with widespread human rights violations and political violence after its president started a controversial third term. So for now, they are staying put.
Alex is searching for a job in public health or healthcare and has updated his LinkedIn page. "God has been generous to us, and now I need to get on my feet," he says. "I want to get a job and have five years of experience, and start something to help people—it's one of my long-term goals. I owe something to the world, the community."