10 Free Things to Do with Family and Friends This Weekend
History trails, Faneuil Hall, the Boston Harborwalk, and more
Commencement is just days away. Chances are, this year's graduates have family and friends arriving in town soon to help mark the big day. Looking for fun things to do with them while they're in town? We've put together a list of great walking tours and places to visit in and around the city that celebrate Boston's rich history and architecture. Best of all, they're free.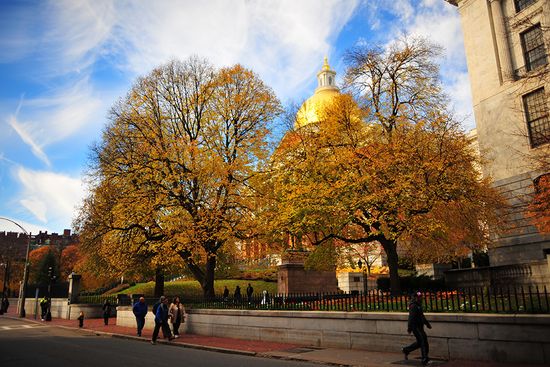 The Freedom Trail is a great way to explore Boston history. The 2.5-mile red brick path winds through downtown Boston and takes visitors to 16 of the city's most historic sites, among them the Granary Burying Ground—the final resting place of three of the signers of the Declaration of Independence—and the Bunker Hill Monument, in Charlestown. Guests can pay to take a guided tour of the Freedom Trail with a National Park Service ranger or take a free self-guided tour. Download a map of the Freedom Trail here. And remember to wear comfortable shoes.
Self-guided tours of the Freedom Trail begin at the Boston Common, 139 Tremont St. Find more information here. Take an MBTA Green Line trolley to Park Street.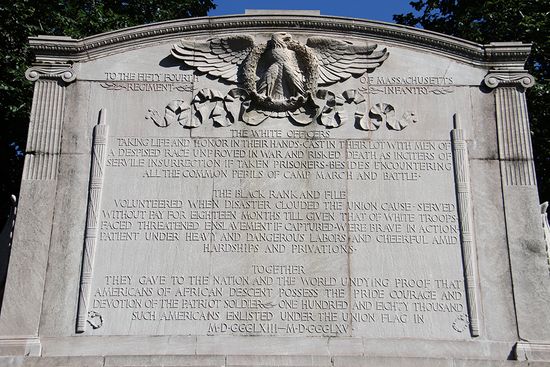 This fascinating self-guided walking tour gives visitors a glimpse of what life was like for the city's African American community from the 17th through the 19th centuries. Between 1800 and 1900, most of Boston's African American residents lived on the north slope of Beacon Hill. The 1.5-mile tour takes visitors to 14 locations where they lived, worshiped, and attended school. Included are stops on the Underground Railroad. By the end of the American Revolution, Boston had more free black people than slaves, and the city's free black community led the nation in the movement to end slavery and gain equality.
Find a map of the Black Heritage Trail and more information about the self-guided tour here. Take an MBTA Green Line trolley to Park Street.
Starting in the mid-19th century, Boston became home to tens of thousands of Irish immigrants fleeing the Irish famine. Their arrival reshaped the city's politics and cultural life. The Irish Heritage Trail, created by the Boston Irish Tourism Association in 2000, pays tribute to the accomplishments of some of Boston's most prominent Irish-American citizens, such as President John F. Kennedy (Hon.'55) and former Boston mayors Michael J. Curley and Kevin White (Hon.'74). The self-guided tour has 20 stops, from the Rose Kennedy Garden along the Rose F. Kennedy Greenway to Boston City Hall and Fenway Park.
Find a map for the Irish Heritage Trail here or pick one up at the Visitor Information Center at 139 Tremont St. on the Boston Common, near the Park Street MBTA station.
Faneuil Hall Marketplace and Quincy Market
Built in 1742, Faneuil Hall has served as a meeting hall for residents for nearly 300 years. The marketplace was expanded in 1826 to include Quincy Market. Faneuil Hall has been called the cradle of liberty—it was here in 1764 that colonists protested the Sugar Act of 1764 and demanded "no taxation without representation." Over the centuries, such notable speakers as Samuel Adams, Susan B. Anthony, Senator Edward Kennedy (Hon.'70), and President Bill Clinton have delivered speeches there. By the early 20th century, the marketplace had largely fallen into disrepair and was nearly torn down in the 1970s. But Kevin White (Hon.'74), mayor at the time, and several prominent businessmen and architects saved the complex from the wrecking ball. In 1976, the market reopened as a complex of restaurants, shops, and pushcarts featuring handmade crafts. Today, it is one of Boston's most popular tourist attractions. People from around the world visit, dining on classic local fare like oysters, lobster rolls, clam chowder, Boston cream pie, Boston baked beans, and Indian pudding and shopping at the area's dozens of stores. Street performers offer a never-ending array of entertainment as well.
Faneuil Hall Marketplace and Quincy Market, 4 South Market St., are open from 10 am to 9 pm Monday through Saturday and 11 am to 7 pm Sunday. Take an MBTA Green Line trolley to Government Center.
Copley Square
One of Boston's most vibrant areas, Copley Square is steeped in history, surrounded by the Old South Church (1873), Trinity Church (1877), the Boston Public Library (1895), and the John Hancock Tower (1976), the tallest building in New England. It's also within walking distance of some of the city's best shopping: Copley Place, the Prudential Center, and Newbury Street. Be sure to stop by the Pru's Skywalk Observatory, a sky-high vantage point offering breathtaking 360 degree views of the city.
Copley Square is bound by the intersections of Boylston Street, Clarendon Street, St. James Avenue, and Dartmouth Street. Take an MBTA Green Line trolley to Copley Square.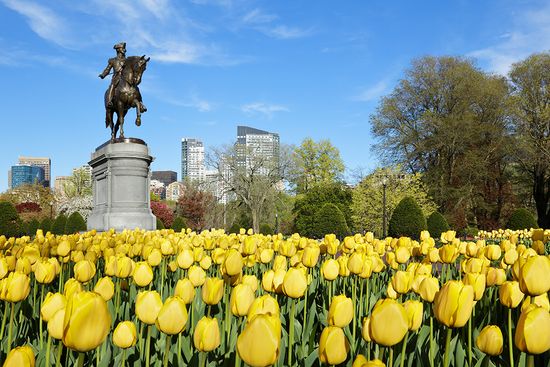 America's oldest public park, the Boston Common was created in 1634. Colonial militia trained to fight in the American Revolution here, British Redcoats used it as their encampment from 1768 to 1776, and abolitionists held rallies here in the years leading up to and during the Civil War. Today, the park includes ballfields, a carousel, and a frog pond that's a spray pool in the summer and a skating rink in the winter.
Adjacent to the common is the Boston Public Garden, home to the world-renowned Swan Boats. Established in 1837, the park was the nation's first public botanical garden. It is still celebrated for its flowerbeds and specimen trees. It also inspired the classic children's book by Robert McCloskey, Make Way for Ducklings, which is commemorated by a sculpture of the duck family by a BU alum, Nancy Schӧn (DGE'48). The Public Garden contains more than 80 species of plants and the lamplit bridge above the lagoon is one of the most famous scenes in Boston and has been the backdrop for many a wedding party.
The Boston Common is at 139 Tremont Street and the Boston Public Garden at 4 Charles Street. Take an MBTA Green Line trolley to Park Street.
This little-known museum offers a fascinating overview of Massachusetts history. A series of exhibitions highlight information about the men and women who helped shape the commonwealth from 1630 to the 1920s. Priceless documents on display include the Puritan Settlement, the Massachusetts Constitution, and the Townshend Acts, a series of British Acts of Parliament taxing the colonists, passed during 1767 and 1768, that met with resistance and eventually resulted in the Boston Massacre of 1770.
The Commonwealth Museum, 220 Morrissey Blvd., Dorchester, on the UMass Boston campus, is open from 9 am to 5 pm Monday through Friday and 9 am to 3 pm on weekends, Memorial Day through Labor Day. Find more information here. Take an MBTA Red Line train to the JFK/UMass stop.
Boston Harborwalk
On a nice day, there's no better way to explore this area of the city than by taking a stroll along the Boston Harborwalk. The 43-mile path, stretching from lower Dorchester to East Boston, connects Boston's waterfront neighborhoods to one another and to Boston Harbor. Several inland trails and parks are also connected to the Harborwalk, among them the Emerald Necklace, the Charles River Esplanade, and the Rose Kennedy Greenway. The path has stunning views of Boston Harbor and the city skyline. Weather permitting, visitors can even bring swimsuits, sunscreen, and umbrellas to lounge in the sun on one of the nine public beaches along the Harborwalk as well. It's an ideal outing for those looking to get away from city congestion.
Find a map and more information here. Take an MBTA Green Line trolley to Government Center and walk about 10 minutes.
The 281-acre Arnold Arboretum of Harvard University, in Boston's Jamaica Plain, is North America's oldest public arboretum. It was established on an old farmstead left to Harvard College by Boston merchant Benjamin Bussey in 1872 for the scientific study of trees, and funded under the will of New Bedford businessman James Arnold, who left money for an arboretum. In 1882 the land was deeded by Harvard to the city of Boston and is operated by Harvard under a 1,000-year lease. Today, a leading educational and scientific institution and a National Historic Landmark, it is part of Boston's meandering chain of ponds, forests, and fields known as the Emerald Necklace, a park system designed by 19th-century landscape architect Frederick Law Olmsted, best known for creating New York City's Central Park. The arboretum is at its best in May and June, when its famous azalea border, rhododendron dell, and world-class lilac collection (179 different varieties) come into bloom.
The Arnold Arboretum, 125 Arborway, Jamaica Plain, is open Monday to Friday, 9 am to 5 pm and Saturday and Sunday from 10 am to 5 pm. Admission is free, but donations are appreciated. Take an MBTA Orange Line train to Forest Hills.
Looking to explore someplace beyond Boston? Head over to  Harvard Square in Cambridge, one of the area's most popular tourist destinations. You'll find  great options for dining, shopping, and sightseeing. The main draw is stately Harvard Yard, the heart of Harvard University. But you'll also find dozens of restaurants, like the popular Felipe's Taqueria (with a rooftop bar) and the locally famous Pinocchio's Pizza, serving up Sicilian-style pizza to Harvard students for over three decades. Museum lovers will want to check out the world-class Harvard Art Museums, free to college students with a valid ID and to those under 18.
Find more information about Harvard Square here. Take an MBTA Red Line train to Harvard Square.
Senior Abigail Freeman can be reached at anfree@bu.edu.