Umoja Celebrates Seniors' Rite of Passage
Pre-Commencement ceremony is first for black student union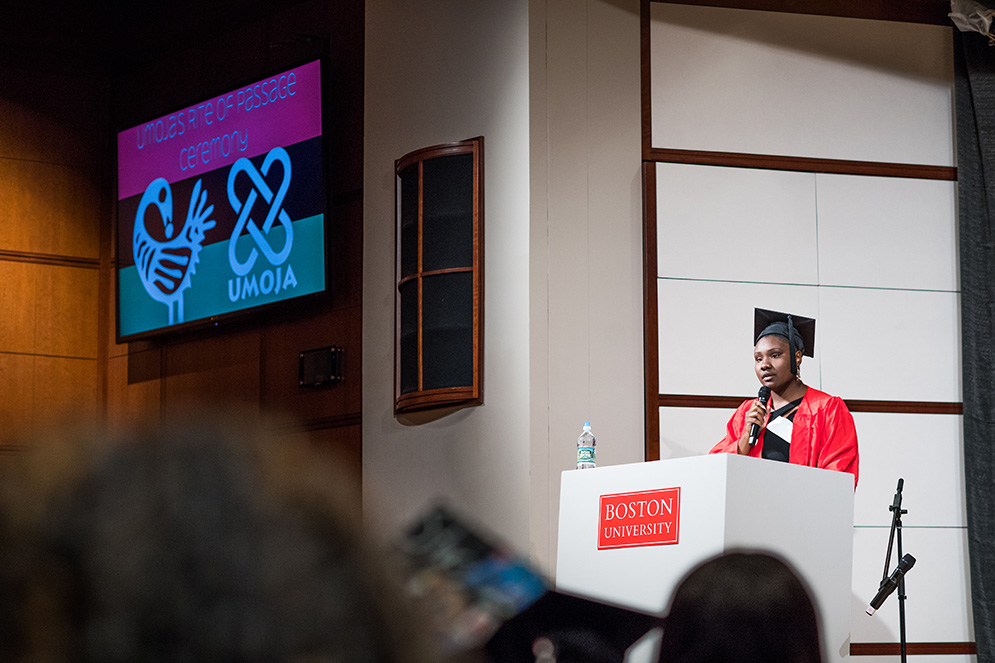 BU's first-ever Rhodes Scholar told those at a first-ever Rite of Passage ceremony for black graduating seniors that they are the "Wakanda generation," and that they are fortified by BU's long tradition of diversity.
The reference to the fictional African nation in the blockbuster film Black Panther came from former University trustee Richard L. Taylor (COM'71), who addressed more than 300 people—70 seniors plus family and guests—at Friday's Rite of Passage ceremony at the Questrom School of Business. The event was sponsored by Umoja, BU's black student union, in advance of Sunday's 145th Commencement.
"This gathering is part of a long arc of institutional diversity and inclusion that has been intentional, not anecdotal nor accidental," said Taylor, a Suffolk University administrator and chairman of the Taylor Smith Group, a commercial real estate company in Boston. That tradition of diversity, he said, is the Class of 2018's "vibranium," the magical element that protected Wakanda in the film.
Taylor cited BU's first president, William Fairfield Warren, who in 1874 predicted that universities would someday admit "all comers, without respect to creed or race or sex," and the late Howard Thurman (Hon.'67), the first black dean at a mostly white university when he was appointed dean of Marsh Chapel in 1953.
"You represent the beginning of the next chapter in this amazing timeline of African American legacy here at BU," Taylor said. That legacy continued this acadmic year, he added, with the announcement that the Howard Thurman Center for Common Ground would be expanded and moved to a higher profile home at 808 Commonwealth Ave.
Taylor said the 19,000-square-foot center, expected to open in about two years, "is an unprecedented commitment to our communities of color and to the continuity of growth…as we face diversity and inclusion in all of its dimensions in the 21st century."
To fortify themselves against continuing racial discrimination—higher incarceration rates than whites, income disparities, police violence, impediments to voting—Taylor urged the graduates to make a final stop this weekend at Marsh Plaza, where they could stand between Marsh Chapel and the Free at Last sculpture dedicated to the Rev. Martin Luther King, Jr. (GRS'55, Hon.'59). There, he said, they could ponder their blessings while saying, "Wakanda forever, Umoja forever, and BU forever!"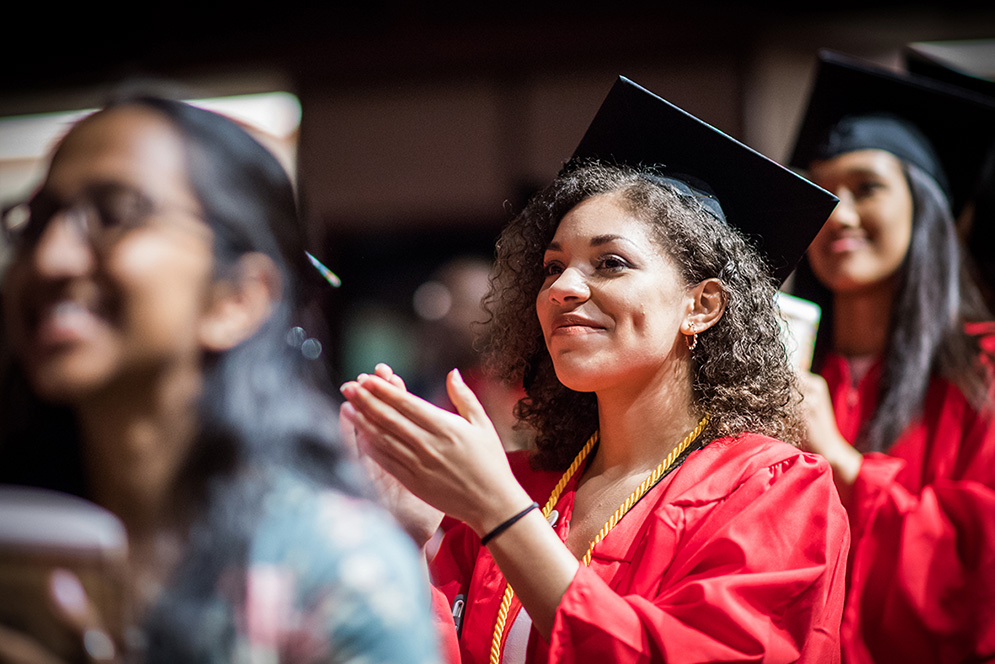 He received a standing ovation as part of a joyful evening that opened with drumming by the Senegal group Bayefall and included the draping of graduates with gold-, red-, and green-striped kente stoles of African cloth, worn by black graduates at many universities.
Taylor imprinted himself on the University's history during the heady era of campus unrest over Vietnam and civil rights. When Umoja was formed in fall 1967 with the goals of boosting black enrollment, scholarships, faculty members, and Student Government representatives, he was a member of the inaugural class of officers. He was also a captain of the BU basketball team, and the first Terrier to go to Oxford on a Rhodes Scholarship.
Roscoe Giles, a College of Engineering professor of electrical and computer engineering, told the graduates about a personal piece of the legacy that Taylor described: Giles' great-grandfather, Francis Fernard Giles, took classes in Greek and Hebrew at the School of Theology in 1895.
Devoted to fighting injustice, Francis Giles became a minister and a lawyer, sent his son to Cornell, and began a family tradition of educational achievement in the face of societal pushbacks.
This year's black graduates share with Francis Giles the privilege of a college education and the sting of continuing racism, said Giles. He suggested an immediate, small display of black pride, urging the graduates to wear their stoles at Sunday's Commencement. (He himself wore a Nigerian shirt Friday, given him by an African volunteer some years ago at a supercomputing conference.)
Sernah Essien (CAS'18), president of Umoja, said in an interview that the group decided to hold the ceremony because "predominantly white institutions of higher learning do not have admissions strategies, curricula, and resources for retaining students of color. This affects black students across the nation and makes graduation from university a commendable feat.
"As the black student union, we think it is both important to honor the graduating class and the work they've done, as well as call attention to these facts."
The theme of Umoja's ceremony was Sankofa, a word in the Ghanaian language of Twi that means "looking back to go forward," said Essien, who is of Ghanaian descent. She said the theme is "used rather widely in many black spaces when celebrating our history and promoting collective, future prosperity."
"I think this is a great way to bring the black community together and celebrate our successes," said Jasmine Brooks (CFA'18). "BU is such a large university, so it's not always easy to see what other black students are doing across the university. It brings us all together and reminds us of the community that we are a part of."
Brooks said she was looking forward to "many graduations and celebrations," as besides the Umoja event, she'll attend the College of Fine Arts Convocation and Sunday's all-University Commencement.
While the Rite of Passage is the first such undergraduate ceremony, Essien said, the School of Theology has a "long-standing ceremony" for its graduating black students.
Find more information about Commencement here.