Teaching Theology amid Catholic Church Sexual Abuse Scandals
A candid conversation with STH Dean Moore and Father Jordan Lenaghan (STH'21)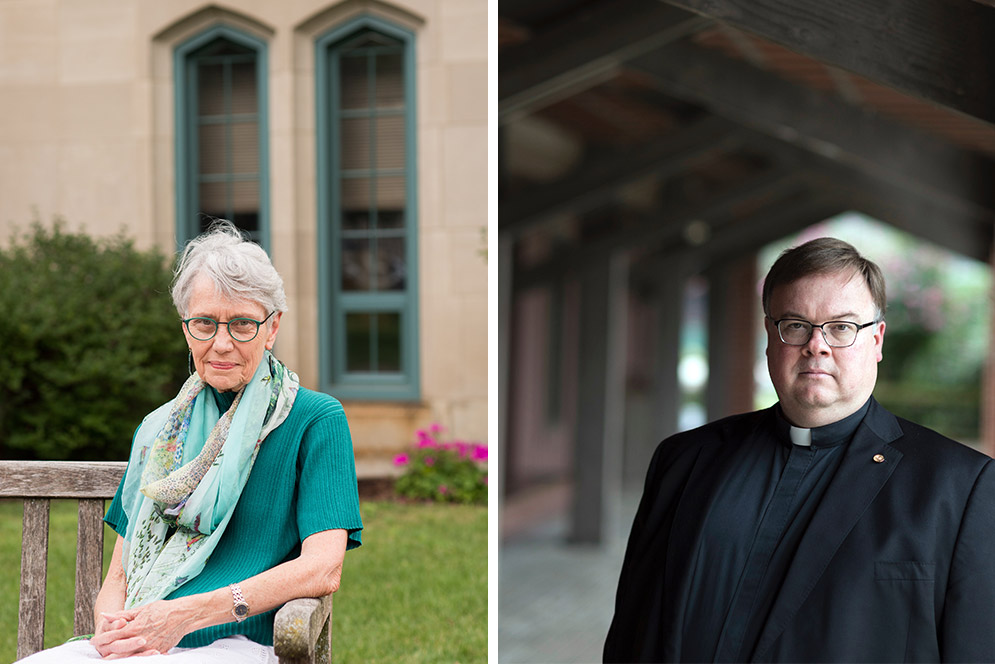 How exactly should professors of theology talk with students who are pursuing a career and a life rooted in religion and faith about another round of sexual abuse scandals in the Catholic Church? That's a question Mary Elizabeth Moore, dean of BU's School of Theology and a professor of theology and education, and Dominican Order Catholic priest Father Jordan Lenaghan (STH'21), the executive director of university religious life at Quinnipiac University, who is enrolled in the STH doctoral ministry program, acknowledge that they are grappling with.
"Issues of boundaries and ethical ways of relating come up in courses on care, trauma, and psychology of religion," says Moore, who earned both bachelor's and master's degrees in psychology at Southern Methodist University and holds a master's and a doctorate in theology from the Claremont School of Theology. "We recognize that that's not enough and are in a process of reflecting on what more we need to do."
What's prompting her renewed attention are multiple crises. There is the report from a Pennsylvania grand jury that revealed a systemic cover-up of sexual abuse by Church leaders. It includes graphic accounts from victims covering a 70-year period of abuse of more than 1,000 children by 300 priests (this crisis comes 16 years after the Boston Globe first unearthed the subject of widespread sexual abuse by Catholic priests). Locally, there is the more recent allegation of sexual misconduct at St. John's Seminary in Brighton, prompting Cardinal Sean O'Malley to cancel a trip to Ireland that included a papal visit. And there is the revelation that former US Cardinal Theodore McCarrick sexually abused and harassed seminarians, forcing his resignation, and the explosive allegation in late August by a former Vatican ambassador to the United States that Pope Francis knew about McCarrick's behavior, but did nothing about it. This has led to calls from some Catholic conservatives for the pope's resignation.
In wide-ranging conversations with both Moore and Lenaghan, BU Today asked them to talk about how theology schools should handle a crisis of sexual abuse in churches and what students are asking for and expecting from their theology professors and schools. The School of Theology, established in 1839, is the founding school of BU, the country's oldest United Methodist seminary, and one of only a handful of university-based theological seminaries in the nation. What follows is an edited version of the conversations with Moore and Lenaghan.
Moore: The School of Theology needs to respond with more than courses, but also with public conversations on ethics and sexuality, including sexual and emotional abuses of individuals and of groups of people whose gender identities or sexual orientations have been condemned by many churches. The churches have never fully explored the deeper values and issues in sexuality. Instead they (we) have often developed destructive ways of hiding, ignoring, abusing, and punishing. That has to end.
Lenaghan: You know, I was horrified looking at the scope of what the Pennsylvania grand jury returned, and the one thing that I can say is that the importance of educating clergy across denominations to be ethical leaders is all the more clear to me.
Moore: We have had one special course at STH thus far and plan to offer more regular workshop courses focused especially on boundaries, sexuality, and ethics. We've been working on this for a few years. Another place we address the issues is in ethics courses, like Introduction to Ethics. In light of the increasingly egregious discoveries, we are now taking a deeper look at what we do, and don't do, in order to improve our responses.
Lenaghan: The scope of this is immense, and it speaks to a failure on so many levels, from the personal to the international. But one of the things that at least becomes clear to me is that it is now patently obvious we have to double down on education around ethical leadership and professionalism in ministry.
Moore: We have two primary places where these issues are addressed in our curriculum. One is in courses that address spiritual care, psychology, and trauma, another is the Integration of Theology and Practice seminars that students take during their contextual education (clinical) year. Many of our students also take Clinical Pastoral Education.
Lenaghan: There was a great medieval observation, which was to never deny, seldom affirm, and always distinguish. It's clear to me that we need to talk much more about issues of professionalism, appropriate boundaries, along with issues of psychosexual maturity and integration.
Moore: What would the church look like if the safety and concerns of young people were a top priority? It would look different, it would mean that young people and their parents would be listened to carefully and taken seriously. Investigations would be done beyond just talking to various parties. It would also mean the church would take responsibility for creating safe spaces. Just like our school needs to step up our game, the churches need to step up their game.
Lenaghan: The only way sin and crime and abuse are dealt with is by shining a very bright light on them. And so I have no reason to think that somehow Pennsylvania is anomalous. I was ordained in 1995; we've made great strides in what we do to protect children and vulnerable adults, but clearly there's much more to do and there's much more to be addressed on a fundamental systemic level. My hope is that the younger generation has learned to distinguish in a healthy way the role of the clergy from their relationship with God.
Moore: I've had three emails this week from Roman Catholics in the School of Theology who are deliberating how they and their institution need to respond immediately. Their concerns are both the egregious ethical violations and the cover-ups, which happen also in Protestant and other churches. Their concerns are also with the lifelong damage and disempowerment of young people.
Lenaghan: I think oftentimes in the past your clergyperson was the center of the community, the most educated person in the community, sometimes one of the wealthier persons in the community, and in certain Catholic communities, really was the focal point around which people's lives revolved, and that can lend itself, when a person has problems, to become an abusive situation. Now that there is this recognition that the clergy doesn't hold a central position in the lives of many young people, and that their lives have sort of multiple poles, I'm hoping that in some ways is the ground for healthy growth in this area.
Moore: I think that courses are very important, but they have limits in effectiveness. Students can react to courses with gratitude for a great opportunity to learn, with expectations of boredom, or with denial that issues of sexual and emotional violation would ever apply to me.
Lenaghan: Within the Church, there are those on one side that want to say that this is only a problem of clerical celibacy, and if only clerical celibacy were gone then these problems would be solved. And on the other side, there are those who say that this is just basically a problem resulting from the fact that we have gay clergy, and if only we became hypervigilant and removed all gay clergy, then this problem would be resolved. Sadly, what the Pennsylvania experience has demonstrated is that while there were some great strides made, there were some even greater ones that need to be made.
Moore: There are ways to explore sexuality as a gift of God, which is not meant to be abused or violated. The church can be much more forthright in naming the gift of sexuality while being more courageous and clear about professing ethical behavior and the dangers of abuse.
Lenaghan: How do we engage students around this issue? There are probably three pieces. One is to straight-up talk about it. No holds barred, no defaulting to pious language, very much a direct approach in conversation and dialogue. Second is then broader conversations about how we all contribute to a safe environment. And let me say here that I think that in certain areas we're already doing the work with different populations and different groups. And then third, how do we as a Christian community at a school, on a campus, what kind of symbolic response do we make as well? Because part of the insight of Christian anthropology is that the human person is one who engages in symbols, and engages the sign. So how do we then say, we need to mark the fact that we acknowledge what's happened, we are committed and firmly resolved to repent of what's occurred, and at the same time we are ready do the necessary work to make sure it doesn't happen again?
Moore: We are experiencing great sadness as we learn of investigations of alleged ethical violations in some major Protestant churches across the country, and even in our sister school in Brighton, St. John's Seminary. These are cause for great concern, and also cause for gratitude that investigations are taking place. Investigations have too often been absent or poorly conducted in the past. At the same time, each of us and our institutions need to educate everyone within our institutions (as BU has begun to do in a more thorough way) and to implement procedures for investigating and making ethical judgments when allegations of sexual or emotional violation come forward.