Suzuki Method: Respect and Repetition the Best Teachers
CFA student's UROP research finds childhood education doesn't hinge on aptitude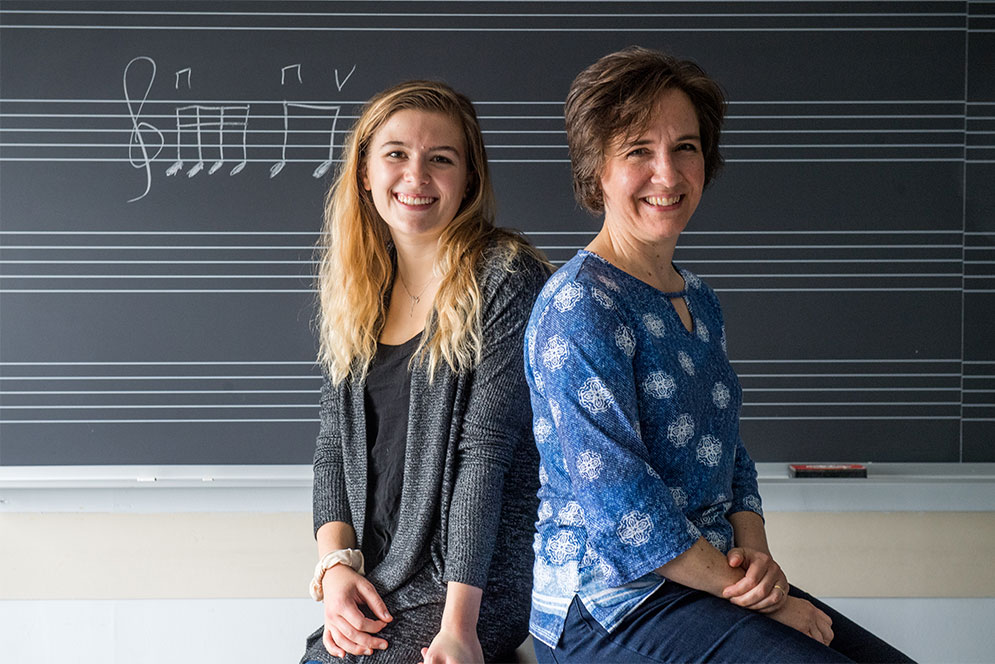 To the average person, Suzuki is a motorcycle. To Madeline Bucci, the word conveys an educational philosophy that could revolutionize how we educate the world's youngest children.
The Suzuki method, named for its developer, violinist Shinichi Suzuki, is an approach to learning musical instruments that emphasizes mutual respect between teacher and pupil. Teachers encourage students with praise, looking for anything about their effort and output to laud. Suzuki, who died in 1998, believed that innate aptitude is overrated—instead, as Bucci (CFA'19,'20) sums up his thinking, "everyone is always learning."
That's the title of a study she wrote for BU's Undergraduate Research Opportunities Program (UROP), which matches students with faculty mentors across the University and provides funding for projects. Bucci examined the Suzuki Preschool of Newton (Mass.), which integrates the Suzuki method into its music instruction—while also integrating music and the Suzuki approach into its broader curriculum, from reading and writing to Mandarin.
The Suzuki method also stresses parental involvement in children's learning, group learning, and listening to music from early childhood. The Suzuki Preschool is one of only two preschools in the country that apply the approach to general education (the other is in Atlanta), says Bucci's project advisor, Karin Hendricks, a College of Fine Arts assistant professor of music and music education.
Bucci's research made her a believer in Suzuki's power to improve education—music and nonmusic—by encouraging students and reinforcing their belief in the power to learn.
The Suzuki Preschool's teachers "strove to create an environment where children could learn to listen with sensitivity, work alongside others, and continue to learn no matter who or how old they were," she writes in her report. "As models of continual learning themselves, they paved the possibility for their students to do likewise." (One non–music teacher at the school sits in on music classes, for example.)
Observing one of the preschool's violin teachers, she writes, she noted how the woman praised "even the smallest things that [students] did well as a way of encouraging them to improve their technique. No matter their skill level, she made an effort to find something they were doing well."
In her report, Bucci quotes the Suzuki Preschool principal on the school's focus on communication and respect: "Outside, basically, we try to keep the kids from telling on each other. They all do it, and we try to tell them to use their words. Instead of me standing over them, it's more, 'Why don't you ask your friend why he's being fresh? Why don't we find out why?'"
The Suzuki method, which is mostly used by private music instructors, has its critics, Hendricks says. Traditional music teachers frown on it "because of Suzuki's emphasis on learning without reading music.… Your ability to perform by ear is remarkable when you're a Suzuki student, because that's what you're taught to do."
That approach stemmed from Suzuki's fundamental insight, she says: he modeled his music instruction on the way children learn language early on—not by reading and writing it, but by immersion and constant repetition. "The truth is," she says, "they typically will know how to read music as well as any of their peers who aren't Suzuki-trained. But their performing is so much higher."
Hendricks confesses that she was among the Suzuki skeptics herself until 25 years ago, when she began teaching Suzuki-reared cello students "who were brilliant.… I never had to ask them to practice. I just told them how and they went and did it.… It rocked my world."
"There are so many elements of the Suzuki philosophy that open hope," she says. "Quite often, there's this belief, 'I can't do that, because it's not in the cards for me.' Whereas Suzuki says we just need to be creative and figure it out."
Bucci also can personally attest to the method's power. She has studied piano since age six under non-Suzuki teachers, and growing up, she had some less experienced classmates who were Suzuki-trained. "They were more musical than me, and they had much better ears," she says. "They could listen to a song and just play it on piano, no problem."
She and Hendricks hope to publish the study in a professional journal in the coming months.