Students on Why They Voted
Many saw this year's midterms as a referendum against Trump and his policies
Larissa Davis (CAS'19, Wheelock'19) regretted not voting in the 2016 presidential election, and she wasn't going to let it happen again on Tuesday.
The 21-year-old biology major voted for the first time in this year's midterm election, a vote she said was motivated by her opposition to President Trump's environmental policies and his decision last year to withdraw the United States from the Paris Agreement on climate change.
In other words, she mobilized.
"I'm actually kind of proud of myself," she said as she emerged from the campus polling place at 111 Cummington Mall Tuesday morning. "I felt very prepared."
Two years after Trump's 2016 presidential win, young voters were expected to play a critical role in this year's midterm elections and the Democrats' efforts to regain a majority in the House and possibly, the Senate. Student turnout was higher than usual at the polling place, with many students saying they were incensed by the direction Trump was taking the nation.
The Cummington Mall polling site is typically one of the quietest polling places in the city, but when it opened its doors at 7 am, seven voters were already waiting in line and polling staff called it a rush. By 9:30 am, 53 votes had been cast, including 13 mailed in early.
Those numbers aren't staggering, but poll workers recalled another midterm that drew exactly one voter to the same location all day.
"It's certainly been picking up," said poll warden Mark D. Trachtenberg. "I think students are starting to learn that the presidential race isn't the only one to vote in."
Natasha Morales (CAS'20) said the Trump administration has unleashed fear, from its policies around immigration (and calling immigrants from Mexico "rapists") to the president's lack of respect for women (most recently evidenced in his remarks in Florida on the eve of the election about how Christine Blasey Ford, the woman who said Supreme Court nominee Brett Kavanaugh's sexually assaulted her, "made up the story").
"We see now there are many people who don't believe in rape culture, and we don't feel as safe as we should," Morales said. "It's terrifying that anyone can say what they want about you and be believed."
A BU staffer who did not want to be identified put it simply after casting her vote: "I'm fed up," she said. Trump's presidency "is a trash fire."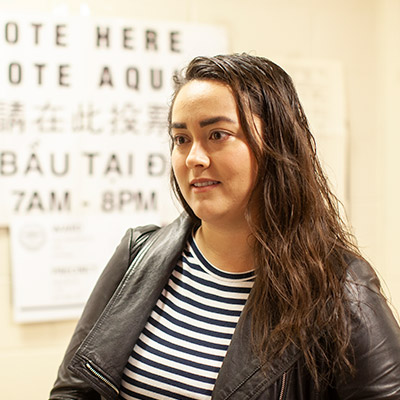 She said the president's stands on immigration, race, women, and reproductive rights all reflect a step backward for American society. She described her vote as a "form of resistance and self-care" because it helped her feel like she was taking action by exercising her voice.
Whether young voters around the nation feel the same way, and express it at the polls, remains to be seen. Generation X, millennials, and the postmillennial generation are a clear majority of voting-eligible adults in the United States, but according to the Pew Research Center, they have a historic track record of low turnout in midterms compared with older generations when they were the same age.
Other students interviewed said they were motivated to vote by one of this year's three state ballot referendums, Question 3, which if voted down, would roll back the state's anti-discrimination laws allowing transgendered people to use the bathrooms, locker rooms, and dressing rooms of their choice, and not necessarily correlated with their birth sex.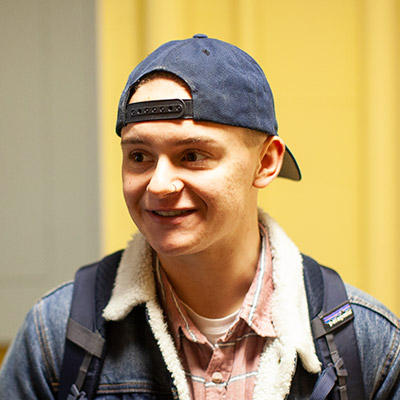 "We don't need any more forms of discrimination," said graduate student Chelsie Lincoln (MET'20).
The ballot question was also part of the draw for Logan Nelson, an Emerson College student who lives in the precinct.
"I'm a transgendered man. Question 3 is so important to me and my rights," he said. "I'm shocked that it's even a question."
Nelson said he had never before seen the level of get-out-the-vote activism among his friends and peers, including in 2016's national election, calling it exciting.
Millennial voters may be frequently characterized as detached or apathetic, but Zach Flint (COM'19) said Trump's divisiveness and the rancor around his policies have students riled up.
"It's stupid not to vote," he said. "You've got to stand up for what you believe in."
Latest from
BU Today
Marketing & Communications