Official Red Sox Photographer Captures Historic Season
Billie Weiss (COM'16) on 2018's best images, Alex Cora's photo wall, his favorite Fenway Park spot
In 118 seasons of baseball, the Boston Red Sox have never had a better regular season than 2018. They won 108 games, vanquished the New York Yankees and the Houston Astros in the playoffs, and are now playing in their 13th World Series. Mookie Betts, Chris Sale, and company have created dozens of magical moments along the way, and Billie Weiss has been there to capture all of them. What does it take to document a historic season? Weiss, Red Sox manager of photography, estimates that he's taken 50,000 shots this season.
As the Red Sox face the Los Angels Dodgers in the World Series, we asked Weiss (COM'16) about the challenges and rewards of photographing the winningest team in Red Sox history—and who he thinks will win the 2018 World Series.
Click here to learn more about free viewing parties and Sox trivia.
BU Today: How did your time at the College of Communication prepare you to photograph a professional baseball team?
Weiss: My professors were people who had covered professional sports in Boston, and really around the world, and they spent years covering the Red Sox at Fenway Park. Just being able to sit down in their offices and look at pictures from previous years, of the Red Sox World Series championships and other great teams, and having them walk through what went into making those pictures was a really valuable experience.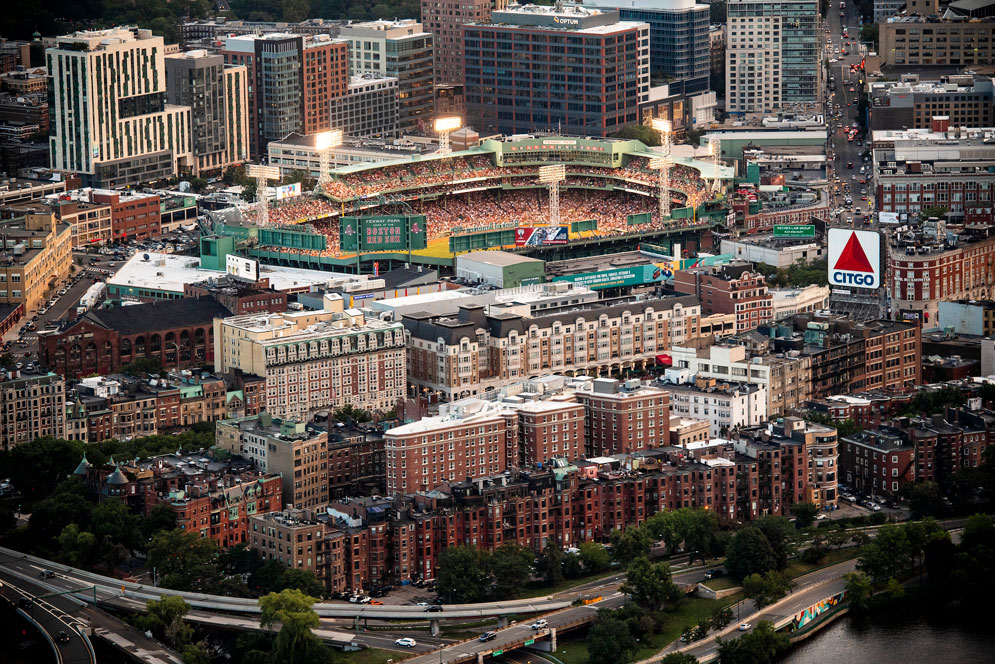 You shoot from all over Fenway Park—how do you make sure you're in the right place at the right time?
A lot of it comes from just doing it over and over again. I've been here for seven years—that's a lot of baseball games. You kind of learn where you need to be and how to anticipate what's coming in the game. One of the other things those guys at BU helped me with is the mind-set of: "You are a historian." It's your priority number one to make sure you're in the right spot to provide that historical record of the team. The other piece to this is working directly for the team, as opposed to a newspaper or a newswire, I do have access that other photographers don't, in terms of the tunnel, the locker room, the weight room, and any part of the ballpark. I don't abuse that, but I try and use it to my advantage to get the right shot at the right time.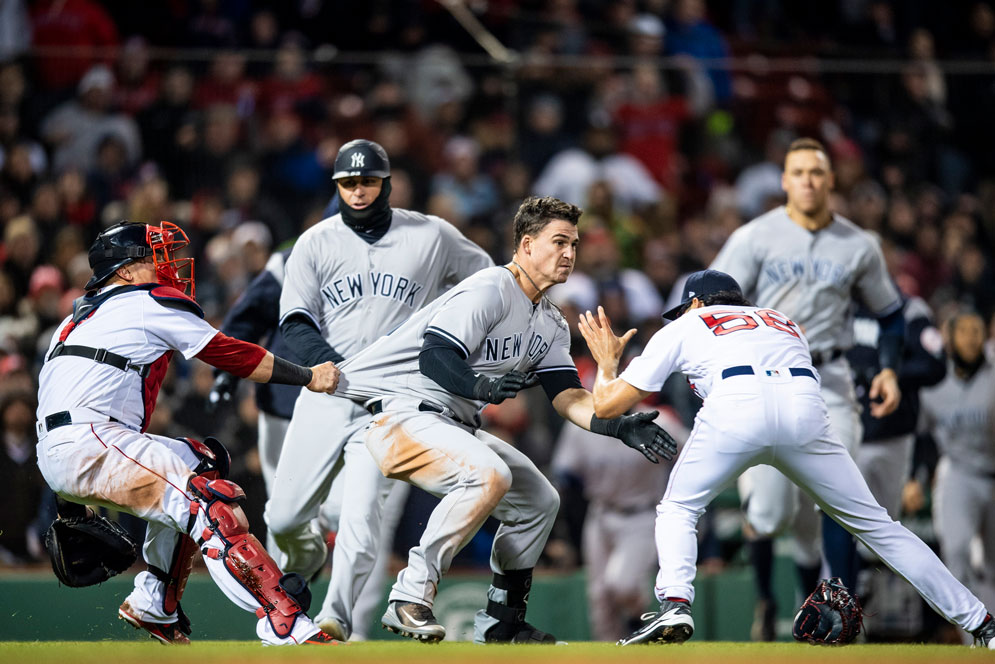 What's it like to have Fenway Park as your studio?
Everywhere you look you've got a perfect backdrop: you've got the facade with "Fenway Park" on it, you've got the Green Monster, the retired numbers in right field. It's just the perfect backdrop to shoot baseball. There are so many nooks and crannies to this park where you can make great pictures.
After seven years photographing the Red Sox, how do you find new ways to tell that story?
Just for your own creative sanity, you have to come up with new ways. You've got 80-plus home games a year of basically the same thing happening, so I'm always trying to challenge myself to come up with new ways or different ways to tell the story, whether it's a different viewpoint or a different type of shot, or it's portraits of the guys, or stepping away from the field and doing more lifestyle shots. Just different ways to shoot baseball other than home run swings, pitching, and catching.

Do you have a favorite angle in Fenway?
What we like to do in the early innings of the games, while the fans are still piling in, is go into the seats around home plate. I like that angle because you can get the Prudential Center and the city skyline behind you, in the back of your photo, with the batter up close in the foreground. It's a classic Fenway Park scene that you can't get from the first base photo pit.

Any advice for fans shooting photos from the stands?
It's not only about getting a shot of David Ortiz or Mookie Betts from the upper deck, or wherever you're sitting. There's so much more that's happening in Fenway: the fans, the shadows, the popcorn and hotdog vendors. The overall environment is just as compelling a lot of times as the superstar athlete down on the field. What makes Fenway unique is the atmosphere and the environment and the people who come here.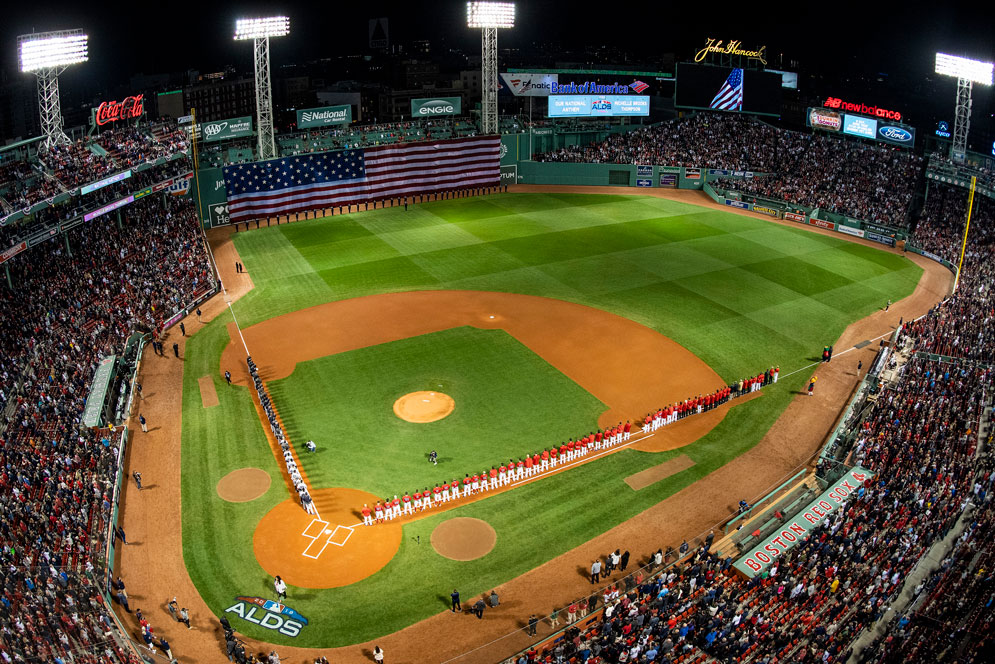 Red Sox first-year manager Alex Cora has one image from each of the team's 108 regular season wins this year on the wall of his office—what's the story behind that?
It was probably our first home game this year and I was sitting in the dugout, just taking photos of the guys getting ready, and Alex comes up to me and says, "Hey, look, I have an idea. I want you to help me out." He proposed printing out one photo that shows the defining moment of every game that the team wins. "I need it for my office. I have nothing in my office–I just got here." The team started off on a really hot streak and the wall filled up pretty quickly, and here we are, 110-plus wins later and his office is completely covered in photos.
What's the difference between photographing a winning team and a losing team?
It's kind of cliché, but winning helps everything: my access is better and the willingness of the players to take certain photos that I want to take is probably more likely. Winning just helps everyone's overall mood. When we're winning, the emotion in the photos really comes through. They kind of let themselves go a little bit, which is always great for photos. That's something that just doesn't really happen when you're in the middle of a losing season. We've had so many emotive moments this year.
How do you deal with all of the travel and the pressure to make your photos available so quickly?
That's one thing that a lot of people don't consider with this job. Everyone thinks, "Oh my God—dream job." And it is: I don't take it for granted and I love this job. There aren't many other places I'd rather be. But it is a grind. It's nights, it's weekends. When everyone else is at the beach, you're here working. On a given game day, 7 o'clock game, I'm here by 11 in the morning and I don't leave until 11 or 12 at night. Then repeat that for 10 or 12 days in a row. You have to love baseball to do it, and I love baseball, so it doesn't feel like work.
Quick turnaround is a huge part of what we do now. With social media being so prevalent, everything needs to be up instantly. So when I'm in the photo pit, I have my laptop right in front of me and I'm sending photos to the social media and graphics teams as I'm shooting them.
How has social media changed your job?
One big thing about social media and Instagram is now it's something that the players care about. That helps me out a lot, because I can do certain things that I wouldn't have been able to do in the past because they want X, Y, and Z photo for their Instagram. That is huge for us in building those relationships and getting the access that otherwise we wouldn't have. As for me personally, I love social media and Instagram because it's a way for me to connect with people. People can write in and ask me camera questions and questions about the Red Sox. I love just being able to have a dialogue and connect with people who love the Red Sox, love baseball, and love photography.
What's your favorite shot from this season?
Mookie Betts hitting the grand slam after a 13-pitch at bat [July 12 versus the Blue Jays] was an awesome moment. He hit the home run and his reaction was just amazing going up the line. That one sticks out as the photo of the year for me, with second place being a Xander Bogaerts walk-off home run [July 14 versus the Blue Jays], which I shot from overhead from a remote camera I had up on the roof. It's a cool shot of him running into home plate with the whole team celebrating around him as he comes in to win the game. It's a different angle that you don't get from being on the field level.
Any playoff predictions?
I'm predicting a Red Sox world championship. I think this is going to be a tough series against Houston. I think it will go six or seven games, but I think ultimately we're a really good team. We're the best team in baseball this year, and I think they'll pull through and ultimately be able to beat whoever the National League team is, whether it's the Dodgers or the Brewers.
This interview has been edited for clarity and brevity.
Marc Chalufour can be reached at mchalu4@bu.edu.