Alum Nina Totenberg to LAW Grads: "Beware the Golden Handcuffs"
NPR legal correspondent says blind old Lady Justice is waiting for them
Award-winning National Public Radio legal affairs correspondent Nina Totenberg counseled the 2018 School of Law graduates Sunday to seek a variety of experiences as they embark on their legal careers, including public service.
Families, friends, and faculty gathered at the Track & Tennis Center to celebrate the 490 graduates receiving Juris Doctor and Master of Law degrees and to hear Totenberg (COM'65, Hon.'11) give the Convocation address.
"I know a skadillion lawyers. And the ones who are really happy are those with a diversified life," Totenberg said. "They have worked in administrations, Democratic and Republican, and as political appointees. They have worked as prosecutors, as defense lawyers. They have worked on the Hill or headed up advocacy organizations. They teach. They have served on important committees for the local bar, or the American Bar Association. They have done pro bono work on everything from housing to the death penalty. They have been tapped by mayors and governors to help with various projects from local schools to revising tax codes. So I urge you to keep all that in mind as you begin your careers."
Totenberg acknowledged that many among the new degree-holders face financial pressures, like repaying student loans, and many will want to pursue lucrative work at big law firms.
"There's nothing wrong with making money," she said. "There's just one caveat: Beware the golden handcuffs. Don't let yourself slip into such a high standard of living that you simply cannot afford to do anything other than make money. For that, my friends, is a sort of a professional death. And then suddenly you're going to be 60 years old, wanting the opportunity to do something else, and you'll only have a track record with billable hours."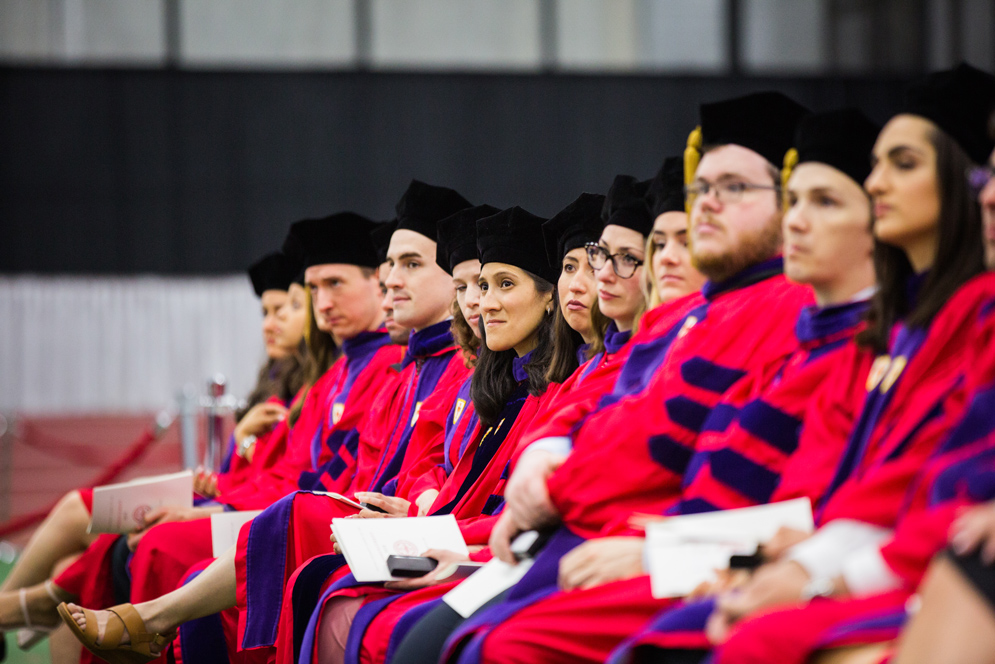 Seeking a range of career experiences is one antidote, she said. "Remember, as you enter the life of the law, that it is not just the firm, or the client, or the company waiting for you. Also standing there, awaiting your arrival, is that blind old Lady Justice. And she expects you to spend some time with her, too."
Totenberg said history offers ample models of lawyers who stood on principle, some who weathered intense political pressure for representing unpopular clients. On the right, she cited Paul Clement, a former solicitor general under President George W. Bush, who left a lucrative law firm partnership when the firm balked at his representing House Republicans in their case to stand by the Defense of Marriage Act. On the left, she mentioned Neal Katyal who successfully challenged Bush's handling of Guantanamo detainees in 2006, representing Osama bin Laden's driver. Katyal would later serve as President Barack Obama's solicitor general.
She noted that lawyers like these are vital to a justice system that tries to advance the truth. "I hope for you that you all will find legal principles that you care enough about to take risks for," Totenberg said.
A veteran of such NPR shows as All Things Considered and Morning Edition, Totenberg joined NPR in 1975. Known for her Supreme Court coverage, she is perhaps most familiar to listeners for covering the 1991 confirmation hearings of Supreme Court Justice Clarence Thomas. She was the first to report the sexual harassment allegations brought against Thomas by Anita Hill. Totenberg's reporting prompted the Senate to reopen confirmation hearings and led to a nationwide dialogue on sexual harassment in the workplace. She's earned numerous honors for her work, among them a George Foster Peabody Award and the George Polk Award for excellence in journalism.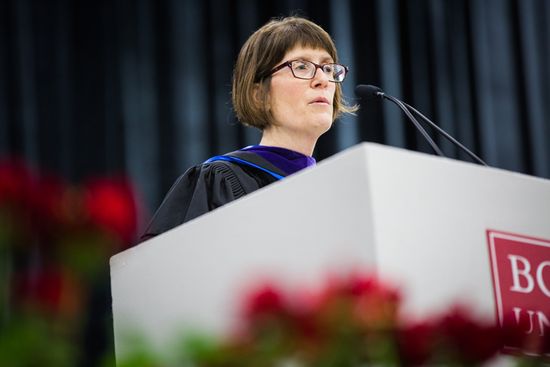 Maureen A. O'Rourke, dean of LAW, opened the Convocation by urging the 2018 graduates to pursue Constitutional principles in their work and to demonstrate integrity, leadership, humility, and resilience.
O'Rourke, who last year announced she was stepping down as dean after 13 years to rejoin the LAW faculty, said such traits are especially important now, at a time when both major political parties cultivate animosity to shared values.
"We seem to have lost our collective faith and trust in the ability of all our institutions, including those with the primary responsibility of moving us closer to realizing the vision of the Constitution," O'Rourke said. "You know, people asked why I stepped down as dean.… Part of it is that it's gotten harder. I wonder now, more than I ever have, whether we still believe we have something bigger than just ourselves. Whether we hold these truths to be self-evident. That all men are created equal. That they are endowed by their creator with certain unalienable rights. That among these are life, liberty, and the pursuit of happiness."
The Constitution's framers built a system of government to vindicate those rights, she said, even if the results have been uneven. "I would never contend it has been perfect. Far from that. For long periods of time, for substantial segments of our society, the promise of our founding documents has been illusory. And 'We the People' has been more a term of exclusion than inclusion for too many," she said.
"At the same time, though, it has also been true that for generations it has been lawyers who have been at the forefront of vindicating our most cherished ideals. Of expanding opportunity and of guarding our freedom."
O'Rourke received a standing ovation following her remarks.
Two student speakers also addressed the Convocation, Kevin Michael Smith (LAW'18) and Abd Gafur (LAW'18). Smith, who was copresident of the Black Law Student Association and articles editor for the Journal of Science and Technology, received the Emmanuel Hewlett Award (named for the first African American LAW graduate, in 1877) for academic excellence and public service. He recounted the frightening experience of watching as his cousin was arrested in his record shop in his Wilson, N.C., hometown and his determination to channel the fear he felt at the time into something positive.
"I still feel the pain, but I am no longer fearful," said Smith, who will join the global law firm Goodwin Procter LLP. "There will be lions and tigers and barriers. But we will be the innovators and leaders and dreamers that the world needs. We will be there, poised to effect change, if we continue to invest in each other."
Gafur, who studied banking and financial law and plans to return to work at the Indonesian Ministry of Finance, encouraged his peers to continue to foster the strong sense of community they developed in their time at BU.
Several LAW faculty were honored at the ceremony. O'Rourke made special mention of Tamar Frankel, the Robert B. Kent Professor of Law, described by the Wall Street Journal as "the intellectual godmother of the fiduciary rule," who is retiring after 50 years on the faculty. James Scott, a lecturer and director of the graduate program in banking and financial law, received the John Stephen Baerst Award for Excellence in Teaching. Lecturer Michael Schneider won the Part-Time Faculty Teaching Award. And Mark Pettit, a professor of law, received the Michael Melton Award for Excellence in Teaching.
Find more information about Commencement here.
Michael S. Goldberg can be reached at michaelscottgoldberg@gmail.com.