MBTA Unveils New Green Line Cars in September
More standing room, comfier seats, improved doors among new features
The oldest subway in America is getting some shiny new cars.
The MBTA is set to roll out the first of 24 new cars on the Green Line in September as part of its broader Green Line expansion project. The cars, designed over four years by the Spanish construction company CAF, are a little roomier—not more seats, just more standing room—and they have some modern touches that just might make your ride a little more pleasant.
So what's new for a system that first opened on September 1, 1897 (and cost just a nickel)? Plenty:
The new cars will have the same number of seats (44), but additional standing room so they can handle about 10 percent more passengers. That may not sound like much, but it will mean that during rush hour, more people can board crowded trains rather than wait for the next one.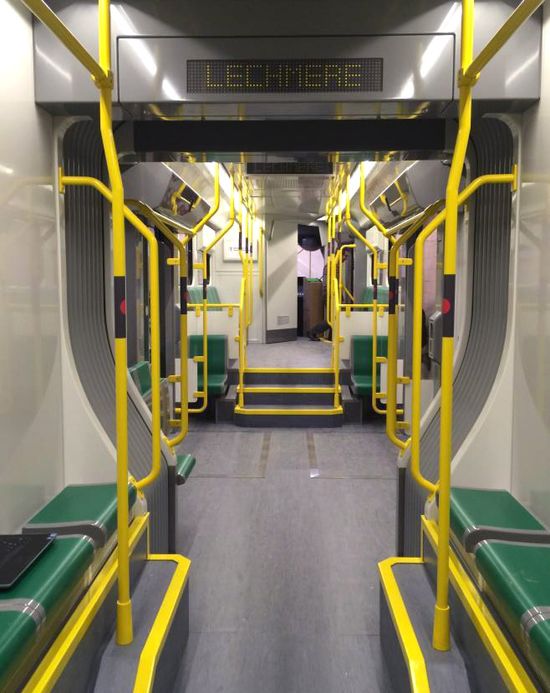 Doors will slide open, not push out as they do now, making the Green Line feel a little more like a traditional subway—like the Red, Orange, and Blue Lines. This should make it easier for passengers to get off and on.
Thanks to a lower ride, stepping on and off should be easier. A blue button near the side of doors can be easily pushed to activate an orange ramp for wheelchairs and strollers.
Inside, the rails you grab if you're standing will be bright yellow, not chrome.
Green Line cars will have the first video screens on T vehicles; one will display the next station, the other advertisements.
The seat covers will no longer be plastic, but a textured material. That means you're less likely to slide on the sharp stops and turns.
To make moving through the trains easier, the new cars' midsections will be wider so people can get on and off faster.
An improved speaker system will allow passengers to hear messages more clearly.
On the outside, the accent color will be silver, not white. But the primary color will still be green—it is the Green Line, after all.