Emmy Winner Michael Chiklis Offers CFA Grads Some Career Advice
Alum: artists "cast light on injustices and the state of our society"
Golden Globe– and Emmy Award–winning actor Michael Chiklis had a message for 2018 College of Fine Arts grads Saturday: your job is to bring humanity to a tumultuous world.
"Artists are the arbiters, the purveyors, of empathy and compassion in this world," said Chiklis (CFA'85), speaking at the CFA Convocation at the Track & Tennis Center. "True, we entertain and amuse, but much of that entertainment allows people to think and feel, to discuss and debate, and understand what it's like to walk a mile in another person's shoes. We cast light on injustices and the state of our society."
The ceremony may have been on an unseasonably cold and wet afternoon, but the mood was celebratory as Chiklis, best known for starring in the long-running FX drama The Shield and as the Thing in Marvel's Fantastic Four franchise, sprinkled his 10-minute speech with humor and several BU references.
The actor won the 2002 Emmy for Lead Actor in a Drama Series and a 2003 Golden Globe for Best Actor for his role as Detective Vic Mackey in The Shield. He also directed many of the episodes and was a producer on the series. He can currently be seen in the recurring role of Nathaniel Barnes, captain of the Gotham City Police Department, in the TV series Gotham. He has won a CFA Distinguished Alumni Award and served as the master of ceremonies at the College's Alumni Awards in 2016.
Harvey Young, newly appointed dean of CFA, was met with cheers from students as he presided over his first Convocation. Young spoke of meeting families who had traveled from around the world to attend this year's graduation and to proudly celebrate with their graduates. He urged the guests to also remember that the weekend was about celebrating community. "A college by definition is an assembly organized around a common initiative with a shared sense of purpose," he said. "For days, weeks, months, years, this community of exceptional innovators has gathered to interrogate, to come together to think about what it means to make art, to advocate for the social importance of art, and to contemplate the building of a life that's filled and fulfilled by the creative arts."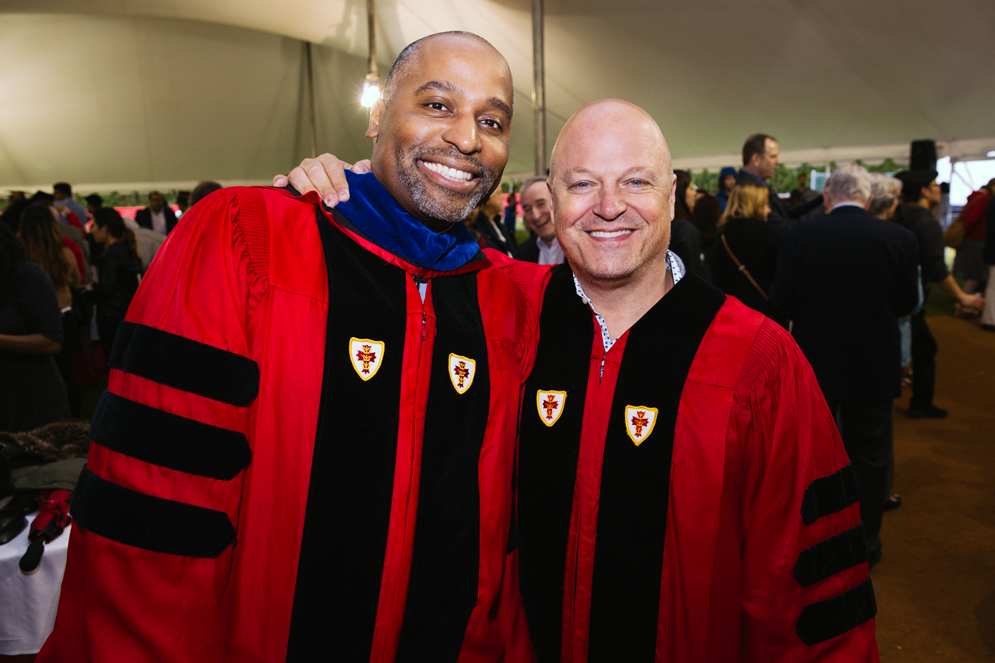 Chiklis referred to his own CFA graduation 33 years ago: then, as today, it was risky to consider a profession in the arts. "Now it's just straight up crazy," he said. "You're all embarking on one of the most uncertain career paths ever. Brave and more important and necessary than ever. Let me explain before I give your parents a heart attack."
At a time when politics, mass media, and social media threaten to overwhelm and desensitize, he said, CFA grads should strive to create art that enlightens and enriches. "Music, art, theater, dance, film, all of these art forms make the world a far better place," he said. "Can you imagine our world without them? Seems like another depressing episode of The Handmaid's Tale to me," he quipped.
Chiklis said that when he graduated, opportunities for artists weren't available to the degree they are today. "Now, stereotypes are being shattered, the molds are being broken, giving way to a new generation of culturally, racially, and spiritually diverse artists that are reaching out to a massive global audience," he said. "There is a lot more progress to be made, but the tides are definitely turning. You all offer a unique perspective on the world, so chances are there's something deep inside of you that will resonate with someone else. People respond to authenticity."
He urged the graduates to believe in themselves and their training, and apply it every day. As an example, he cited how the classical conservatory training he received at CFA gave him the tools he needed to get through a situation that seemed impossibly difficult in shooting The Fantastic Four films. For his role as the Thing, he had to sit in makeup five hours a day as artists glued 60 pounds of latex rubber to his face and body. His body temperature rose, and he felt like he was suffocating.
"For the first time in my career I wanted to quit something I had worked very hard to get," Chiklis said. "I had never been claustrophobic, but suddenly I understood the irrational panic of wanting to get out of something and not being able to." A psychiatrist he consulted suggested he find ways to be present and in the moment, so he drew on the breathing and relaxation techniques and sense memory work he learned at CFA.
"Lo and behold, I was a lot calmer in my suit the next day," he said. Then, slipping into the Thing's distinctive voice, he said, "BOOM! It was clobbering time!" as the audience laughed. "I consider that to be one of my greatest triumphs over my life and career, because I was able to use my craft to overcome my fears and a tremendous challenge."
Concluding his talk, Chiklis circled back to his theme of empathy.
"Travel, read, and speak to people from all walks about everything…. Don't unfriend someone because you disagree, because then the dialogue ends and nobody wins…. Be curious, ask questions, and never stop learning and growing. Your work will be better for it, deepened, soulful, more complex. More important, you will be better for it. There is so much more I'd like to tell you. Love each other—love is all you need, someone once said.
"Congratulations, Class of 2018."
Find more information about Commencement here.