2018 Metcalf Cup and Prize Awarded to Brooke Blower
CAS prof shares her love of modern American history with students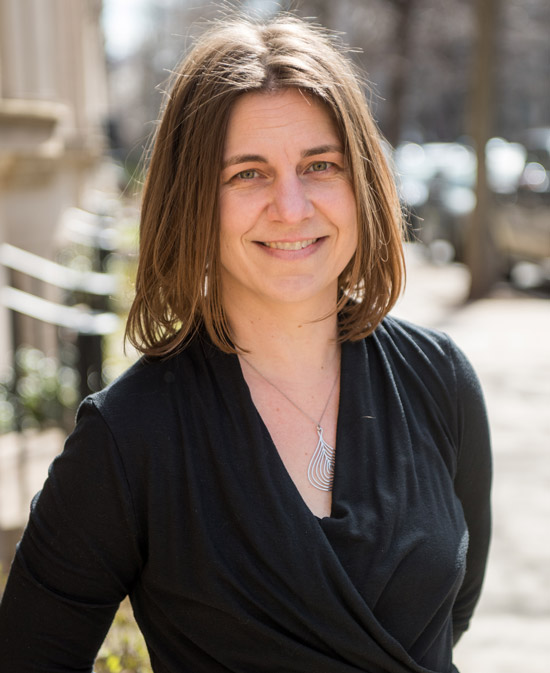 A few years back, Brooke Blower wrote a memo laying out three reasons undergrads give for not majoring in history. They are:
History is boring.
I don't want to teach, so I shouldn't major in history.
I need real-world skills. I should major in something sensible even if it's not what I'm really excited about.
Blower, a College of Arts & Sciences associate professor of history, went on to systematically and passionately disprove each point, citing college history courses that teach students "to move beyond yourself and envision other worlds, to explore the interplay between material circumstances and human character." History, she argued, helps "to shape how people see themselves in the present and what they hope for the future." Recent BU history majors, she noted, had used their degrees to secure jobs at the Washington Post, the Dana-Farber Cancer Institute, and consulting firm Accenture, because liberal arts courses "teach you not what to think, but rather how to think."
The memo was just one example of Blower's championing of both her department and her field of study. Students and colleagues repeatedly mentioned her enthusiasm in letters nominating her for this year's Metcalf Awards. The awards committee concurred, and impressed by Blower's innovative teaching, has awarded her this year's Metcalf Cup and Prize for Excellence in Teaching, the University's highest teaching honor, which she will receive at the University's 145th Commencement on Sunday, May 20.
Blower knew she was a finalist for a Metcalf Award this year, since nominees' classes are observed by the selection committee. She says that when she learned that Robert A. Brown, BU president, and Jean Morrison, University provost, wanted to meet with her, something she jokingly compares to being called to the principal's office, she "never thought I'd win the Cup and Prize. For a week after being told, I worried there had been some kind of mix-up."
There wasn't. Students consistently give Blower—an expert on modern American politics and culture—glowing evaluations, "outstripping department averages," wrote Louis Ferleger, a CAS professor of history and department chair, in his nomination letter.
"Professor Blower always is enthusiastic and makes any topic interesting," one student wrote on a class evaluation. "She also relates it back to our present time to make the topic more understandable." In another evaluation, a graduate student noted his appreciation for Blower's guidance with his writing, saying that he "always left her office with my thoughts clearer and my stomach less knotted about the work ahead of me." Other students mentioned how much they loved the frequent writing workshops for students Blower makes an integral part of her courses.
Her students describe her as an engaged mentor willing to go the extra mile, someone who offers sound career advice and instills in them a passion for all things history, even if they aren't majoring in the subject. Blower's "courses are extremely popular with students outside the history department who are required to complete a history course," reads one nonmajor's letter. "To me this is the clearest evidence of her ability to clearly and effectively communicate concepts, and to engage students of diverse academic backgrounds and interests in her subject matter."
On a larger scale, Blower has been credited with leading an extensive revision of the department's undergraduate curriculum as well. The number of students taking history courses at BU has increased at a time when enrollment in both undergraduate- and graduate-level history courses has been declining nationally, according to a 2017 study by the American Historical Association. She is also credited with designing new, innovative thematic classes to replace traditional history courses based around place and period.
"Brooke deserves credit for arresting (and turning around) the enrollment decline as well as creating a more appealing, integrated, and up-to-date curriculum," says colleague Bruce Schulman, BU's William E. Huntington Professor of History.
After becoming the department's curriculum chair in 2012, Blower made it a point to spend a lot of time listening to faculty explain their courses, and then "worked with them to convey that better in their titles and course descriptions, to show students that these courses would be about more than simply coverage of Country X between the dates of A and B," she says.
The historian credits her inspiring high school teachers for helping her discover that history is "not all simple facts and dates and famous people, that it encompassed art and science and changing patterns in everyday life, that it required careful interpretation and was full of debates and disagreements," Blower says. "I fear that students who haven't been exposed to that kind of history in high school will not elect to take it in college and will miss out on a vital dimension to their education."
Blower, who earned a bachelor's at the University of California, Berkeley, and a PhD at Princeton, is the author of Becoming American in Paris: Transatlantic Politics and Culture Between the World Wars (Oxford University Press, 2011) and coauthor of The Familiar Made Strange: American Icons and Artifacts after the Transnational Turn (Cornell University Press, 2015). The founding coeditor of the Cambridge University Press journal Modern American History, she has taught at BU for 12 years.
Circling back to the passionate argument she made several years ago to undergrads about why they should consider majoring in history, Blower says that having a historian in the room can help skirt mistakes and solve dilemmas, regardless of the chosen profession: "Someone in the marketing boardroom who knows the history of ugly racial tropes in American advertising, someone in the doctor's office who is aware of how even something as visceral as pain has been historically constructed, someone on the newspaper staff who thinks to trace the roots of the controversy," she says. "Basically, someone in every workplace who can speak up and say, 'Wait, this wasn't always so.'"
A gift from the late Arthur G. B. Metcalf (SED'35, Hon.'74), a BU Board of Trustees chair emeritus and former professor, funds the Metcalf awards, created in 1973 and presented at Commencement. The Metcalf Cup and Prize winner receives $10,000 and the Metcalf Award winners receive $5,000 each. A University committee selects winners based on statements of nominees' teaching philosophy, supporting letters from colleagues and students, and classroom observations of the nominees.
The winners of this year's Metcalf Awards for Excellence in Teaching are Elizabeth Co, a CAS senior lecturer in biology, and James Wolff, a School of Public Health associate professor of global health.
Find more information about Commencement here.