BU Medical Campus Hosts Annual Health Equity Symposium
Researchers, clinicians discuss lowering barriers to care
In Baltimore's Upton/Druid Heights neighborhood, half of the families have single parents, a third of the boys have a criminal record by age 17, and the median household income in 2010 was $17,000. The life expectancy is 63.
In Baltimore's Roland Park neighborhood, 93 percent of the families have two parents, juvenile arrests are rare, and the median household income is $90,000. The life expectancy is 83.
Michael Marmot, a University College London professor of epidemiology and director of its Institute of Health Equity, offered these stark statistics at the BU Medical Campus Annual Health Equity Symposium, held April 10. In his keynote address, Marmot, a world expert on health equity, described driving through the Upton/Druid Heights neighborhood and seeing red slashes marking houses for demolition. "Can you imagine what it's like to live in a neighborhood where every second house is condemned?" he asked. "Why treat people and then send them back to the conditions that made them sick?"
Health disparities—any difference in health outcomes between populations­—are a tough nut to crack. They involve myriad factors that lie outside the traditional healthcare system, such as housing, employment, racism, gun violence, immigration status, availability of food, and access to public transportation.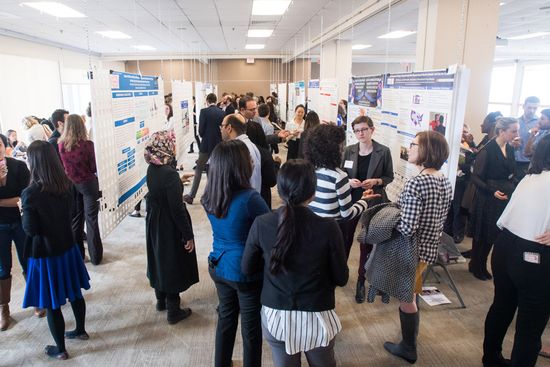 Hospitals, medical schools, and healthcare providers are starting to tackle these disparities, from many different angles. The half-day symposium was part of that effort, said event co-organizer Jenny Siegel, a School of Medicine assistant professor of medicine. The symposium gathered researchers from across the Medical Campus to network, find future collaborators, and learn about health equity efforts at BU and throughout the area.
"It's a new time in healthcare," said Thea James, a MED associate professor and Boston Medical Center associate chief medical officer and vice president of mission, speaking at the symposium. Healthcare providers need to go beyond treating emergencies over and over, said James—"those are just downstream consequences of what happened upstream." They need to help dismantle the barriers that keep patients from thriving and shift focus "from charity to equity."
Speakers, panel discussions, and a poster session captured both the breadth of the issue and the many programs attempting to address it. Researchers presented posters on topics that included improving hospital experiences for patients with autism, how doctors can address immigrants' legal needs, and disparities in prenatal screening. Third-year medical student Anita Knopov (MED'19) presented data on racial residential segregation and firearm homicides. Her study noted that black people make up 59 percent of firearm homicide victims, but only 14 percent of the US population, and her work correlated these homicide rates to areas with high racial segregation. She said she decided to research the topic after seeing a preponderance of patients with gunshot wounds or scars. "The term 'health disparities' is a huge umbrella," she said, "but the first right to health should be a right to live."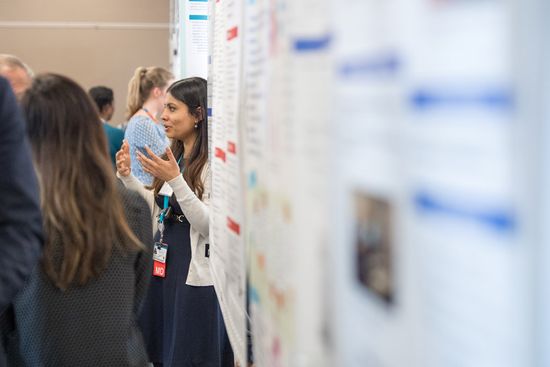 The health effects of violence also came up during a patient perspective panel, where BMC patient Sarah Zene related leaving a violent husband decades ago. "I never knew there was help for battered women until I went to my doctor and she told me about it," said Zene. "I think if I didn't ask for the help, I would be dead by now."
Zene's story offered some prescriptions for overcoming health disparities with a holistic array of treatments. After a doctor helped her escape a bad relationship, a violent neighborhood, and a drug addiction, she said, her healthcare team at BMC turned to treating her diabetes and high blood pressure. The hospital staff tackled her health conditions not only with medication, but also with acupuncture and Zumba, and by providing her with fresh food and teaching her how to cook with fewer carbs. "My diabetes was out of control, and now it's under control," she said. "It's what you eat!"
In his keynote address, Marmot said he was heartened by his visit to BU, and he noted a growing interest in the social determinants in health throughout the world. He said colleagues often complain that Americans aren't interested in solving these problems, but he disagrees. "There is a great deal of activity in the United States, it's just not at the federal and state government level. Seeing places like this is hugely encouraging."