Marilyn Chin Headlines Tonight's Robert Lowell Poetry Reading
Self-described activist poet will read from new and older work
"Poet of contradictions, poignant sentiment, beat-your-ass toughness, and unexpected humor." That's how a 2015 Los Angeles Review of Books profile describes Marilyn Chin. Born in Hong Kong and raised in Portland, Ore., Chin is one of the country's most prominent Asian-American poets. She has just published her fifth collection of poems, A Portrait of the Self As Nation: New and Selected Poems (W.W. Norton, 2018), which includes poems spanning her three-decade career. She is renowned for her versatility, blending both Eastern and Western literary traditions and aesthetics, and moving seamlessly from one poetic form to another: haikus, elegies, love poems, quatrains, and sonnets.
Chin's poems frequently address social injustices, like sexism and racism, as well as themes of loss, exile, bicultural identity, and assimilation. And her work is frequently laced with a razor-sharp wit.
Members of the BU community can hear Chin read her work Thursday night, when she headlines this semester's Robert Lowell Memorial Poetry Reading. The reading, at Mugar Memorial Library, is free and open to the public and will be followed by a Q&A and a book-signing.
Chin says poetry has always been a part of her life. "My granny used to chant ancient Chinese poetry to me when I was a baby. She used to carry me on her back. I heard the music and drama of poetry and was inspired very young."
The political nature of much of her work can be traced to her childhood. "If you are the shortest, brownish, quietest Chinese girl in the room, you will definitely write from that trauma and have stories to tell," she says. "I am an activist poet, I can't help it. I'm not a manufactured hipster poseur. I'm the real deal."
That directness has earned Chin an ardent international following. Her work has been widely anthologized and is taught in classrooms across the globe. In putting together her newest collection, Chin says, she wanted to "include the poems that teachers and students could share with meaningful discussion." Asked what advice she gives aspiring poets when she conducts workshops, the longtime professor of creative writing (she is a San Diego State University professor emerita of English and comparative literature) quotes William Butler Yeats: "Learn your trade." She also counsels young poets not to be in too much of a hurry to get published, and to embrace, rather than hide, their past.
Chin was an accomplished translator before she turned her sights on poetry. She earned an undergraduate degree in classical Chinese literature from the University of Massachusetts, where she developed a love of Tang Dynasty poetry. Later, when she was working on an MFA at the University of Iowa, she met the poet Ai Qing and began translating his poems. She has said that "the act of translation changed my life" and ultimately, made her a better poet. "We immigrants are born translators, straddling multiple cultures, languages, and concerns. I believe this turmoil and richness vivifies the poetry."
Chin plans to read both old and new poems at tonight's event. And in honor of the series' eponymous namesake, poet Robert Lowell, who she describes as a "masterful sonneteer," she plans to read some hybrid sonnets she calls "sonnetnese," adding with her trademark humor: "Warning: they are more Chinesque than Lowellesque."
Poet, and BU alum, Tara Skurtu will also read
The Lowell poetry series features a recent Creative Writing Program alum as well, and tonight it's Tara Skurtu (GRS'14), who, like Chin, is a noted translator as well as an award-winning poet. It's a role she initially resisted. "I never wanted to be a poet—in fact I resisted this part of my identity for years," says Skurtu, whose first collection of poetry, The Amoeba Game (Eyewear Publishing), was published last year. "It seemed like such a privileged, impractical thing to be, especially considering I was a first-generation college graduate from an economically disadvantaged background."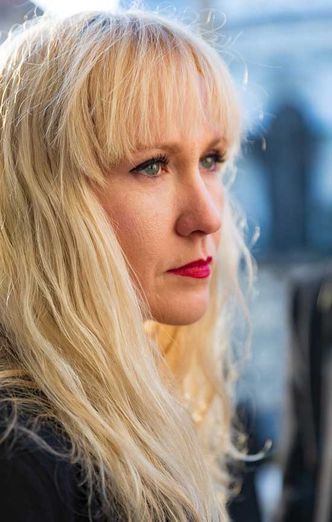 She was a premed student at UMass Boston, preparing to take the MCAT to enter medical school and writing poems on the side, when she attended a reading by Yusef Komunyakaa that changed her career trajectory. Someone asked Komunyakaa when he knew he wanted to be a poet. He said there had come a point where he realized he had to surrender to poetry.
Those words gave Skurtu the confidence to apply to BU's Creative Writing Program after failing to get into medical school. "In the end, I surrendered to poetry," she says, adding, "It was the best decision of my life."
The Amoeba Game was named one of WBUR's "5 Favorite Poetry Books" of 2017. Skurtu describes the collection as "an intercontinental cyclic journey." The poems are largely autobiographical, exploring her childhood in South Florida, a sibling's incarceration, her own battle with a life-threatening illness, and her life in Romania, where she now lives and teaches.
Many of Skurtu's poems begin with what she describes as "seemingly mundane moments…that might be completely overlooked if not written down." But they are moments loaded with emotional conflict and subtleties. By focusing on the "specific, unexpected details and emotions of these moments," she says, "the narrative comes alive and makes us feel things we can't say in words."
Skurtu uses writing as a way to confront life's challenges, but she says it is also transporting. "Writing…is a way to heal or at least bandage parts of ourselves, and like the passing of time, it can get us through the most difficult losses and deliver us to a different state of mind."
As a BU graduate student, she received a Robert Pinsky Global Fellowship in Poetry, which allowed her to spend a semester in a country she'd never been to. Skurtu chose Romania, where her paternal great-grandparents were from. She returned in 2015 on a US Fulbright Scholarship to teach poetry and literature and to write and translate, and after receiving a second Fulbright, she remained there. She recently opened her own creative writing workshop company, where she teaches individual and group workshops. In addition to writing poetry, she's writing storylines and character dialogue for a game company.
Skurtu will read from The Amoeba Game and debut some new poems tonight.
"Marilyn Chin and Tara Skurtu are distinctive, super-energized poets of their generations," says Robert Pinsky, a William Fairfield Warren Distinguished Professor, former three-time US poet laureate, and director of the Creative Writing Program. "Each of them in a different way embodies the dynamic, resourceful cultural reach of American poetry, and both of them are striking poets."
The Robert Lowell Memorial Poetry Reading, with Marilyn Chin and Tara Skurtu (GRS'14), is tonight, Thursday, October 25, in the Mugar Memorial Library Richards-Roosevelt Room, 771 Commonwealth Ave., at 7:30 pm. Presented by BU's Creative Writing Program, it is free and open to the public. A book-signing and reception follow.
The semiannual Robert Lowell Memorial Poetry Reading series is funded by Nancy Livingston (COM'69) and her husband, Fred M. Levin, through the Shenson Foundation, in memory of Ben and A. Jess Shenson.