Lunch, Anyone? Bennett's Sandwich Shop
Maine's favorite sandwich shop arrives in Fenway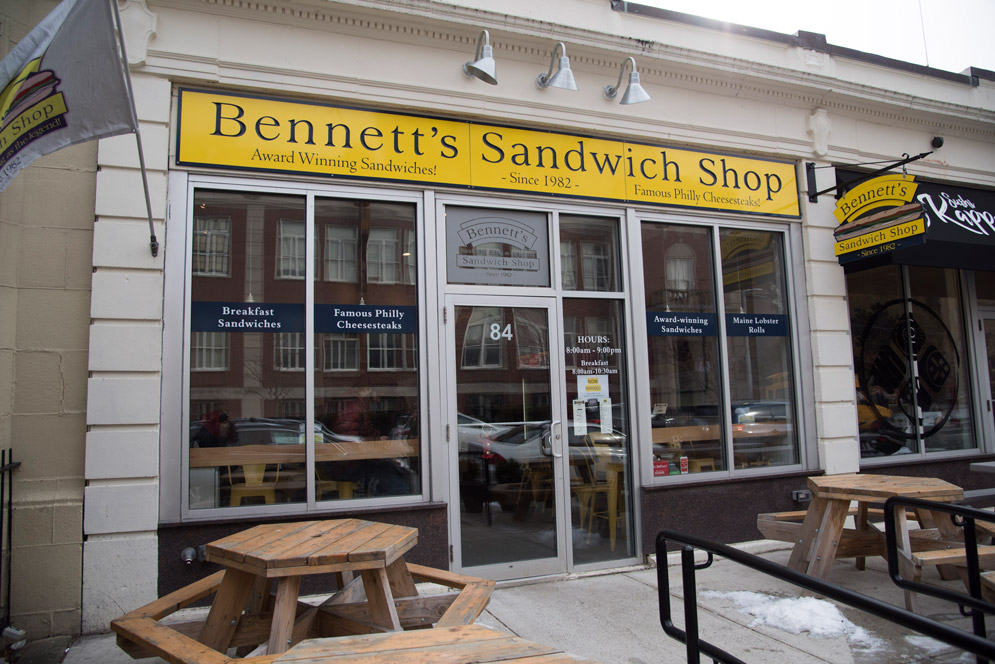 Lobster lovers who've been to Kennebunk, Maine, in the summer have probably eaten at Bennett's Sandwich Shop. The seasonal restaurant, a local institution since 1982 (there's also a Portsmouth, N.H., Bennett's), is known for its lobster rolls. Last summer, it opened a third restaurant (this one year-round) in Boston's bustling Fenway neighborhood, good news for fans loath to fight summer traffic for the restaurant's offerings. It proved to be an instant hit, drawing a whole new fan base.
We chose a Friday noon to try the place, and as it was pretty busy, many customers were ordering to go. The friendly and efficient waitstaff brought our sandwiches within five minutes of taking our order.
The ambience invites you to linger. The speakers play a laid-back mix of 1980s hits and the sleek wooden tables, bright yellow chairs, and illuminated "Bennett's" sign encourage visitors to sit and stay a while.
While Bennett's may be most famous for its lobster rolls, it's also noted for Philly cheesesteak sandwiches, so we ordered one of each. With its shaved steak—cut into small pieces—gooey melted American cheese, peppers, onions, and mushrooms, Bennett's take on the classic sub is bold and delicious. The place delivers on its promise of serving the freshest ingredients. The filling was excellent, but the bread may have been the best part—toasted ever so lightly, but still soft, it had just the right texture. And at $8.99 for an eight-inch sandwich, it's a good value.
As good as the steak and cheese was, the lobster roll ($19.99) knocked it out of the park. The classic Maine delicacy is a no-frills affair here—just lobster, drawn butter, a hint of mayo, and some lettuce on a toasted roll. Despite its simplicity, this is a meal that you'll want to order again and again. There's no skimping on the lobster meat, unlike at many other restaurants. You get over a quarter of a pound of tender and delicious Maine lobster meat on a bed of lettuce, which created a fresh, crunchy texture. Our only complaint: it could have used a little more mayonnaise. The lobster roll isn't cheap—like most restaurants, Bennett's charges market prices, so you may want to check on the price tag before you order. For those who can't get enough lobster, there's also a lobster sub, with more than half a pound of claw and knuckle meat. But be prepared to spend: the sub currently costs $39.
We washed our hearty sandwiches down with a sweet and refreshing Bennett's orange soda ($2.29); there's also cream, raspberry lime, and ginger ale.
In addition to the steak and cheese, some of the other hot standouts are veggie with grilled onions, peppers, and mushrooms and meatball and cheese covered in sauce and provolone. Among the cold sandwiches, there's a quintessential Italian, with capicola, mortadella, salami, pepperoni, and provolone, as well as classics like ham and cheese or chicken salad. The 8-inch subs are $8.99, the 12-inch subs $11.49.
All sandwiches can be made using gluten-free bread or wraps. For those who want to skip the bread, Bennett's offers a small selection of salads. You'll also find a range of sides, like hash browns, fries, and chicken tenders.
The shop also serves up several breakfast sandwiches, among them steak, egg, and cheese; bacon, egg, and cheese; and ham, egg, and cheese, available on an English muffin, wrap, or sub roll, until 11 am daily.
Regardless of your choice, Bennett's is an excellent lunch destination, offering filling food at a reasonable price, with fast and friendly service.
Bennett's Sandwich Shop, 84 Peterborough St., Boston, is open daily from 8 am to 8:30 pm, with breakfast until 11 am daily. Bennett's accepts all major credit cards; phone: 857-239-9736. Take an MBTA Green Line trolley to Fenway.
This is part of a weekly series featuring Boston lunch and brunch spots of interest to the BU community. If you have any suggestions for places we should feature, leave them in the Comment section below.
Sara Frazier (COM'20) can be reached at smfrazie@bu.edu; follow her on Twitter @Sara_Frazier.
This Series
Also in
May 10, 2018

April 26, 2018

April 18, 2018