BU's New LGBTQIA Task Force for Staff and Faculty
Cochairs talk about BU's progress, their long-term goals, challenges to overcome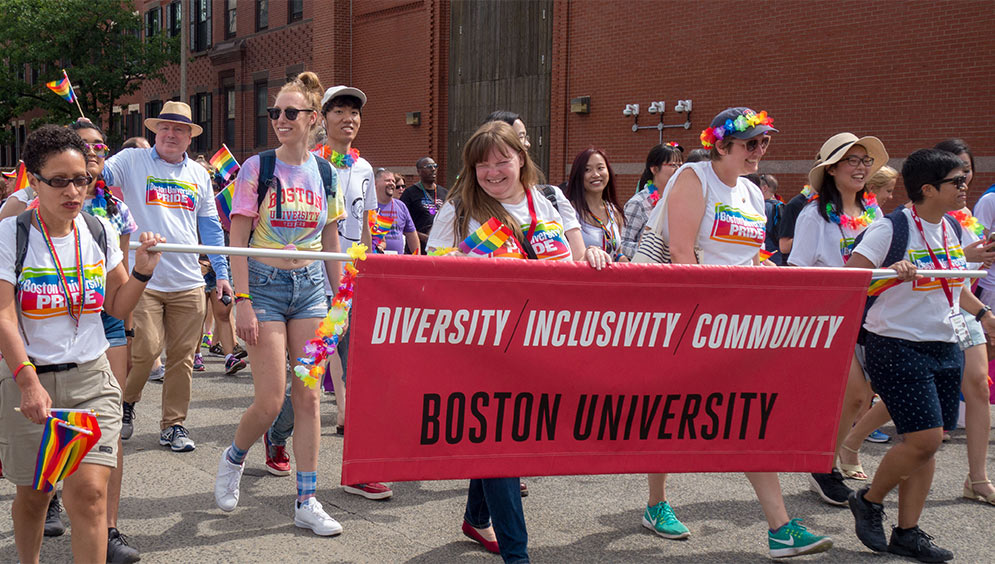 In an effort to make Boston University more LGBTQIA-inclusive for faculty and staff, a new task force has begun studying and collecting ideas about what other universities are doing, with the aim of drafting a plan for BU to improve programming, recruitment, retention, professional development, and network-building for the University community.
"This University has a complicated legacy and history around diversity issues," says Judi Burgess, BU's director of labor relations and cochair of the task force along with Karen Warkentin, a College of Arts & Sciences professor of biology and of women's, gender, and sexuality studies.
"When I was hired, there was a point, maybe in my second year as a junior faculty, when the Gay Straight Alliance at BU Academy was banned," Warkentin says. "Those situations sent a message that LGBTQ faculty and staff are not valued and not welcomed. It was like, 'We want your work, but don't want to know about your personal life and we consider it personal.'"
It wasn't acceptable to be a "whole person at work," Burgess adds.
Now, both women say, times have changed—dramatically.
"Our understanding of community at work, and the value of workforce diversity, has really shifted over a decade," Warkentin says. "Different people with different life experiences and different perspectives bring value to the workforce and the environment, more creative solutions. And enabling people to be their whole selves at work increases their productivity. We want to send a message that all kinds of people are welcome here and valued here."
A new website has been created to communicate with LGBTQIA faculty and staff and give them a way to communicate back to the task force. (Find details on the website about LGBTQIA+ at Work, a series of community meetings, on November 27 and 28 on the Charles River Campus, and November 29 on the Medical Campus.)
"Among our highest priorities is the nurturing of an institutional culture that is welcoming and inclusive for people of all backgrounds, genders, and identities," Jean Morrison, BU provost and chief academic officer, said. "There is always work that we can be doing in this regard, and it is incumbent on us to be introspective, to listen, and to collaborate within our community to produce the best working environment possible. I am confident and hopeful in this Task Force and its leadership to help answer a number of critical, often difficult questions and provide the guidance we need to fulfill our objective."
Robert A. Brown, BU president, also addressed the issue in a pre-Thanksgiving letter to the BU community: "I believe that, given today's political climate, we have a particular obligation to affirm our core values to members of the LGBTQIA community at Boston University. These members of our community are understandably concerned about potential discrimination resulting from reinterpretation of federal statutes."
Burgess and Warkentin spoke about the significance and timing of the new BU task force and its goals in a conversation with BU Today. (For those unfamiliar with the final two letters of the acronym LGBTQIA, the "I" stands for "intersex" and the "A" stands for "asexual" or "allied.")
Warkentin: Part of this mission of welcoming diversity was creating the position of associate provost for diversity and inclusion [Crystal Williams], who started last December. And one of the things she did last year was to have lunches. More than 100 people attended, and all of these people came together and looked at each other and stood around talking, and nobody touched the food. Some people were there as allies. And this was the first time I felt the University cared about who I was. That was an incredibly powerful thing. The second luncheon recently happened. It was very moving. This space gave someone there a chance to come out. To see a gentleman say he is out, and is feeling joy, is a really powerful story.
Burgess: My experience has been different. As an openly gay woman of color with a wife and three children, it was incredibly important to have the support of the entire University, to feel welcome and accepted. We are so excited to make sure all employees at every level, top to bottom, across races and genders, are supported. It's a great statement.
Warkentin: Our deliverable will be a report, with a set of recommendations, from within the University, as well as best practices from outside the University.
Burgess: We know there is strength in diversity. Our work is our students, but this will help create better research, better performance. It's also great for the students to see that, hey, if I want to be a professor or an administrator at BU, I can be because BU welcomes me.
Warkentin: Most people understand LGBTQ. The "I" is intersex, and we often think of sex as exclusively 100 percent male or female, but as a biology professor that is not how developmental biology works. There is a spectrum of human variation where people cannot be classified in either the male or female category. Intersex people have been pretty badly treated by society and the medical profession. "A" is asexual. We, like most societies, consider sexuality with other people to be a defining part of life, but that is not true for a lot of people. Allies need to feel welcome. A heterosexual person, or a cisgender person, whose identity matches their gender, and who doesn't feel a sexual attraction with other people, they identify as asexual.