BU Alum Transforms City Hall Plaza for HUBweek
Leonie Bradbury is festival's director of art and creative initiatives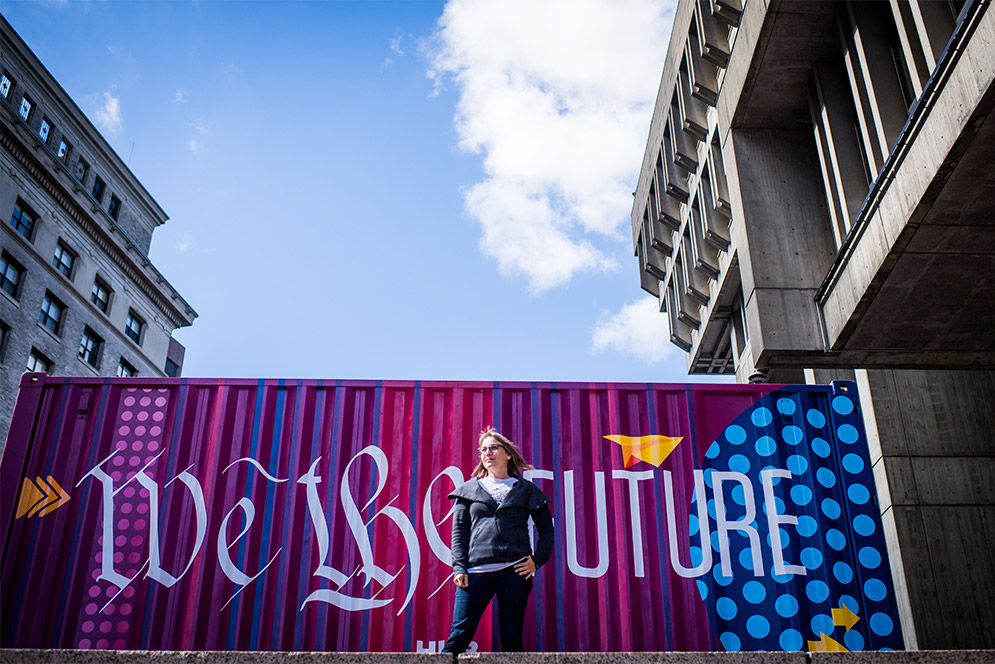 On a busy day in mid-June, Boston's City Hall Plaza was filled with tourists and office workers, some basking in the sun, others rushing off to do noontime errands. But as Leonie Bradbury gazed out over the plaza's eight acres of paved patio, she was envisioning a space that in just a few months would host an art exhibition, dozens of panel discussions, forums, live performances, and a party.
Bradbury (GRS'01) is the director of art and creative initiatives for HUBweek, an annual festival that brings together some of the most innovative minds in science, technology, and the arts for a weeklong exploration of innovation and creativity in Greater Boston. They travel from around the globe for the series of demonstrations, discussions, and performances, which began Monday. The HUB, the central festival site, opens on City Hall Plaza today, October 10.
Founded in 2015 by the Boston Globe, Harvard University, MIT, and Massachusetts General Hospital, HUBweek bills itself as "a first-of-its-kind civic collaboration" that aims to celebrate Boston's science, technology, and innovation by bringing diverse disciplines into meaningful conversations about the future of society. Part conference, part robotics fair, and part art exhbition, this year's festival is expected to draw attendees from 59 countries and nearly 40 industries, among them Amazon Robotics chief technologist Tye Brady, award-winning New York Times columnist Maureen Dowd, David Hogg, cofounder of March for Our Lives, and Ann McKee, a BU School of Medicine professor of neurology and pathology and director of BU's Chronic Traumatic Encephalopathy Center.
Bradbury is responsible not only for commissioning special works by artists for the event, but for working with a team to design the overall look of the portion of the festival on City Hall Plaza. "Part of what excites me about HUBweek is that it's a very public place for people to encounter art—and in a unique location and a unique context," she says.
Since it started, Bradbury has worked for HUBweek in a variety of roles, but last year was her first as director of art and creative initiatives. For her inaugural year in charge of the festival's art and creative aspects, she oversaw the installation of a series of huge geocentric domes that covered most of the plaza and were used for panel discussions, performances, a robotics fair, and parties. Resembling a futuristic lunar colony, the domes' smooth sides stood out starkly against the sharp edges of a series of former shipping containers that had been repurposed to house miniature art exhibitions. For Bradbury, the designs were not about art mimicking tech or tech mimicking art, but about making an organic connection between the two.
"Rather than thinking of all the artists having to hit the subjects of art, science, or tech, I think of it more as being innovative. And being cutting-edge within the discipline of art," she says.
For this year's HUBweek—whose theme is "We the Future"—Bradbury and her team have installed two domes and three glass pavilions on the plaza to house the events. "We wanted to create something that was very visual and captured the spirit of this year's theme, with its emphasis on inclusivity and transparency," she says, "and the pavilion's glass walls do just that."
The festival again features more than a dozen shipping containers transformed to house various art installations, many of them painted on the outside with murals by local artists. Artists are selected to participate one of two ways: either through an open call, where they submit proposals, or by invitation. "The reason we do both," Bradbury says, "is because we want the art selection to be a very open process." And while the emphasis is on local artists, Hubweek 2018 includes work by international artists as well. Art is selected based on its ability to create a social impact.
Being an art theorist and curator, Bradbury is familiar with the societal role of art and innovation. Prior to her role at HUBweek, she was director and curator of Montserrat College of Art's galleries and had cofounded Alter Projects, which provided custom arts programming and consultation for artists, organizations, and the private sector. She earned a master's in art history at BU and is completing a PhD in philosophy, aesthetics, and art theory at the Institute for Doctoral Studies in Visual Arts.
While her background is in art, not science, she does have a strong interest in science and technology, which has informed not only her doctoral dissertation, titled "Artwork As Network: A Reconceptualization of the Work of Art and Its Exhibition," but the way she approaches HUBweek.
"An exhibition can be a network of things," Bradbury says. "It's all about the relationship between the objects or people or events. So, this week itself is actually like a really big network, and one of the cool things that I love about it is that it's a temporary gathering of things, and then it also disperses out again. It's a temporary form.
"To me, that's very important," she says. "Part of what makes this great and special is that it is only here for six days. So, you have to come in, right? It's not going to be there next week or next month or next year. I think that's part of the magic or the energy and it's part of what makes it work—it kind of forces people to be present."
This year's HUBweek runs through Sunday, October 14. Find a schedule of events and registration details here.
Sarah Wells can be reached at swells21@bu.edu.