Jennifer Tseng: From Receptionist to Chief Surgeon
The first woman in Boston to lead surgical units at a medical school and teaching hospital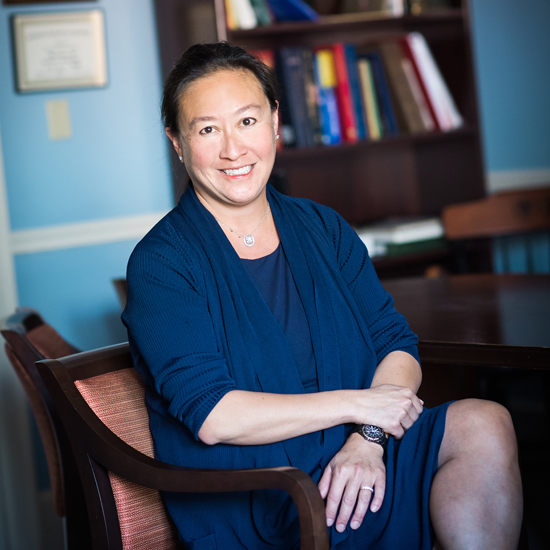 For all of Boston's renown as a center of pioneering medicine, there remains one medical field where hospitals here lag, just like everywhere else: female surgeons.
That's what makes Jennifer Tseng's appointment in 2017 as chair of the BU School of Medicine department of surgery and as chief of surgery at Boston Medical Center a unique breakthrough: Tseng is the first woman appointed chair and chief of surgery at an academic medical center in Boston.
Women account for more than a third of all physicians and physicians-in-training in the United States and are half of all medical students. And yet, in 2015 they numbered only 19.2 percent of general surgeons, according to the Association of American Medical Colleges.
Tseng specializes in surgical oncology and gastrointestinal surgery. In a recent chair's note, she writes of MED's tradition of diversity and inclusion, dating back to one of its founding institutions, the New England Female Medical College, the first US institution to train female physicians, including the first black female physician, Rebecca Lee Crumpler, in 1864, and in 1890, Charles Eastman, the first Native American physician.
Tseng was born in northern California, the daughter of immigrants who fled their native China for Taiwan in 1949 and came to the United States in the 1960s to go to college. After graduating from Stanford University with degrees in biology and English, Tseng earned a medical degree at the University of California, San Francisco, School of Medicine, and a master's in public health from the Harvard T. H. Chan School of Public Health.
MED's James Utley Professor of Surgery, Tseng was formerly a professor of surgery at Harvard Medical School—only the fourth female full professor in the school's history—and chief of surgical oncology at the Beth Israel Deaconess Medical Center. She is married to a cardiologist and has two children, ages 11 and 13.
BU Today talked with Tseng about how she chose medicine over a career in writing, the connection between surgery and humanism, and the lessons she's carried forward from her first job as a medical receptionist.

BU Today: Were there any physicians in your family before you?

Tseng: My grandfather was a general and thoracic surgeon and my grandmother was an OB-GYN and primary care doctor during the day. She assisted him in their surgicenter they ran out of their house at night. They practiced in China and Taiwan. They both inspired me to go into medicine. They were in their 50s when they came to the United States—they were chain immigrants—and they retrained as psychiatrists.
Why psychiatry?

There's a certain type of surgeon that's the contemplative, quiet, gentle surgeon with great hands. My grandfather was very much like that. The line between surgery and psychiatry for that type—it's very profound.
What is it about surgery that attracts such a person?
Surgery is intense. It's one of those things that, when the stars align in the operating room, you can be truly of the moment. Everything else needs to go away….You are so intimately connected to this person you're operating on. People are literally putting their life and their body and their spirit in your hands…and if you mess up, the stakes are incredibly high.
And yet people do it. They surrender their beings to you. It's this incredible privilege and trust.
Were you drawn to medicine as a child?

Yes, I was always interested. Some of it is this Asian immigrant, "You will be a doctor" thing. At five, I said I was going to be a doctor. Then I was going to be a writer, then I was going to be a dancer, but I had no talent as a dancer, so I ruled that out.
At Stanford, poet Adrienne Rich was one of my advisors….I spent a lot of time thinking about not going into medicine, and becoming a writer….She was very supportive. She said that being of service was the most important thing.
Why did you decide to become a surgeon?

I felt in general surgery I could do the best part of medicine, understand the biology of disease, and still have the powerful tool of operating to help people.
Did you face resistance from men in the operating room?
I think most of the trouble comes from within. Maybe this is true of everybody, but it's particularly true of successful women—I think there's this little voice in your head that says maybe you're not good enough, or maybe you don't deserve to be there….That voice may be what drives many of us, men and women, to work harder…but I think it's very easy for that voice to spiral into being just negativity, insecurity, putting yourself down.
The number of times I've been mistaken for a nurse or respiratory therapist is legion—if I spent time worrying about that, which I did early on, it doesn't really help.
You know, I started as a medical receptionist…
When was that?
In high school. My mom made me take typing over the summer; if you can type, you can always have a job. At 16, I got a job as a medical receptionist. First I was at the Palo Alto Medical Center. The next summer I switched to Valley Medical Center, which is a county hospital in San Jose.
I worked there every summer, holidays, weekends. It was great. I got paid $9 something early on—a huge amount of money at the time. I would type, and answer the phone, and deal with the patients who walked in.
It was a cancer clinic. Nobody spoke English. I learned to work with two other secretaries, who were older than me, and a bunch of doctors and nurses and radiation technologists, and early on I started to realize that it's not just about the doctor, it's a team.
I could not do surgery if I didn't have a nurse, a scrub tech, and a resident, an anesthesiologist, and a CRNA [certified registered nurse anesthetist].
People say that oncologists are deeply compassionate and empathetic…
When you're with somebody who has a new diagnosis of cancer or who thinks they might have cancer, everything that is unimportant falls away and the things that are the most relevant remain—your essential humanity, your family, your religion, your belief system….You're with somebody when they're focusing on their legacy or what their place in the world is. That can be a huge pit of despair for some people, so if you can be there, that's an incredible privilege and it can be a joy because you can really help them.
This interview has been condensed and edited for clarity.