Take Advantage of Free Fun Fridays Today
No admission charged at 10 cultural venues, courtesy of Highland Street Foundation
Fridays just got a whole lot better, thanks to the Highland Street Foundation's Free Fun Fridays. During the summer months visitors get free admission each Friday to many of the most popular cultural venues in Massachusetts.
Since 2009, more than 900,000 people have taken advantage of this enrichment program. You can enjoy museums, theater companies, nature preserves, and more today, Friday, July 20. Check out the exciting destinations offering no-cost admission below.
With free admission to the MFA, art lovers of all ages are offered hands-on art-making activities, tours, and exhibitions. Visitors can also view Endless Feast, a collaborative work of art created by 175 local Boston students for this year's Community Arts Initiative Artist Project. Among the exhibitions you won't want to miss: French Pastels: Treasures from the Vault, French Impressionist works from the permanent collection rarely displayed because of their fragility, and Mark Rothko: Reflection, 11 masterpieces by one of the most influential 20th-century painters, currently on loan from the National Gallery of Art.
The Museum of Fine Arts, 465 Huntington Ave., Boston, is open today from 10 am to 10 pm.
One of New England's premier theater companies invites you to a free performance of Cyrano, a modern retelling of the 1897 Rostand classic Cyrano de Bergerac. Set in the 21st century, it was written by Jason O'Connell and Brenda Withers.
The Gloucester Stage Company, 267 E. Main St., Gloucester, has free tickets to Cyrano tonight; visit the box office or call 978-281-4433 after 11 am for tickets, limit of four per household; age recommendation is 12 and older. Find directions here.
This beautiful 36-acre property with a long and interesting history was first a private residence in 1740, and elm trees were planted on the banks of the Charles River running along the property. Formal gardens were added in the early 20th century, and it later became a Catholic seminary and in 1987 was placed on the National Register of Historic Places. Today, it is owned by the commonwealth of Massachusetts and leased to the Massachusetts Horticultural Society, the oldest formally organized US horticultural organization. Visitors can tour its open fields and meadows, streams and pools, wooded areas and formal gardens, and take in its views of the Charles River. 
The Gardens at Elm Bank, 900 Washington St., Wellesley, are open today from 10 am to 4 pm. Find directions here.
Take a deep dive into the life of the great white shark at the Chatham Shark Center. Visitors can learn new and exciting research on the misunderstood species in an interactive and engaging way through the center's fascinating interactive exhibitions, displays, and videos.
The Chatham Shark Center, 235 Orleans Rd., North Chatham, is open today from 10 am to 4 pm; phone: 508-348-5901. Find directions here.
The coastal city of New Bedford was once the whaling capital of the world. You can relive that storied history at the New Bedford Whaling Museum, in the heart of the New Bedford Whaling National Historical Park. You'll learn about whale conservation and the underwater world of whaling, in an homage to the maritime history of the south coast of Massachusetts. It teaches lessons relevant to today's pressing global issues, including the consequences of natural resource exhaustion and the importance of tolerance in a multicultural society. Included in the museum's impressive collection are five whale skeletons, the largest ship model in the world, and the longest painting in America. Catch additional maritime exhibitions in the nearby historic Mariners' Home, dating to 1790.
The New Bedford Whaling Museum, 18 Johnny Cake Hill, New Bedford, is open today from 9 am to 5 pm; phone: 508-997-0046. Find directions here.
A cultural gem on the island of Nantucket, the Nantucket Maria Mitchell Association is a nonprofit founded to preserve the legacy of local astronomer, naturalist, librarian, and educator Maria Mitchell, who discovered a comet in 1847 and whose 200th birthday is being celebrated this year. The association operates two observatories, the Loines Observatory and the Vestal Street Observatory, in operation since 1908. The association has a natural science museum and an aquarium, so visitors of all ages will find plenty of science and history-related programming.
The Nantucket Maria Mitchell Association, 4 Vestal St, Nantucket, is open from 10 am to 4 pm; phone: 508-228-9198. All the association buildings are within walking distance of one another. 
Learn about history and the story of society, cultures, and identity through stamps at this museum at Regis College. Named for Catholic clergyman and stamp collector Francis Cardinal Spellman, who headed the Archdiocese of New York from 1939 to 1967, the museum is child-friendly, offering activities like stamp scavenger hunts and a chance for children to create their own stamp collections. As an added bonus, youngsters receive free packets of stamps.
The Spellman Museum of Stamps & Postal History, 241 Wellesley St., at Regis College, Weston, is open today from 9 am to 5 pm; phone: 781-768-8367. Find directions here.
Enjoy free access to not one, but five different museums in Springfield today, including one dedicated to Theodore Geisel, better known as Dr. Seuss, the Amazing World of Dr. Seuss Museum, as well as the Dr. Seuss National Memorial Sculpture Garden. The other four museums are the George Walter Vincent Smith Art Museum, the Michelle and Donald D'Amour Museum of Fine Arts, the Springfield Science Museum, and the Lyman and Merrie Wood Museum of Springfield History. After touring the museums, check out the museum store.
The Springfield Museums, 21 Edwards St., Springfield, are open today from 10 am to 5 pm; phone: 413-263-6800. Timed entry to the Amazing World of Dr. Seuss is first-come, first-served. Find directions here.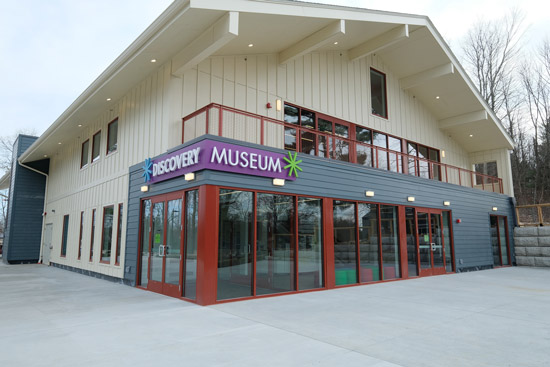 The world of discovery is alive and well at the Discovery Museum. Introduce children to STEM-related activities through interactive discovery, hands-on inquiry, and scientific investigation. You'll find galleries devoted to light and color, sound, water, simple machines, and more. There's even a da Vinci Workshop. Outdoors, you'll find a nest swing, a rain garden, beaver lodges, and the popular Discovery Treehouse and Nature Playscape.
The Discovery Museum, 177 Main St., Acton, is open today from 9 am to 8:30 pm; phone: 978-264-4200. Find directions here.
The New England Patriots Hall of Fame is a must-see for gridiron fans, offering more than a dozen exhibitions focused on Patriots and New England football history. Don't miss seeing the team's five proudly displayed Vince Lombardi Super Bowl Championship trophies.
The Hall at Patriot Place, One Patriot Place, Foxborough, is open today from 10 am to 5 pm; phone: 508-698-4800. Find directions and parking info here.
Find a complete list of Highland Street Foundation Free Fun Friday programs here.  
Sara Frazier can be reached at smfrazie@bu.edu; follow her on Twitter @Sara_Frazier.