A Guide to Boston's Secondhand Shops
The best places to find used clothing and furniture
Shopping for clothes, furniture, and housewares can be a challenge on a student budget. Fortunately, Boston-area secondhand stores offer a wide range of goods, from tables and chairs to designer duds and accessories. And purchasing someone else's castoffs is good for the environment as well as your wallet. Consider this: the average American throws out 80 pounds of clothing each year, adding more than 13 million tons to landfills.
Whether you're hitting a thrift, resale, consignment, or vintage store, you'll find clothes and furniture for relatively low prices. There are differences though: thrift stores sell donated items, resale stores pay sellers for items, and consignment shops accept items from owners, who get a percentage when it sells. Resale shops tend to sell more current styles, while consignment shops normally sell a mix of vintage (items more than two decades old) and current clothing and accessories..
There is a thrill to unearthing a hidden gem at the bottom of a pile or at the back of a shelf and knowing that it's worth at least double what it's marked. So, we've put together a list of secondhand stores worth checking out, from a vintage store specializing in retro video games to a consignment store where you can get designer clothes for low prices and support local charities. Have a favorite that we've failed to include? Add it in the Comment section below.
Close to campus
Goodwill
965 Commonwealth Ave., Boston; 617-254-0112
Hours: Monday to Saturday, 10 am to 8 pm, Sunday, noon to 6 pm
Morgan Memorial Goodwill Industries was founded in Boston's South End in 1895; today, stores supporting the nonprofit can be found throughout the world. The closest is in West Campus. Clothes are organized by type and color and most have a set price: jeans $7.49, T-shirts $1.99, and so on. There's also a pricier boutique section of higher-end brands and noteworthy vintage items. We recently spotted a Kenneth Cole Reaction gray peacoat for sale for just $20. A weekly tag sale on Sundays offers special discounts, and college students get a 15 percent discount every Thursday.
Buffalo Exchange
180 Harvard Ave., Allston; 617-779-7901
Hours: Monday to Saturday, 11 am to 8 pm, Sunday, noon to 7 pm
Buffalo Exchange occupies that magical space between a thrift store and a consignment shop. Items, both men's and women's clothing with a youthful and hip bent, average $15. We recently spotted a pair of Steve Madden kitten heels for $17, and a Michael Kors bag for $38, both in excellent condition. Those selling clothes can get 30 percent in cash or 50 percent for trade on the spot. Sign up for the store's newsletter to find out about special deals, like student discount day. And bring a reusable bag: Buffalo Exchange donates money to local charities in lieu of providing bags.
Urban Renewals
122 Brighton Ave., Allston; 617-783-8387
Hours: Monday to Saturday, 9 am to 6 pm, Sunday, noon to 5 pm
Urban Renewals is massive: one room has women's clothing and children's toys, another has men's clothing, and a third is filled with furniture. Housewares and bric-a-brac are spread throughout. There are no set prices for types of clothing, but most items are a real bargain. Recently spotted: skirts, $2.99 to $5.99, long-sleeve tops, $4.99 to $7.99, and dresses, $5.99 to $7.99. Keep in mind that there are no dressing rooms, no refunds or exchanges, and it's cash only. One more tip: the store is packed on Wednesday, when senior citizens get 50 percent off, so plan to visit another day to avoid crowds. Thursday is ideal, because students get 50 percent off on all red-, green-, yellow-, and blue-tagged clothes.
Vivant Vintage
318 Lincoln St., Allston; 857-228-8565
Hours: Monday to Friday, noon to 7 pm, Saturday, 11 am to 7 pm, Sunday, 11 am to 6 pm
It's impossible to miss Vivant Vintage. The exterior has a colorful mural declaring it "home of the traveling spectacular." If that's not enough to draw you in, the eccentric atmosphere should be—it's like walking into a collector's attic, with items from vintage cameras and old typewriters to an elk head with a gas lantern dangling from its antler. It can be hard to tell what's for sale and what's part of the permanent decor, but owner Justin Pomerleau will happily clarify. The clothes vibe is rock 'n' roll bohemian: lots of leather jackets ($70 to $150), vintage T-shirts ($20 to $30), and button-downs with big '70s collars. A Dooney & Bourke purse in good condition was a solid deal at $38, but a vintage Harley Davidson T-shirt seemed a bit overpriced at $35. Overall, the quality and variety is impressive. There's plenty of outerwear, dresses, leather bags, boots, wingtips, and ties ($15, two for $25). Check in on Yelp and get 10 percent off your purchase.
Thrifty Threads
210 Harvard St., Brookline; 617-277-6860
Hours: Friday, 1 pm to 4 pm, Saturday, 11 am to 4 pm
As Brookline's only thrift store, Thrifty Threads has been serving the community since it opened in 1996, offering a diverse selection of men's and women's clothing. It's inside the United Parish of Brookline and is fully operated by volunteers, with all proceeds going toward supporting the church and its outreach and social justice programs. With most items available for less than $10, you can find a sweater or pair of jeans for a steal. Remember: all sales are final.
Boston
Boomerangs Special Edition
1407 Washington St., Boston; 617-456-0996
Hours: Tuesday, Wednesday, and weekends, 11 am to 6 pm, Thursday and Friday, 11 am to 7 pm
One of Boston's most popular chain of thrift stores (there are four), Boomerangs is noted for lavishly decorated windows, especially at Halloween and other holidays. Boomerangs Special Edition stands out from the others, with more upscale items in its inventory. With high-end brands such as Proenza Schouler, Issey Miyake, Chanel, and Gucci, much of the merchandise looks like it came directly from a Madison Avenue boutique. The items here cost more than those available at other Boomerangs, but you can find plenty of cheap bargains, like men's jeans for $10. There are kitchenware, art, furniture, books, jewelry, and more. Proceeds benefit the AIDS Action Committee of Massachusetts. Find a list of locations here. Keep up with special sales via Boomerangs' Facebook page.
Castanet
175 Newbury St., Boston, second floor; 617-536-1919
Hours: Tuesday and Wednesday, noon to 6 pm, Thursday to Saturday, 11 pm to 6 pm, Sunday "by chance"
You'll find lots of designer pieces in excellent condition from brands like Dior, Dries van Noten, and Isabel Marant. Expect to shell out some serious money, though: recently, a Gucci clutch was selling for $395, and an Opening Ceremony knit dress was $135. There is more affordable apparel as well: an Alice & Olivia metallic blouse was priced at $49. Castanet squeezes a lot of merchandise into two small rooms and offers one of the best deals available to those consigning clothing: 50 percent of the selling price. Call to set up an appointment or email the store's owner with a description of your items.
Thrive Exchange and The Felt Fanatic
176 Newbury St., Boston; 857-239-8604
Hours: Monday to Saturday, 11 am to 6 pm, Sunday, noon to 6 pm
This two-in-one vintage store is designed for students with an eye for hip streetwear and sports apparel. Thrive Exchange, which occupies the front room, is a hub of '80s- and '90s-era clothing. Recently on sale: a Tommy Hilfiger vest for $60, and a Nike Jordan sweatshirt from the '90s for $128. There are some cheaper items as well, like graphic tees ranging from $20 to $30. Head to the back room to find the Felt Fanatic, guaranteed to appeal to sports fans far and wide. Champion sweatshirts average around $35, and there is also a wide selection of jerseys, tees, jackets, and more. Browse the impressive collection of university pennants and apparel. You might even find some BU gear.
40 South Street
40 South St., Jamaica Plain; 617-522-5066
Hours: Thursday and Friday, 1 to 7 pm, Saturday, 11 am to 6 pm, Sunday, noon to 5 pm
Sometimes vintage stores feel more like museums, with a look-but-don't-touch ethos. But 40 South Street has a down-to-earth vibe, with a fun and weird rather than prim and proper selection. You'll find vintage denim, pleated skirts, and leather vests adorning the chain link fence entryway of the postage-stamp-sized shop. You'll also find sparkly evening dresses, kitschy sweatshirts, men's and women's pieces from the '60s to the '80s, ranging from the basics (a cherry red puffy jacket, $35) to the statement-making (a velvet leopard print jumpsuit, $45). Owner and local rocker Hilken Mancini—cofounder of Girls Rock Camp Boston and Punk Rock Aerobics—plays punk classics while you peruse the racks. Take a look at her Etsy store to get a taste of the selection here.
Covet
391 W. Broadway, South Boston; 617-268-1100
Hours: Monday to Friday, 11 am to 7 pm, Saturday, 11 am to 6 pm, and Sunday, 11 am to 5 pm
A quote by Carrie Bradshaw—Sarah Jessica Parker's character from Sex and the City—greets visitors entering this South Boston vintage boutique: "I like my money where I can see it…hanging in my closet." Covet is a consignment boutique offering both high-end and affordable apparel and accessories. There are some real gems to be found among the eclectic selection of tops, dresses, and pants. Recent fashionable finds include an Alexander McQueen bodycon dress ($159), Tom Ford glasses ($117), and a Blank NYC suede vest ($51). Check out Covet's Instagram for daily updates on their inventory, but act fast—almost as soon as items are posted, the word "Sold!" appears next to them.
Recollective Vintage
416 W. Broadway, Boston; 617-863-7938
Hours: Tuesday to Saturday, 11 am to 7 pm, Sunday and Monday, 11 am to 5 pm
With nine different vendors under one roof, Recollective Vintage is a shopper's dream. You'll find items from '40s fashion to one-of-a-kind trinkets. Vendors include Swift & Faire Co, Blue Bandana Relics, Gold Dust Vintage Shop, Maine Vintage, Modern Vintage Designs, Belvedere Vintage, Re.Find & De.Find, Pink Room Vintage, and Refind VT. Recent items for sale: denim shirts ranging from $22 to $42 and a carved wooden tray for $20. Don't have time to stop by the South Boston storefront? Direct message Recollective Vintage on Instagram to snag your favorite piece of fashion before it's gone.
SAULT New England
577 Tremont St., Boston; 857-239-9434
Hours: Monday to Saturday, 10 am to 7 pm, Sunday, 10 am to 5 pm
Most thrift and consignment shops are dedicated to women's fashion, so it's refreshing to one dedicated to men's clothing. Founded by Philip Saul in 2011, SAULT New England specializes in the "traditional staples for every man's wardrobe by mixing current trends and classic style," according to its website. Men's apparel and accessories, like hats, shoes, ties, belts, and wallets, are available for sale, as well as personal care products. Among the labels you'll find: Jack Spade, Patagonia, and Penfield. The store does carry some women's apparel and accessories too, among them sweaters, leather purses, and jewelry.
Cambridge and Somerville
MIT Furniture Exchange
350 Brookline St., Building WW15-182, Cambridge; 617-253-4293
Hours: Tuesday and Thursday, 10 am to 4 pm, first Saturday of each month, 10 am to 1 pm
A service project of the MIT's Women's League, the MIT Furniture Exchange (FX for short) has been selling used furniture and household goods at bargain prices to members of the BU, Harvard, MIT, and Suffolk University communities with a valid university ID since 1958. All proceeds benefit the MIT Women's League Scholarship Fund, which provides annual financial support to MIT female undergrads. We recently saw a set of yellow armchairs for $25 each. Bibliophiles will want to check out the huge selection of used books (10 cents for paperbacks, 25 cents for hardcovers). Check FX's Facebook page to view pieces the team has rehabbed.
Raspberry Beret
2302 Massachusetts Ave., Cambridge; 617-354-3700
Hours: Monday to Saturday, 11 am to 8 pm, Sunday, noon to 8 pm
Host a shopping party, bring in some gently used clothing, or just stop by for this consignment shop's many in-store sales. Raspberry Beret retails both new and consigned pieces of women's fashion. Carrying mostly mid-range women's apparel—many pieces are around $30—it has an eclectic assortment of higher-end designer and more low-end, trendy merchandise. Some recent items available include a vintage paisley dress ($50) and Tory Burch heels ($99). Caution: plan to spend some time here. Most of the merchandise is on crowded, non-color-coordinated racks, meaning you may have to dig a bit harder to find what you're looking for—but it's worth it. There is also one small rack of men's items. Your purchases might even help support a local charity: Raspberry Beret invites local nonprofits to open consignment accounts that any seller can opt to donate items to. The store offers a 50/50 split for nonprofits. In addition to the Cambridge storefront, there is another location in Maynard (the Reading location closed in October) and items are also available online.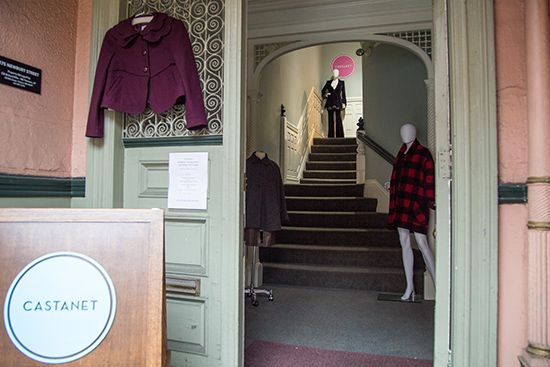 The Garment District
200 Broadway, Cambridge; 617-876-5230
Hours: Sunday through Friday, 11 am to midnight, Saturday 9 am to midnight
Boasting the biggest selection of vintage clothing in the Boston area, Kendall Square's Garment District offers one-stop shopping for both vintage and contemporary secondhand clothes. Women's blouses are $7 to $14; dresses start at $10. Men will find items from business suits and button-downs to T-shirts and jeans. The pieces range primarily from the '50s to the '90s. Check out the massive pile of clothing on the bottom floor, where you pay $2 per pound, $1 on Fridays. The Garment District sells kids' clothing, used designer duds, and brand-new clothing as well. The building also houses Boston Costume, one of the area's biggest costume rental locations, which is open daily until midnight during the month of October for those looking for a Halloween outfit.
High Energy Vintage
429 Somerville Ave., Somerville; 857-995-8055
Hours: Wednesday to Saturday, 11 am to 7 pm, Sunday, noon to 6 pm
High Energy Vintage in Union Square is a tucked-away gem with a serious retro-futuristic vibe and a ton of vintage treasures. Owner Andrew Wiley whistles along to '80s electro-pop as customers look through the merchandise, which ranges from men's and women's vintage clothing and shoes (most appear to be from the '70s and '80s), vintage video games, cameras and other electronics, and vinyl records. Most of the records retail for $10, but there's a $1 record bin out front. Don't miss the $5 "trunk o' treasure" right inside the door. Check out High Energy's Facebook page for sales and new additions.