Class of 2018 to Be Celebrated at Today's Senior Class Breakfast
Commencement speaker and honorary degree recipients will be announced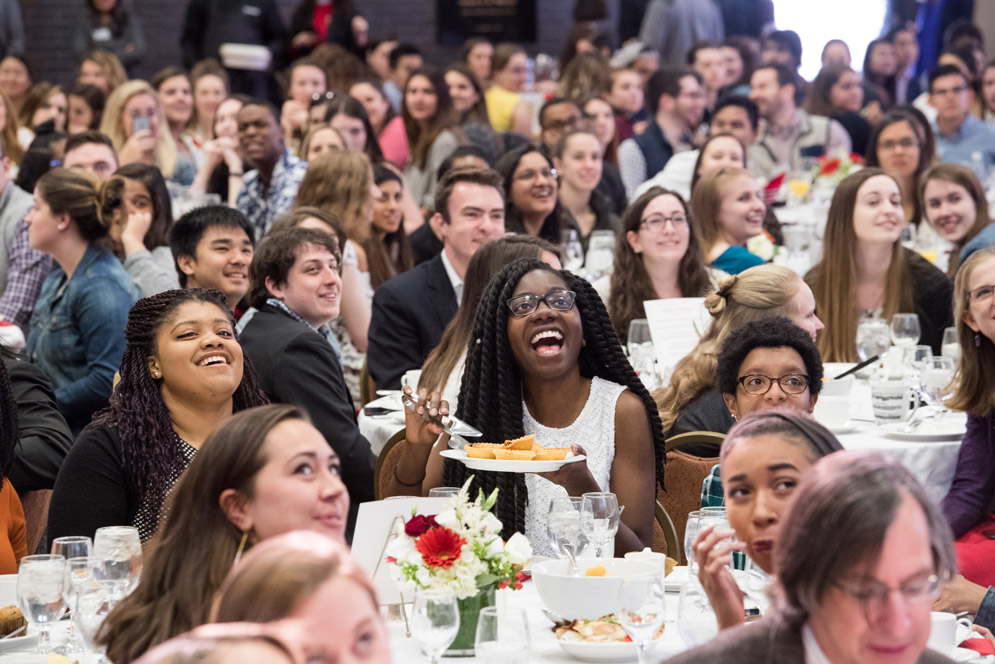 It's the beginning of the end for the Class of 2018. This morning is the Senior Class Breakfast, the official kickoff of Commencement festivities.
More than 2,500 seniors, dressed up for the occasion, will flock to the annual celebration in the George Sherman Union's Metcalf Ballroom starting at 10 am. The most anticipated moment will be the announcement of who will address the crowd at BU's 145th Commencement on Sunday, May 20, at Nickerson Field.
Doors open about 9:30 am, although some students are expected to line up earlier to secure a spot close to the stage or reserve a table for friends. Snapchat users can access an exclusive Senior Class Breakfast filter inside the GSU from 8 am to noon and follow the morning's festivities on the University's snapchat account (bostonu).
On the menu are a Florentine tart, scones and muffins, seasonal fruit and berries, maple sweet potato hash, and basil-chicken sausage. Vegan, gluten-free, dairy-free, and kosher options will also be available.
Rev. Robert Allan Hill, dean of Marsh Chapel, will offer an invocation before the meal, emcee Kenneth Elmore (SED'87), associate provost and dean of students, will welcome speakers to the stage to give an overview of the Senior Week lineup, and Class Gift Campaign cochairs will give an update on how the campaign is going.
Lauren Pyes (CGS'10, COM'12), Development & Alumni Relations assistant director of annual fund and leadership gifts, says that more than 2,200 students have already donated to the 2018 Class Gift. Class members can direct their donation to a specific program, club, or project on campus that has special significance for them.
Seniors who donate are eligible for some perks. A contribution of at least $20.18 allows a donor to honor a specific professor, mentor, or classmate, and the honorees will receive a note and a gift in June. Those giving at the leadership level ($50 or more or an annual giving pledge to BU) will be invited to a Student Leadership Donor reception at President Robert A. Brown's home this month.
Before the breakfast wraps up, Brown will announce this year's Commencement speaker, honorary degree recipients, Baccalaureate and student speakers, and winners of the University's highest teaching honors, the Metcalf Cup and Prize and the Metcalf Awards for Excellence in Teaching.
Senior Breakfast is today, Thursday, May 3, at 10 am in the George Sherman Union Metcalf Ballroom, with overflow seating available throughout the facility.
Check back on BU Today this afternoon for an updated article on Senior Breakfast, with the names of this year's Commencement speaker, honorary degree recipients, Baccalaureate and student speakers, and Metcalf Cup and Prize and Metcalf Award winners.
Seniors can donate to the Class Gift here.
Find more information about Commencement on the Commencement website.