Chopped Finalist's Mission to Master Dessert
For SHA student, an interest in cooking leads to passion for baking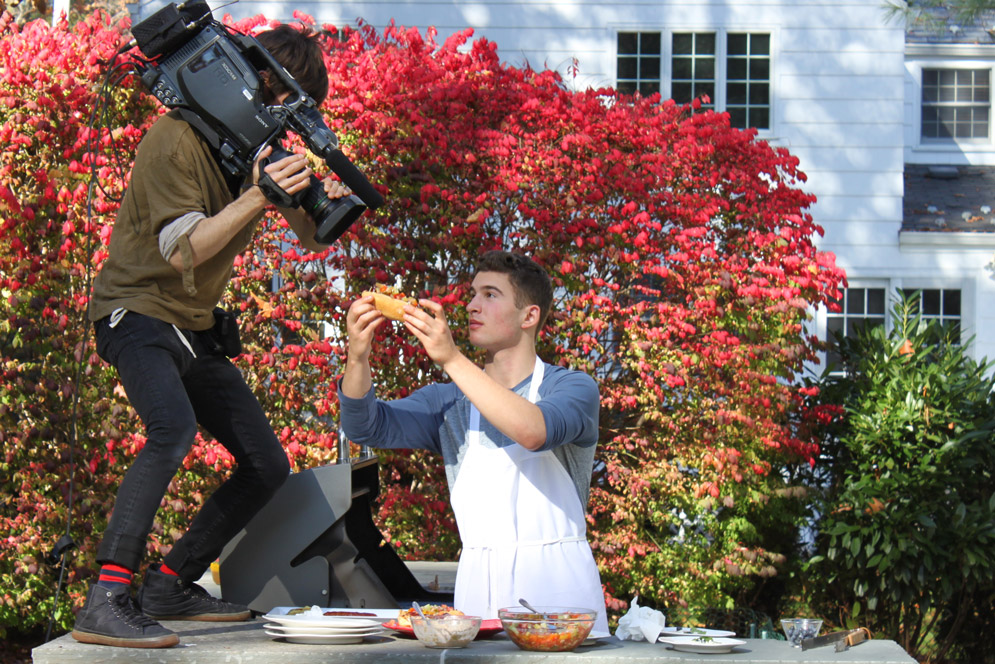 Jared Goldberg goes out with friends on most weekend nights, but he'll leave by midnight to get some sleep. By 4 a.m., he's up and out the door, just as his friends are coming home. It's a concession he makes to bake.
When he was 17, Goldberg (SHA'20) made it to the final round on the teen version of Food Network's Chopped. He has cooked at restaurants in Connecticut, New York, and Boston, and in summer 2017, he interned at a top bakery in New York City. Goldberg thrives on challenge, working "in a field you truly can't master," he says. "There are so many types of cuisines and ingredients that you constantly learn new things."
Goldberg found the kitchen after a high school basketball injury sidelined him from the game. Looking for an alternative to sports, he attended a cooking class at UMass Amherst. "I knew I liked to eat, so I figured the class was worth a try," he says. "I loved it. The teacher gave us creative freedom in the final exam to make a dish of our choice, and I made a stuffed tomato with wild rice, ground lamb, and a red pepper coulis. It was the first thing I ever made that was my own."
At 16, he walked into Crabtree's Kittle House, the finest restaurant near his hometown of Scarsdale, N.Y., seeking experience. The farm-to-table restaurant and wine cellar gave him a job as a prep cook, and he started by spending hours cutting strawberries into quarters. He learned new cooking techniques each week, from knife skills to how to create basic sauces.
During the summer before his senior year of high school, he auditioned for a role on Chopped Teen Tournament, where four contestants are given baskets of secret ingredients and face off in appetizer, main course, and dessert rounds. He made it onto the show's third season, but was eliminated during his episode's final round after attempting a dessert using banana split brownies, ribbon candy, avocados, and wasabi peanuts. He did his best to transform those funky ingredients into a berry banana crumble with avocado whipped cream in 20 minutes. But he accidentally shattered the bowl mixer and got glass in his avocado, losing one of his key ingredients.
While Goldberg admits desserts weren't his strength at the time, Chopped judge Alex Guarnaschelli cited Goldberg's "enormous creativity as truly something to watch. You missed it by a nose, but you did some beautiful things." And judge Geoffrey Zakarian was so impressed with Goldberg's work ethic that he offered him a job at his Greenwich, Conn., restaurant, the National. Goldberg spent five months there as a chef garde manger (preparing cold items like salads), and then moved on to the nose-to-tail butcher shop Fleishers, where he worked until starting SHA.
Goldberg promised his parents he wouldn't get a job during school so he could focus on his grades and on making friends, but soon he was itching to get back into the kitchen. He knew desserts were a weakness—after Chopped, he was "too frustrated to look sweets in the eye"—so he sought out internships that would teach him the principles of baking. During his freshman year, he joined the award-winning Sofra Bakery & Cafe, in Cambridge, Mass., which specializes in Middle Eastern desserts, and was eventually transferred to Sofra's sister restaurant, Oleana. In summer 2017, he continued baking at Barbalu in New York City.
Right now, he's all about cookies, since he made seven types per shift at Sofra. "I make a really awesome cookie with a kick," he says. "It's a typical shortbread cookie, with flour, sugar, and butter, but then you replace some of the butter with tahini. It's great with a little vanilla ice cream."