Cinemathèque Screens Documentary about NYC Police Whistle-blowers Friday
Crime + Punishment is COM alum's latest film featuring mavericks
Filmmaker Stephen Maing doesn't shy away from conflict. The Emmy-nominated Maing (COM'97) has earned a reputation for documentaries that focus on people who challenge the status quo.
Filmed over five years, his first feature documentary, High Tech, Low Life (2013), chronicled two of China's first citizen-journalists who reported on censored news throughout their country. His next, The Surrender (2015), was about US State Department intelligence analyst Stephen Kim, indicted and sent to prison under the Espionage Act for divulging classified information to a reporter.
In his latest documentary, Crime + Punishment (2018), which premiered at this year's Sundance Film Festival and has streamed on Hulu, Maing follows a group of whistle-blowing black and Latino cops in the New York Police Department who risk everything by filing a landmark class-action lawsuit to end illegal policing quotas. While quotas have been illegal in New York since 2010, these dozen cops—known as the NYPD 12—revealed how their department's "performance objectives" forced them to make arbitrary arrests, often targeting people of color in vulnerable communities.
Filmed over four years—and using a variety of recording devices, including watch cameras and drones—Crime + Punishment offers an intimate, behind-the-scenes look at racial profiling in the NYPD. Provocative and frustrating, this film sheds necessary light on a problematic system that persists today.
Maing will screen Crime + Punishment and discuss the story behind the project Friday, November 16, as part of BU's Cinemathèque series, a College of Communication program that brings accomplished, innovative filmmakers to campus to show and discuss their work.
BU Today spoke with Maing recently about the documentary, how he became a filmmaker, and his advice for aspiring directors. The following conversation has been edited for length.
BU Today: What drew you to filmmaking? And why documentaries?
Maing: I always knew I wanted to make things—real things that were expressive but also engaged with the world. Music, woodworking, art, fiction, and journalism were some of my interests, but it was the documentary form that I realized offered a rare opportunity to tell nuanced personal stories that entertain, inform, and move viewers in a way that combined so many things I cared about. It's one of the most formally inventive genres of storytelling, while also possessing a rare power to deconstruct historical narratives and real-time human experiences.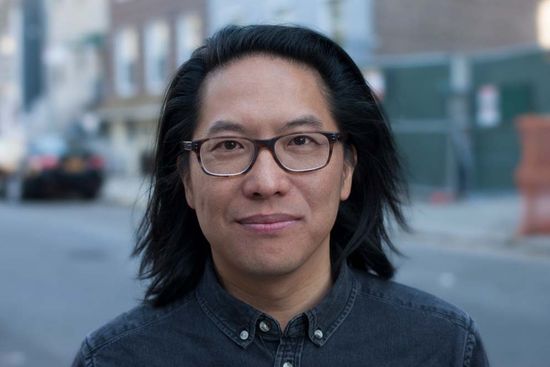 How did you first learn about the story you tell in Crime + Punishment?
In the years leading up to 2013, national debates on the excessive use of stop-and-frisk in minority communities were unfolding nationwide. In New York City, the issue had become inescapable as tensions between police and low-income communities escalated. When a federal judge deemed the NYPD had illegally overused the tool in low-income neighborhoods, many thought the deepening troubles would be finally addressed, but in fact, that was not the case.
My producing partner and I had been working on short docs about policing and stop-and-frisk for several years and found ourselves in a rather unique position when some of the anonymous law enforcement sources who had appeared in silhouette in these earlier projects decided they wanted to openly sue the department. Coming from a cinema verité filmmaking background, I made it my business to film anywhere and everywhere they would invite me, because I knew there was a whole world of policing the public had never seen or heard and would never believe without an immersive firsthand observation. The process organically led me to countless other cops, attorneys, private eyes, prison guards, community advocates, and families as a truly systemic view of criminal injustice started to come together.
There are many intimate moments in the film, like an officer sending her daughter to a prom and another's visit to a doctor. Why did you feel these were important to include?
It's hard to understand things we don't see, so I wanted to make both the human narratives and systemic dysfunction visible. Crime + Punishment is told through a series of many interlocking stories. I wanted it to be highly personal and cinematic, because I knew a film about cops attempting to hold the NYPD accountable had to feel relatable in order to disrupt simplistic preexisting notions that police reform efforts are always anti-cop. Scenes like these two allowed me to show something relatable and vulnerable in them, but also that these officers who cared deeply about their communities and families were balancing a tremendous set of responsibilities and pressures both on and off the job.
What has been the audience response to Crime + Punishment?
Countless cops and ordinary citizens have approached us and the subjects to say how much the film means to them. Many have come up to the NYPD 12 to thank them for doing what they wished they could do but did not have the courage to. Many others have shared similar experiences happening to them for not meeting the quota. And just recently, a guy messaged me to say he had quit being a cop after four years because of corruption and quotas. This individual incidentally is now working as an assistant film editor and said my film made him feel reassured that he'd made the right decision to pursue filmmaking, because it brought him closer to his personal truth.
Have there been any real-life repercussions for the people involved since Crime + Punishment came out?
I wondered for a long time if the department would embrace the urgent questions raised in the film, but instead it turns out they've just allowed ongoing retaliation against the NYPD 12 while refuting their claims. Most notably, after filming ended, Sergeant Edwin Raymond aced the lieutenant's exam and should have been promoted, but instead is now faced with potentially career-ending departmental charges—something he almost prophetically anticipated in the film. So it's disappointing to say that the NYPD may likely be taking a more aggressive approach, at least against Sergeant Raymond, perhaps to send a message to others. For this reason, my greatest hope is that people remember this is not just a film—Raymond and all of these officers need the public's active support and attention. It's disappointing for me to say, but since premiering at Sundance and our launch on Hulu, incredibly few politicians, celebrities, and change agents have embraced the NYPD 12 or this film, despite the great need to keep up sustained attention, discussion, and support around the case, issues, and officers.
Do you know the current status of the NYPD 12's class-action lawsuit?
The class-action lawsuit was appealed, but continues to be dismissed in status. The attorneys are planning to appeal again. Public and political support for their case and cause has been weak at best.
What was the most challenging aspect in making this documentary?
Crime + Punishment was a film that resisted being told, in every sense of the word—from the blue wall of silence to the animus created by our nation's historical treatment of minorities and the inability for the public to simply see inside certain institutions. But as a storyteller, those very challenges also provided the dramatic stakes.
Pushing the boundaries of storytelling, access, and reportage was modeled directly off of the unprecedented actions of the subjects, who needed to take extreme measures to gather the evidence needed to prove their case. In addition to this, the sheer volume of filming a truly multicharacter story was incredibly taxing, resulting in roughly 350 days of filming.
But the biggest challenge has been a recent realization that audiences often consume documentaries largely as entertainment, to be moved by them but then often forgotten. Don't get me wrong—there is great appreciation and interest in screening the film nationwide, but the absence of organizations and individuals that feel compelled to strategize with these officers and work on the issues raised in the film does haunt me.
Based on your filmography, you seem to be drawn to stories about mavericks, people who rebel against the system. Can you talk about that?
I like stories about unexpected protagonists on remarkable journeys that can be examined not just for their social value but also their unique and nuanced human experience. I like meeting people that challenge me to understand something new within myself as much as in them—perhaps what all filmmaking ideally should ask of us. As the son of immigrants, as a minority, and someone who understands trauma and adversity, I am inspired and curious about people whose moral compass makes them unafraid to speak up and break the rules when necessary.
How did your experience at COM prepare you for your career?
During my time at COM, I was lucky to take some great classes in film theory, screenwriting, journalism, production, and writing. By the end of my education, I felt confident for the first time to tell stories with some fundamental skills in writing, directing, shooting, and editing—perhaps the most exciting time of my young life.
Over the years, as a storyteller I've learned that journalistic practice helps us be rigorous with investigative information. During the making of Crime + Punishment, I was often uncertain of the next steps, but my time at COM reminded me how the filmmaking process teaches us and sometimes beckons to us for what is needed and where to look: we just need to stay open and listen.
What advice do you have for students interested in pursuing careers as filmmakers?
Don't be fazed if everything in the world tells you it's too damn hard, because the great challenges in making films are what lead to the great power of a finished film. From the time and expense it takes to produce and complete a film to the external pressures telling you to focus on a real career to family questioning your ideas to the story not feeling deep enough and the gatekeepers and funders never seeing the value in our projects until the completed rough-cut stage, and most notably, our own self-doubt that sabotages our momentum, the uncertainty can be difficult, but the work is infinitely rewarding. And when you expose yourself to the confluence of all these difficult feelings, you should remind yourself you're probably doing something you care about.
Also, always remember that we reach people if we can tell them a really good and new story. When the storytelling is exciting and the filmmaking is bold and thoughtful on a visual and emotional level, we get to make rare personal connections to each and every viewer who encounters our work.
Stephen Maing will discuss and screen his film Crime + Punishment tonight, Friday, November 16, at 7 pm, at the College of Communication, Room 101, 640 Commonwealth Ave. The event, part of the BU Cinemathèque series, is free and open to the public.
Crime + Punishment is available on Hulu.
Madeleine O'Keefe can be reached at mokeefe@bu.edu; follow her on Twitter at @OKeefeMadeleine.