Brunch Bets: Cinquecento Roman Trattoria
South End gem offers unique weekend brunch
Too often, weekend brunch menus offer up the same tried-and-true items: eggs Benedict, French toast, omelets, and pancakes. Even the biggest brunch aficionados can tire of the repetition. If you're looking for a unique dining experience, treat yourself to brunch at Cinquecento, the upscale Roman trattoria in the SoWa district in the South End.
The name is Italian for 500, both a nod to its street number on Harrison Avenue and a callout to the Fiat 500. We decided to take Cinquecento for a test drive on a recent Saturday at noon. After passing through a covered brick walkway and up an illuminated cast-iron-and-glass staircase, we entered Cinquecento's spacious dining room, which combines industrial chic with a rustic vibe. The 200-seat area is complemented by a 60-seat outdoor patio for warmer months.
The seasonal brunch menu is divided into sections, which our waiter patiently explained to us. One look at the pasticceria listings and you know you're in for something special: the pastries ($3 each) include ricotta fritters, olive oil zucchini muffins, and a gianduja (chocolate paste flavored with ground hazelnuts) brioche bun. Colazione (breakfast) dishes include small-plate options, such as Greek yogurt parfait ($8.25) and caramelized grapefruit ($7.25), and uova (egg) dishes, like the zucchini and feta cheese frittata ($12.75), and have a decidedly Mediterranean twist. Then there's the insalate e pane section, a selection of delicious salad and bread dishes, like Tuscan kale and farro salad ($9.75) and Nutella crepes served with amarena cherries and bacon ($9.50). Under the paste listings, you'll find a number of Cinquecento's famous pasta dishes, like bucatini alla carbonara ($14.50). The range of flavors and ingredients offers something for every taste.
Brunch patrons can also choose the prix fixe menu, which includes coffee or tea, fresh-squeezed orange or grapefruit juice, a ricotta fritter, and a choice of one of three main dishes—a good value at $11.95.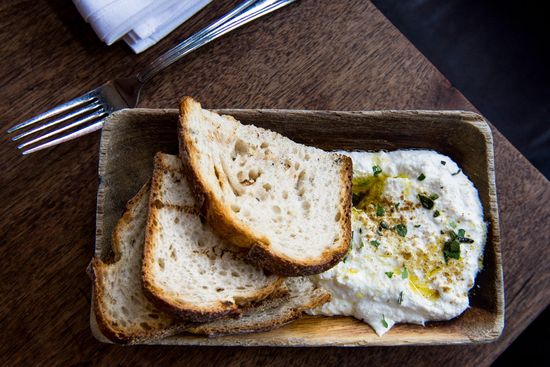 We opted to go à la carte, starting with coffee ($2.95) and cappuccino ($4.50), and two selections from the pasticceria: the olive oil zucchini muffin ($3) and ricotta fritters (2 for $3). The muffin had the classic sweet, slightly nutty taste associated with zucchini bread. The fritters were two doughnut hole–like pastries lightly dusted with powdered sugar, less dense than traditional doughnuts and with none of the fried taste the latter often has.
Next we tried ricotta fresca ($8.75), slices of grilled Italian bread with a heaping of fresh ricotta topped with olive oil, served on a rustic wooden dish. The ricotta tasted fresh and smooth (albeit a bit plain), and spread on the nicely toasted bread, it made for a quickly filling appetizer. To save room for our main course, we finished only half the dish.
Our server recommended the ciccoli and eggs ($15.50), crispy braised pork with fried eggs, cranberry beans, and spinach. It's said to be one of the restaurant's biggest crowd pleasers. The pork had a strong, savory taste on its own, and combined with the eggs, it dazzled against the bland beans and spinach, which offered substance, but not much in the way of flavor.
Our favorite item was Cinquecento's popular polenta, eggs, and funghi ($14.75). The dish lived up to the hype: the roasted mushrooms and truffled polenta made for richly flavorful bites, and the fontina added a distinctly cheesy taste. Two flawlessly poached eggs nested in the polenta. The dish was accompanied by two slices of crisply grilled Italian bread.
With a variety of entrées made with fresh ingredients and available at reasonable prices, Cinquecento is an excellent destination for those looking for an imaginative brunch. It's well worth a trip to the South End.
Cinquecento Roman Trattoria, 500 Harrison Ave., Boston, serves brunch Saturday and Sunday, from 10 am to 3 pm, and dinner Sunday to Wednesday, from 5 to 10 pm, and Thursday to Saturday, from 5 to 11 pm. Make reservations online or by calling 617-338-9500. Cinquecento accepts all major credit cards. Take an MBTA Green Line trolley to Copley and walk about 15 minutes to Harrison Avenue.
This is part of a weekly series featuring Boston lunch and brunch spots of interest to the BU community. If you have any suggestions for places we should feature, leave them in the Comment section below.
Madeleine O'Keefe can be reached at mokeefe@bu.edu.
This Series
Also in
May 10, 2018

April 26, 2018

April 18, 2018