Brunch Bets: Explorateur
A French café with a unique California twist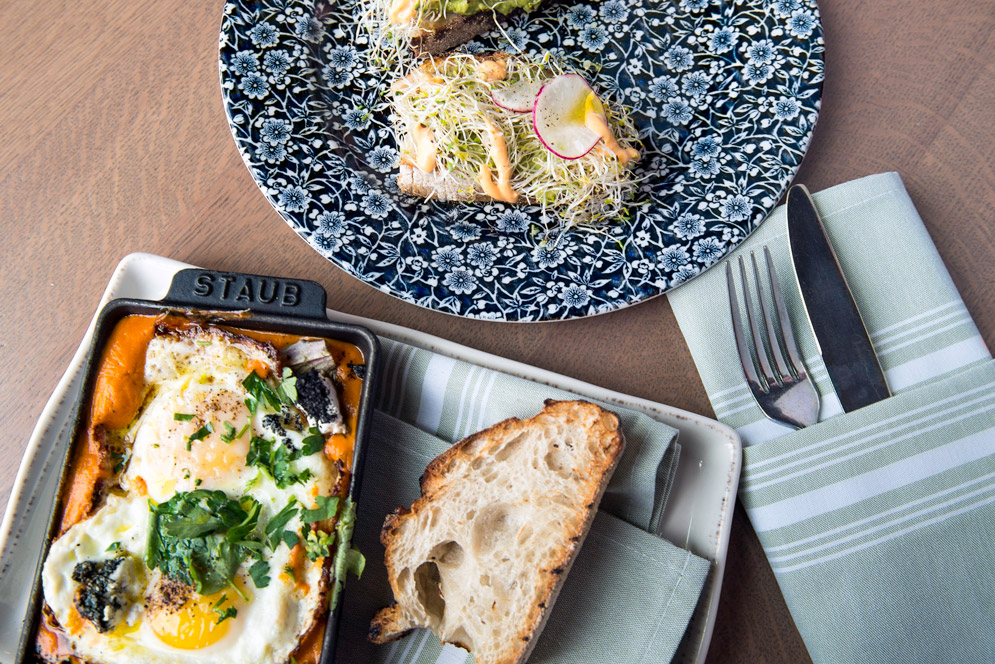 Given the number of brunch spots around the Boston Common, it can be hard for one to stand out. But Explorateur, the recently opened French-Californian fusion café, restaurant, and bar, has no trouble going up against the crowded field.
Directly across from the MBTA Green Line Boylston stop, Explorateur offers both a European style café, a restaurant serving brunch and dinner, and two bars known for craft beers and innovative cocktails. Whether you're looking for a place to sip a cappuccino and do homework, grab brunch with friends, or let loose after a long week, Explorateur is definitely worth a visit.
The restaurant bills itself as "French in name and Californian and French in its passionate approach to dining," and you can see it in the eclectic brunch menu, with classic dishes such as a cheese omelet ($12) and grilled cheese ($12) alongside more innovative creations like almond toast ($12), made with almond butter, sliced banana, toasted almonds, and house-made jam, and the baked egg dish shakshuka ($12).
We stopped by on a recent Monday for brunch, and were not disappointed. The brunch menu is filled with delicious options, and choosing what to order proved difficult. After much deliberation, and some recommendations from our waitress, we decided on the shakshuka ($12), avocado toast ($12), and the cinnamon toast crunch French toast ($16).
Shakshuka, a Middle Eastern dish of baked eggs in tomato sauce, served with goat cheese and charred greens, is an increasingly popular dish in American restaurants, but too often they fall short of doing it justice. Explorateur knocked it out of the park: the shakshuka ended up being our favorite part of the meal.
Served in a small rectangular black pan, it was a delightful-looking combination of two baked eggs sitting in an orange tomato sauce, topped with greens and goat cheese, accompanied by a toasted slice of French bread. Don't be fooled by the small size of the dish; it's actually quite filling.
The eggs were crispy around the edges and soft and creamy in the middle, allowing for some crunch while still providing that satisfying ooze of poached eggs. The sauce tasted more like tomato soup than a traditional tomato sauce, and contributed a nice sweetness to the dish. The combination of sweet sauce and savory eggs was flawlessly executed and the toasted bread was well-suited for sopping up some of the egg.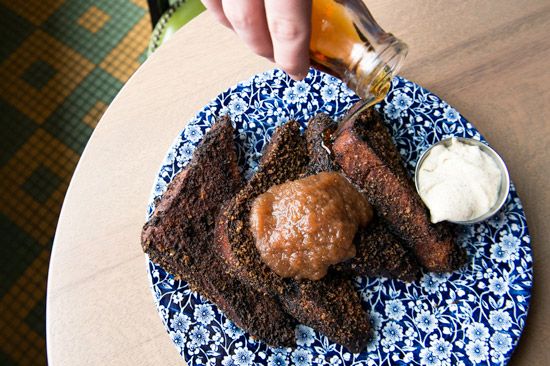 We ordered the cinnamon toast crunch French toast at the urging of our waitress: it's her personal favorite. This is a contemporary twist on classic French toast: four thick slices of triangular challah bread topped with sweet baked apple marmalade and served with a side of crème anglaise and maple syrup. Explorateur is all about balance, and this dish had plenty. It was crispy and crunchy on the outside, warm and soft on the inside. The cereal crumbs covering the crust added a nice cinnamon undertone and complemented the smooth interior. The warm apple garnish provided a tart twist, and the sweet icing-like crème anglaise gave it a light, sugary finish. Between the apple and the crème, you don't even need the syrup.
As self-proclaimed avocado fans, we were compelled to try the avocado toast. We enjoyed the two slices of toasted bread topped with smashed avocado, citrus puree, radish, sprouts, and dots of sriracha aioli, but we weren't blown away by it. Although aesthetically pleasing, the garnishes were overpowering—you don't order avocado toast for the sprouts and radish. The toast was warm and crunchy, and the sriracha aioli added a delicious and controlled kick, but we were left craving more avocado.
All in all, Explorateur offers a range of unique and filling dishes that bring its French-Californian ethos to delectable life. You'll find a calm and welcoming atmosphere and a splendid brunch.
Explorateur, 186 Tremont St., Boston, is open for brunch from 10 am to 3 pm daily and for dinner from 5 to 10 pm Sunday to Thursday and 5 to 11 pm Friday and Saturday. The café is open daily from 7:30 to 10 am. Explorateur accepts credit cards, and reservations can be made online or by calling 617-466-6600. Take an MBTA Green Line trolley to Boylston.
This is part of a weekly series featuring Boston lunch and brunch spots of interest to the BU community. If you have any suggestions for places we should feature, leave them in the Comment section below.
Jacob Gurvis can be reached at jgurvis@bu.edu; follow him on Twitter at @JacobGurvis.
This Series
Also in
May 10, 2018

April 26, 2018

April 18, 2018