Annual Giving Day Today
24-hour fundraising drive a chance to give back, support your favorite BU programs
When BU's annual Giving Day began in 2014, the goal of the 24-hour fundraising drive was to benefit the myriad great causes across the University: its schools and colleges, student clubs and organizations, the Community Service Center, athletics, libraries, campus sustainability initiatives, and other areas. Over the past four years, Giving Day has raised nearly $6 million, thanks to the generosity of more than 20,000 BU students, alumni, parents, faculty, staff, and friends.
The fifth annual Giving Day takes place today, Wednesday, April 11. To mark the occasion, celebrations will abound on both the Charles River Campus and the Medical Campus. In addition, a community-wide social media campaign will feature the people, programs, and causes at BU that Terriers care about most.
"Giving Day brings our entire community together for one day, with the goal of giving back to BU and celebrating our collective impact," says Steve Hall, vice president of alumni relations. "We now have an event with supporters who span the globe and give to over 400 unique causes. It's an incredible movement that helps create the future of Boston University."
The one-day fundraising drive is an effort to connect BU's global community by igniting school pride and support around common causes. Today, Terriers are encouraged to donate to the area of their choice at BU. As in previous years, gifts made to schools and colleges, varsity athletics, and club sports will unlock bonus funds—meaning that every gift goes further on Giving Day. Dollars raised for particular causes and by various groups (e.g., school vs school, team vs team) are tracked, leaderboard-style, on the Giving Day website.
A special incentive for current students to give
Another aspect of Giving Day is a challenge sponsored by a group of young BU alumni, which encourages current students to support their favorite campus activity. The clubs or organizations with the most student donors will win a share of $2,500 in bonus funds. More than 15 recent graduates contributed a portion of the matching funds to encourage students to join them in giving. The challenge is meant to educate students about the impact a group can have on a community and cause.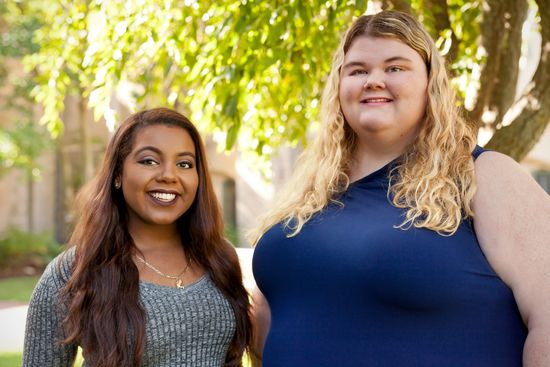 "I love to support BU on Giving Day specifically, because every dollar I give has an even greater impact on the causes I care about," says Class Gift cochair Kaitlin Geraghty (CAS'18). Last year on Giving Day, more than 2,000 students from all classes gave.
Students 21 and older will have the chance to network with many of the challenge sponsors during a reception tonight from 8 to 10 pm at Cornwall's, 654 Beacon St., in Kenmore Square. Young BU alumni will start the festivities at 6 pm. There will be complimentary snacks and a cash bar.
In addition, special hour-long challenges will be promoted throughout the day on BU Alumni Association social media accounts. A full schedule with winners will be updated in real time on the Giving Day website.
On-campus activities
There are several ways to participate in Giving Day, both in person and online. On the Charles River Campus, the GSU Link will be Giving Day headquarters from 10 am to 3 pm. Activities will include a carnival, a photo booth, and an appearance by Rhett. Deejays from WTBU will provide the soundtrack for the day. Giving stations will be set up in many schools and colleges on both campuses, with a chance to walk away with some Giving Day swag and be featured in social media posts.
Social media activity
Participants can use the hashtag #BUGivingDay in Facebook, Instagram, and Twitter posts to join the conversation and to check out what others are saying about Giving Day, or they can tell the community why they donated by posting videos, photos, or testimonials using the #IGivetoBU hashtag.
Stephanie Quinn (COM'09, CAS'09, SED'17), BU director of annual giving, can be reached at slquinn@bu.edu.
Watch a video about the 2018 Giving Day here.