A Sure Sign of Spring: Creative Writing Program Faculty Reading Tonight
Annual event showcases new work from BU literary standouts
In a year when winter has overstayed its welcome, one harbinger of spring has arrived: the annual Creative Writing Program Faculty Reading. Think of it as a kind of laid-back and unpretentious literary salon, an evening to listen to new work by a group of renowned poets, novelists, and short story writers. The reading is tonight, April 10, at the Florence & Chafetz Hillel House.
Among those on the roster is Sigrid Nunez, a College of Arts & Sciences lecturer in the Creative Writing Program, who will read from her new novel, The Friend (Riverhead Books, 2018), a poignant story about a woman grieving the loss of a beloved friend and former mentor from suicide. The narrator inherits the man's 180-pound Great Dane, Apollo. The novel is by turns heartbreaking and mordantly funny, as Nunez explores the ways we mourn and the deep bonds we forge with our pets.
"I see it as a book about different kinds of loss," the author says. "There's the loss a person suffers when someone they love dies, the losses that we all have to face as we grow older, and the lost illusions that most people encounter as they go through life. But the book is also about healing from loss."
Nunez says the idea for the novel came about largely through events in her own life. "In recent years, I happened to learn that a number of people I knew had been obsessing about suicide," she says. "Not that they were actually planning to do it, but it seemed to always be on their minds. So that was one important thread. Another thread was my work as a writing teacher, and the idea of literary mentorship. And then I've always been interested in human-animal companionship. I saw a way to explore all these subjects in one novel." Disclosure: Nunez confesses she's always been a cat person, but that she loves dogs, too.
Kirkus Review calls The Friend "quietly brilliant and darkly funny," noting that it is "a lonely novel: rigorous and stark, so elegant—so dismissive of conventional notions of plot—it hardly feels like fiction."
Also reading tonight is Ha Jin (GRS'93), director of the Creative Writing Program. Known best as a novelist (Waiting, War Trash, The Boat Rocker), the National Book Award–winning author plans to read from his soon-to-be-published collection of poems, A Distant Center (Copper Canyon Press, 2018). Earlier versions of the poems, which explore uprooted lives and the challenges of making a living while making art, were originally published in two collections Jin wrote in Chinese. He rewrote some of those poems in English for his new book.
Asked if he finds writing poetry easier or more difficult than writing novels, Jin replies, "Neither is easy. If the work is genuine art, it usually begins with a lot of uncertainty and frustration. In a way this is normal. If you feel sure of a piece of writing, it might turn out to be mediocre."
More poetry is on tap tonight from Robert Pinsky, a William Fairfield Warren Distinguished Professor and former three-time US poet laureate, and from Karl Kirchwey, a CAS professor of English and associate dean of the faculty, humanities.
Kirchwey, whose most recent collection of poems, Stumbling Blocks: Roman Poems (Northwestern University Press, 2017), was inspired by his years living in Italy's capital, plans to read from several new poems. One of them is the eponymously titled "Mad Men," an homage to the characters in the Emmy-winning TV series:
"We will miss them, Peggy, Don, dishonest Peter,

Bert, Joan with the amazing bust, and Roger,

who organized our lives season after season,

Betty from Bryn Mawr and Sally her daughter

with the dark brows, solemn

and just the same age we were at the time:

an imagination greater than our own."
The annual Faculty Reading, Pinsky says, is an opportunity "to celebrate together, in a public setting, the work we do in the mostly solitary work of writing." This is echoed by longtime participant Leslie Esptein, a CAS professor of English. "I've been able to follow the evolving work of my decades-long colleagues Robert Pinsky and Ha Jin, and for many years, Derek Walcott (Hon.'93): the turns of growth have been instructive and a delight. We have grown older, not to mention old, as a family of artists together."
Pinsky says he hopes the evening will foster a sense of community among students in the Creative Writing Program: "We are teachers and students, but we are also artists, together in a shared pursuit."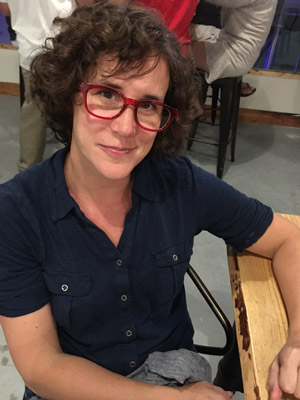 In keeping with tradition, tonight's reading will also feature a recent Creative Writing Program alum. Arlyce Menzies (GRS'17), whose poems have appeared in numerous literary journals, will read from the manuscript she began while studying at BU, tentatively titled Captive of a Kind of God.
"I tend to write quickly and revise only minimally, but that's because I throw so much away," Menzies says. "I work like a photographer—well, not Ansel Adams, whose process was laborious and time-consuming—but like Imogen Cunningham, whose trash can was filled with discarded plates. A poem is finished when the event is over—like sunset or waking up. Then I wait to see it fully develop to decide if it's really a poem."
She describes her poems as "a lifeline to what's sacred," noting that they draw a lot from words she returns to again and again: the King James Bible, haiku, 17th-century poet George Herbert, and most recently, the poems of Mary Jo Bang. Inspiration, she notes, comes in various ways.
"Sometimes I am writing like a bricklayer, just putting the words on the page, and other times I am running, having a dream, reading, or talking to someone and a very small seed is placed in my hand…Very occasionally, I am called out of bed like Samuel hearing his name in the temple, or like Bruce Springsteen in the "I'm on Fire" video, where he lies awake at night and just as the music starts, he rises, pulled by the insides."
The Creative Writing Program was heaven, she says, because it provided the space to practice poetry, and "encouragement in that practice." Long an admirer of Pinsky, Jin, and Gail Mazur, a CAS lecturer in the program, who will also be reading tonight, Menzies says that "having their eyes on mine made me have to concentrate hard not to buckle and flee." She says studying with them as well as with Kirchwey and Dan Chiasson, another program lecturer, taught her "how to give my poems more breathing room—to loosen my control and give the reader more license."
An English teacher in Somerville, Mass., Menzies says her own advice to students is simple: "Put it all on the page." She also encourages them to keep subjecting their work to the comments, opinions, and ideas of anyone who will read it. "You won't always hear what you need, but hearing the rest is good exercise, too."
The annual Creative Writing Program Faculty Reading is tonight, Tuesday, April 10, at the Florence & Chafetz Hillel House, 213 Bay State Rd., second floor, at 7 pm; free and open to the public.