Another Accolade for CTE Researcher Ann McKee
Alzheimer's Association gives her Lifetime Achievement Award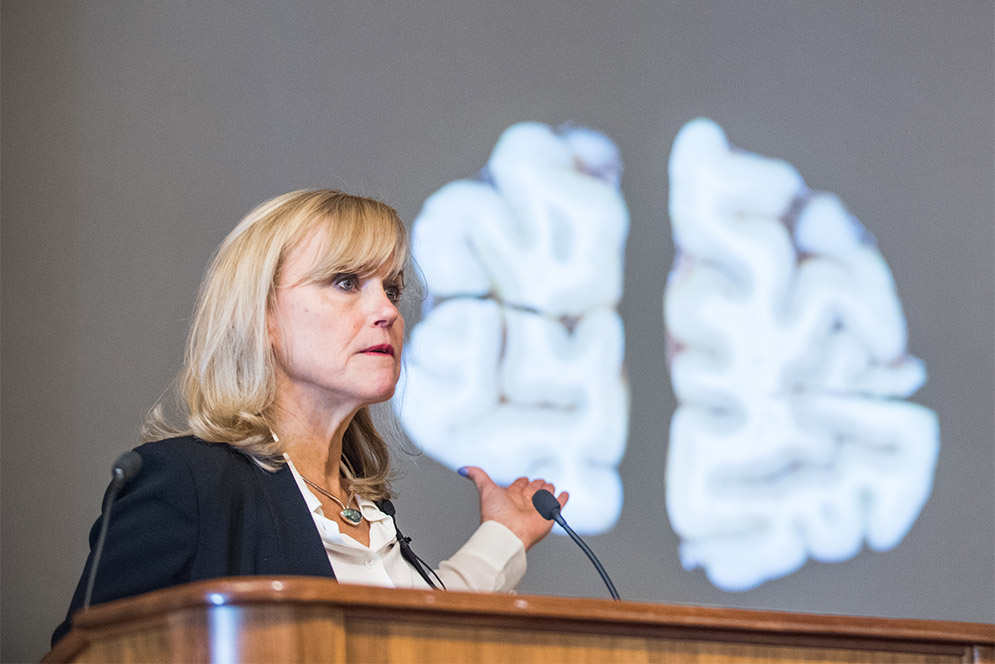 From diagnosing chronic traumatic encephalopathy (CTE) in tight-end-turned-killer Aaron Hernandez to being named the Boston Globe's Bostonian of the Year and one of TIME's 100 Most Influential People, Ann McKee has been a media-attention magnet in the last year.
The director of Boston University's CTE Center has been honored with another accolade, this one from a group of peers. McKee recently received the Henry Wisniewski Lifetime Achievement Award from the Alzheimer's Association International Conference, the world's largest gathering of researchers of that disease and other dementias.
CTE is associated with dementia, mood changes, and aggression and afflicts many athletes and soldiers. In giving her the award, the Alzheimer's Association noted, among other achievements, that she created the "McKee criteria" for diagnosing CTE and established its four progressive stages.
McKee, professor of neurology and pathology at the School of Medicine, and the associate director of BU's Alzheimer's Disease Center, was one of three researchers honored by the Alzheimer's Association. The other honorees were Jeffrey L. Cummings from the Cleveland Clinic Lerner College of Medicine at Case Western Reserve University, and John Q. Trojanowski from the University of Pennsylvania Perelman School of Medicine.
Maria C. Carrillo, the Alzheimer's Association's chief science officer, lauded the three for their "lasting contributions to help accelerate the progress towards finding the underlying causes, treatments, and preventions for Alzheimer's and related dementias."
Calling herself "deeply honored" by the award, McKee notes that it was named for a noted neuropathologist who "was an early inspiration to my career in Alzheimer's disease research and, later, in my fascination" with CTE.
She also credited colleagues at the CTE Center, as well as BU's Alzheimer's Disease Center, the Framingham Heart Study, and the VA Boston Healthcare System, with contributing to her research.
That research in the last few years has included uncovering important facts about CTE at seemingly breakneck speed. This year, McKee and her team published a study reporting that CTE, once thought to be caused by concussions, actually might be the result of repeated hits to the head.
If confirmed, the finding would upend current efforts to cushion athletes against concussions, raising instead the daunting question of how to reduce head hits. That would require that sports face "the fundamental danger these activities pose to human health," McKee said at the time the study was published.
Last December, the Globe wrote that "football may never be the same" as a result of her research, noting the irony that McKee grew up in Wisconsin as "a devoted Green Bay Packers fan."