Huntington Stages Pulitzer Winner's Comedy Tackling Serious Issues
The Who & the What: generational divides in a Muslim American family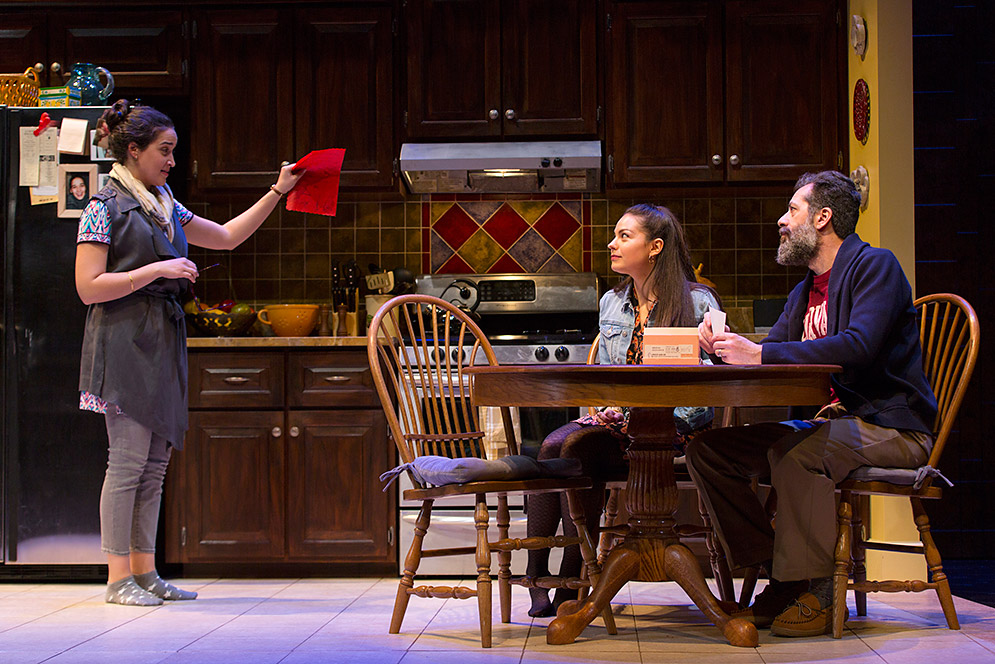 When Ayad Akhtar's drama Disgraced debuted in 2012, it immediately put the fledgling playwright on the map. The searing drama about a Pakistani-born New York lawyer forced to confront his cultural identity and all he believes went on to win a 2013 Pulitzer Prize and a 2015 Tony Award nomination for Best Play following its Broadway run. Since then, Disgraced has become one of the most produced plays in the United States.
The Huntington Theatre Company mounted a production of the play last January that managing director Michael Maso says "generated intense and thoughtful discussions after each performance, with hundreds of audience members staying behind to share their thoughts."
The Huntington is now staging another Akhtar play, and while the two plays are in some ways similar—both involve Muslim Pakistani Americans and explore the role of Islam in contemporary American society—The Who & the What is a comedy, albeit one that tackles serious issues. The bittersweet story about the love between the members of a prosperous Muslim American family is running through May 7 at the Boston Center for the Arts Calderwood Pavilion.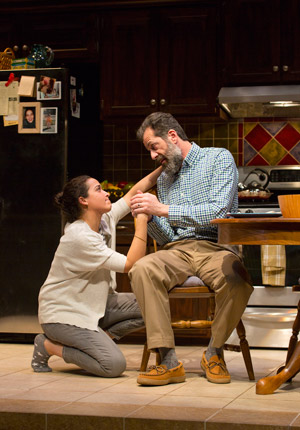 The family patriarch, Afzal (Rom Barkhordar), who moved to Atlanta from Pakistan, is a self-made man: he started out driving a cab and now owns a third of the city's taxi fleet. Afzal is a widower and the protective father of two adult daughters. The younger, Mahwish (Turna Mete), is engaged, but cannot marry until her older sister, Zarina (Aila Peck), does. Afzal takes it upon himself to find her an appropriate match, setting her up with young plumber Eli (Jospeh Marrella), a convert to Islam and an imam devoted to his community.
Much of the play's comedy focuses on Afzal's matchmaking efforts. It's clear that he is devoted to his daughters and they to him, but when the family learns that Zarina has written a potentially incendiary novel about the prophet Muhammad from a feminist perspective, they are forced to take sides. At this point the play becomes a darker meditation on loyalty, Muslim American identity, and the generational divides that mark families.
"It's a comedy about people's failings," says director Bevin O'Gara (CFA'04), a Huntington associate producer. "The play invites you in with comedy, but it leaves you with things to talk about."
O'Gara says she fell in love with the play the moment she read it because it gives voice to modern American Muslim women, something "we don't get to see very often in any media." She was also drawn to the father-daughter relationship and the way Afzal and Zarina have to navigate their changing relationship. "This is a play about familial love: the bonds between sisters, the bonds between father and child, father and daughter, and whether those bonds are strong enough to withstand learning who that person actually is," O'Gara says. "You love the who of someone, but will you love the what of them? What they believe, what they truly feel, and the consequences of finding out who someone really is."
The play, which premiered at the La Jolla Playhouse in 2014, has posed delicate questions for director and cast. "It's a hard-hitting play for a lot of people," O'Gara acknowledges. "There are a lot of people in the Islamic community who don't like what this play is saying, and that's something we've been trying to figure out how to approach. What are the things it's saying that make people uncomfortable, and why is that? Do we want to lean into that or do we want to lean away from that? There are a lot of things that each of these characters say that are not what many observant people and faithful people want said about their religion, and that's a tremendous responsibility."
O'Gara believes that Akhtar's comedy will resonate with audiences in a way that it might not have a year ago. "It's a story about immigrants, it's a story about what immigrants sacrifice, it's a story about immigrants' children and the necessity of them in our country today," she says. But the questions The Who & the What poses are also timeless, namely, "how in this day and age when we start to learn different things about the beliefs of the people we love, do we continue to love them and is that familial bond a strong enough thing to continue to hold that together?"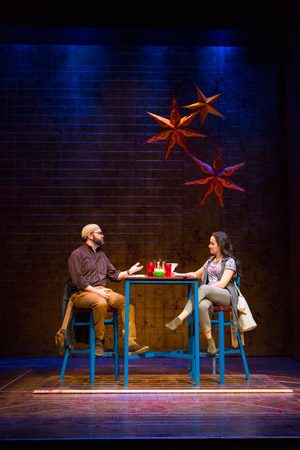 The sets are designed by Cristina Todesco (CFA'94,'04), four-time winner of an Elliot Norton Award, Boston's highest theater accolade. The College of Fine Arts lecturer has worked frequently with O'Gara on productions in and around Boston, most of them plays that revolved around the tensions that exist in a family. "I really want to know as much as I can about the playwright and the context of the play," Todesco says, so she had lots of conversations with O'Gara before beginning the design process. She feels that having a firm understanding of a play's rhythm before beginning the design process is imperative.
For her design for The Who & the What, Todesco came up with a set that is essentially a box. "We sort of landed on this idea of a box that is familial, that is safe, that is precious and warm. And the idea that there are people and events that break into the box and then retreat out of it. It's the whole idea that the events in the play all weave themselves through this idea of home and love and family." The box represents not only the home this family has made for itself, she says, but the values and traditions one generation passes to another.
Working within the confines of the Calderwood's Wimberley Theatre proved challenging, because there was no fly space. "What I designed is all about doors, or sides of the box that raise up so that a scene could enter through that opening," Todesco says.
Despite the play's weighty issues, Todesco and O'Gara hope that audiences see it ultimately as a love story. "It's a love story between a father and two daughters, and a love story between two sisters," Todesco says. It's very much about the love of a family."
The Huntington Theater Company production of The Who & the What is running at the Boston Center for the Arts Calderwood Pavilion's Wimberley Theatre, 527 Tremont St., Boston, through May 7. Purchase tickets online, by phone at 617-266-0800, or in person at the Calderwood Pavilion box office or the BU Theatre box office, 264 Huntington Ave. Patrons 35 and younger may purchase $30 tickets (ID required) for any production; there is a $5 discount for seniors. Military personnel can purchase tickets for $20 with promo code MILITARY, and student rush tickets are available for $20 (valid ID required). Members of the BU community get $10 off (ID required). Call 617-266-0800 for more information. Follow the Huntington Theatre Company on Twitter at @huntington.
John O'Rourke can be reached at orourkej@bu.edu.