Poet Crystal Ann Williams First Associate Provost for Diversity and Inclusion
Former Bates College administrator's goal: to build on BU's forward momentum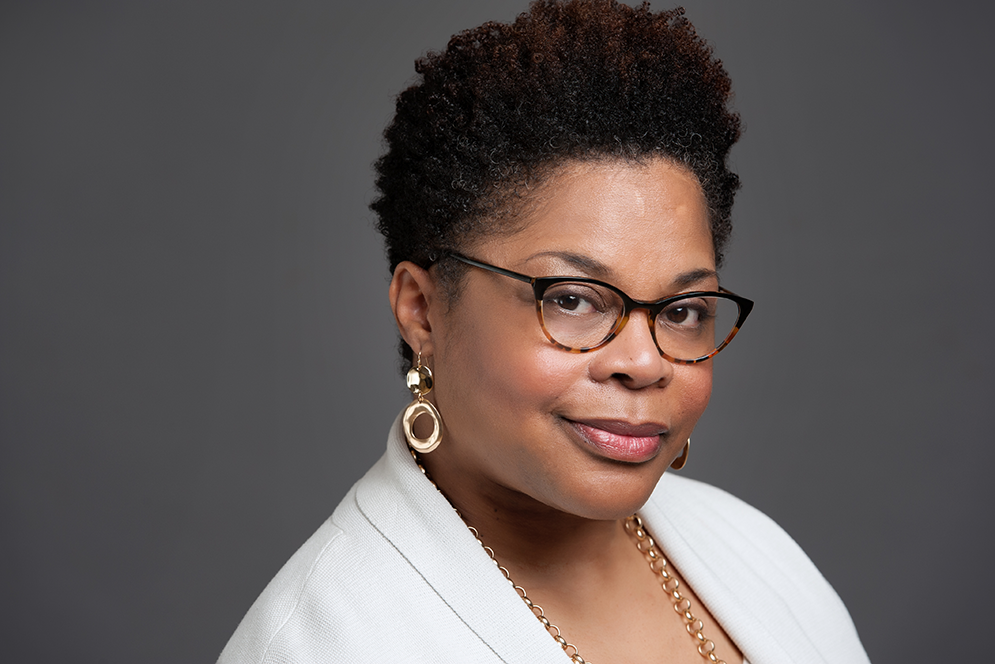 BU has named an award-winning poet to the newly created position of associate provost for diversity and inclusion. Charged with promoting diversity among the University's ranks, that poet, Crystal Ann Williams, offers a quote from Salman Rushdie to illustrate a connection between poetry and diversity.
"A poet's work is to name the unnamable, to point at frauds, to take sides, start arguments, shape the world, and stop it going to sleep," Rushdie said. Williams, who started her new job on Monday, says that it's "the goal of shaping a world in which we can all thrive and fully participate that drives me in all arenas of my life."
Her career has embodied practicing the diversity she preaches (she started as an actress in Washington, D.C.). She comes to BU from Bates College, where she has been an associate vice president and a professor of English since 2013. Before that, she spent 13 years on the faculty at Reed College.
Among her tasks at BU, Williams says, will be to continue the efforts of Jean Morrison, University provost, and Julie Sandell, associate provost for faculty affairs, to diversify the faculty.
"My goal will be to build on their forward momentum," she says. "It is to help develop additional University practices and programs and to work with the deans at the college and school level to help them engage in this area. It's likely we will focus on developing a collectively derived institutional framework for diversity and inclusion that speaks to the University's strategic plan and can help define and drive the work ahead of us."
The administration convinced her of its commitment "to ensure that BU's faculty, students, and staff reflect the great and exciting pluralism in our country and world, thereby ensuring our continued excellence," she adds. "And this position, because it is new to the University, is a fundamentally strategic and creative position, which I find very attractive."
"Crystal brings considerable experience and an accomplished record of leadership in the areas of diversity, equity, and inclusion," Morrison says. "At both Bates and Reed, she demonstrated her ability to work collaboratively and effectively to establish and develop significant offices that promote, support, and advance an institutional culture of inclusion."
At Bates, Williams' numerous initiatives included moving the Office of Intercultural Education, which oversees diversity programs, to a more central campus location, a metaphor for the way she expanded its staffing and role; the Working Weekend, bringing alumni mentors to campus to network with students from underrepresented populations; Bobcat First! an endeavor that supports students who are the first in their families to attend a four-year college and has been found to help them cope with academics and making friendships (the Bates mascot is a bobcat); and SPARQ, which offers peer mentoring and other programs for LGBTQIA+ students.
She also helped lead changes to student orientation and oversaw the creation of new alumni groups for underrepresented populations and LGBTQIA+ students. She has also been a public advocate for greater diversity among US professors.
Morrison says the new associate provost "garnered significant philanthropic support for this work, including a substantial grant from the Mellon Foundation." That $1 million award, for developing approaches to hiring and retaining diverse faculty, has helped Bates since 2015 to recruit 13 tenure-track professors and lecturers from underrepresented groups, out of a total of 25 hires, according to the college.
The author of four books of poetry, Williams won a fellowship from the MacDowell Colony and the Naomi Long Madgett Poetry Prize, given by Detroit's Broadside Lotus Press. She was one of 10 poets commissioned by the Museum of Modern Art to write poetry for the museum's Jacob Lawrence Migration Series exhibition, which celebrated the titular painter's 1941 artworks about the northward migration of African Americans from the rural South.
Williams earned a bachelor's degree from New York University and a master's in fine arts from Cornell. She also has taught at Columbia College Chicago and DePauw University.