Emma (Jayne) Seslowsky Releases Debut Album
COM student records Jetlag's 10 tracks on Nashville's Music Row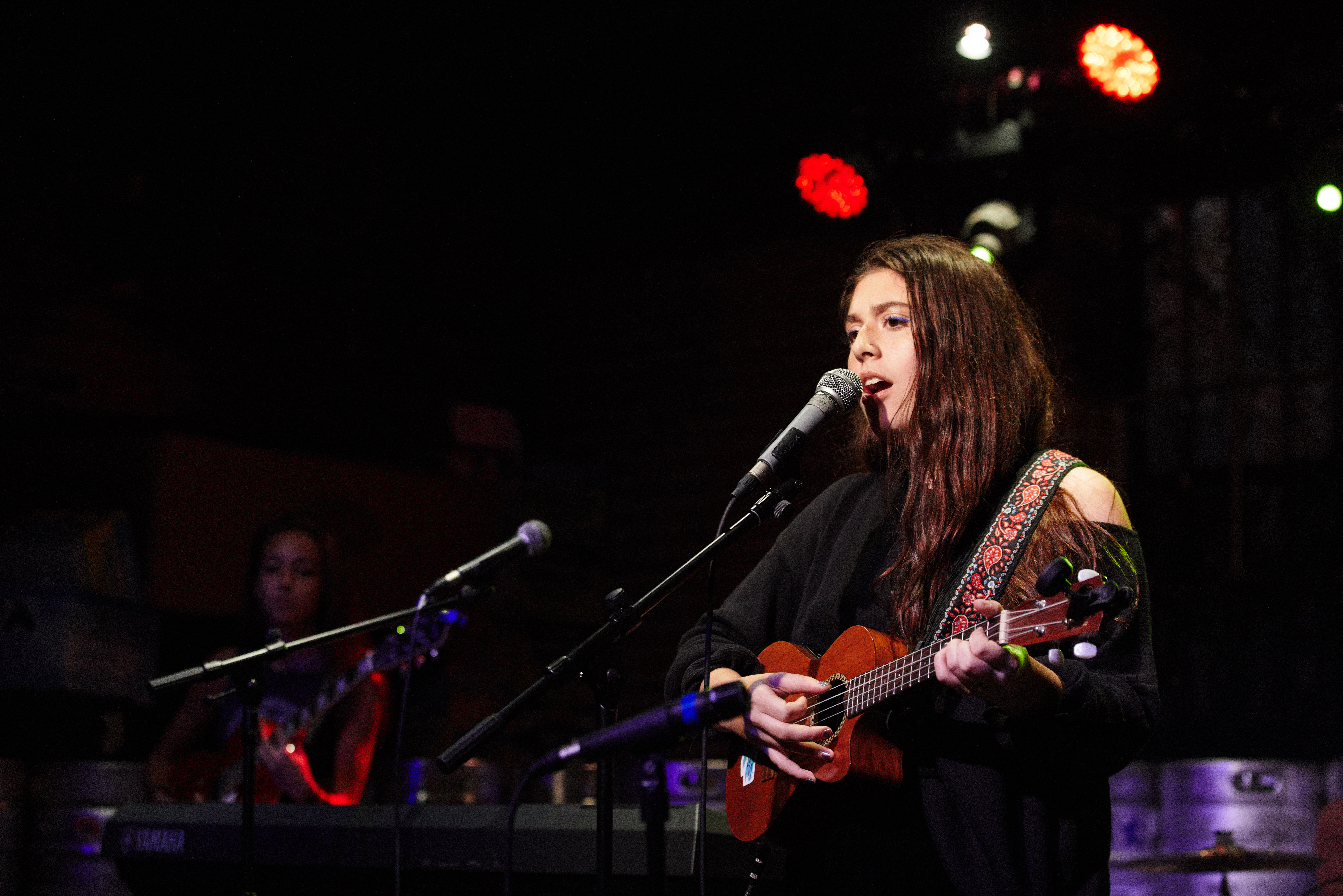 Emma Seslowsky wrote her first song as a 14-year-old at summer camp. Fast-forward seven years and the soon-to-be college grad (the College of Communication senior is finishing up this December and will walk next May) has just released her debut album, Jetlag.
The record's 10 tracks are an appealing mix of pop and soul, inspired by events in the singer-songwriter's life: people she's met, romantic encounters, and the challenges of coping with anxiety. Seslowsky (COM'18), stage name Emma Jayne, says the songs had been marinating for a while, hence the album's name. "It's from the past, from different time zones ago," she says, "but they have new relevance today. I've been writing these songs since high school, some the first half of college… I love every single song on the album, and every one tells a different story."
A positive review from the entertainment website Vanyaland singles out the song "Tandem Bike" in particular: "Aside from being helplessly catchy, Jayne's second release from her new album is a bright-eyed exuberance of confidence and offers much-needed sunshine to 2017… 'Tandem Bike' isn't just a nod to romantic independence—it celebrates fostering independence in everything you do in general."
Seslowsky, who grew up in the Chicago area, plans to tour the Midwest Big 10 schools in the spring to promote her new album. Throughout college, the journalism major has juggled writing and performing her own music alongside internships at WBZ News Radio, CNN's podcasting division, and Harvard Square's legendary Club Passim, which (as Club 47) helped ignite the careers of Bob Dylan and Joan Baez. In addition, she joined the Treblemakers a cappella group, serving on the club's e-board and as music director, and worked as a DJ on student-run radio station WTBU.
Her interest in music began after her parents signed her up for piano lessons when she was six. She became especially enthusiastic with one teacher who introduced her to jazz piano, which she says allows for a lot more improvisation than classical piano. Next, she mastered the ukulele and then began writing songs.
She first played a song she'd written for friends at a Jewish summer camp. "My counselor had GarageBand on his computer. We put it on iTunes, people liked it, and I knew then I was going to continue to write music," she says. She kept writing through high school, eventually performing at venues around the Chicago area. Every summer when she returned to camp she'd test out new songs. "It was validating to perform at camp with people I grew up with and loved and have them say, 'These are good, keep going,'" she says.
When Seslowsky was a BU sophomore, her dad introduced her to alt-country band Escondido and lead singer Tyler James, who lives and works in Nashville. He offered to work with her on her debut album and invited her to come down to Nashville's storied Music Row to record Jetlag.
James remembers first seeing Seslowsky perform in Chicago when she was still in high school, and he was "immediately struck by her huge voice, songwriting well beyond her years, and her natural ability to connect with people," he says. "I wouldn't be surprised to see her reach a large audience as an artist in addition to having success as a professional songwriter down the road."
She spent a week in Nashville during sophomore year recording the album's 10 songs and returned a few months later to rerecord vocals. "It was a lot of fun and super-surreal, just hearing the mixes and making small changes," she says. "I wanted it to be something I was proud of. It was unapologetically my music, that felt like me, that was authentic. I was eager to put it out." In the meantime, she continued performing with the Treblemakers and appearing at other venues, including last year's BU Today Sessions and performing a special holiday performance of "All I Want for Christmas Is You" for BU Today.
In January 2017, Seslowsky released the first single off her album, "Climbing Over," about an old love ("Hope that this song makes you feel like / Half holding hands while we ride bikes and I'm touching you not him / I'm climbing over what has been"). The music video—her first—for "Tandem Bike" arrived on YouTube in early September and has racked up more than 3,000 views. The album was released later that month on iTunes, Amazon Music, and Spotify, capped off by a release party at Bill's Bar on Lansdowne Street.
Emma (Jayne) Seslowsky created a music video for her song "Tandem Bike," which appears on her debut album.
As poised and assured as she is today, performing wasn't always so easy for Seslowsky. Growing up, she suffered from terrible anxiety. She would feel nauseous before shows and cry after performances, convinced she hadn't done well.
"I used to think, how am I going to make this dream work if I can't even perform my songs?" she says. "It wasn't just about getting over it. It turned out it wasn't just me worried about performing—it was general anxiety. I started getting help for that in a real way, seeing a therapist and coming to terms that it was actual mental illness and not just that I'm nervous."
One of the album's songs, "Connie," touches on the subject: it's about "craving that this confident part of yourself would come out more often," Seslowsky says. "Songs are like an extension of myself, and I'm really vulnerable, so it's nice to sing them and to see people singing along. People relate to the songs. I write them for myself and they're all about my personal experiences, so I'm really glad to hear when people relate to them. I've had people come up to me and say, 'I needed that,' or, 'The song made me cry.' And that's the best."