For Doyle Somerby, Hockey Is in His Blood
Men's team captain delays going pro to lead the Terriers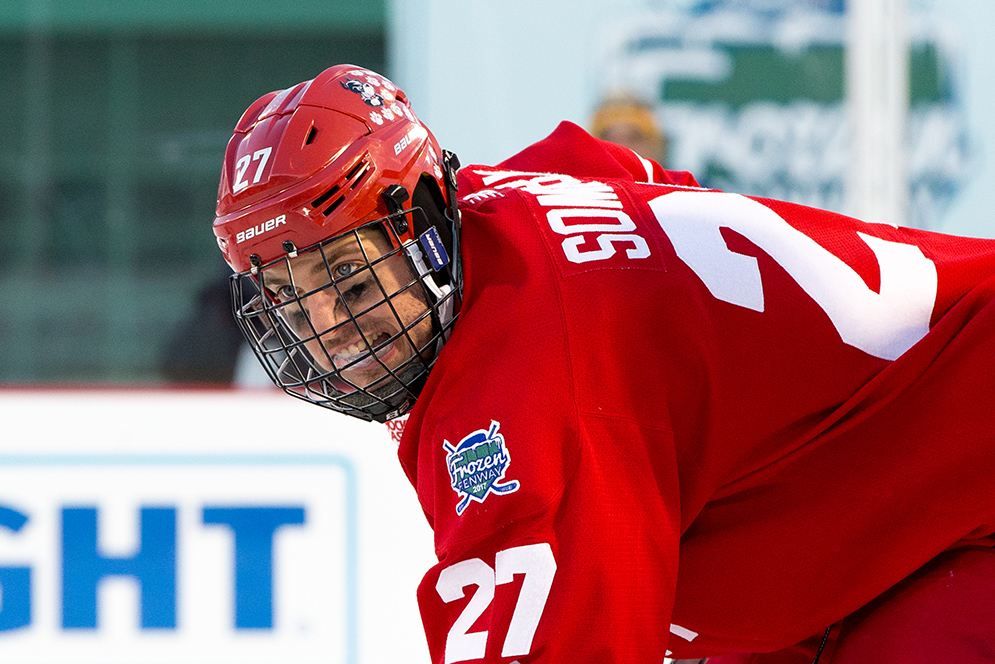 Growing up in Marblehead, Doyle Somerby says, it was probably inevitable that he'd wind up playing hockey. There's "no other way but hockey" there, says Somerby (CGS'15, COM'17), captain of the BU men's hockey team, in his trademark understated tone.
"I was born into a hockey family. My dad coached youth levels and middle school teams. My mom was a huge part in getting me to put skates on. There are lots of pictures of me walking around the house in skates and my dad holding me while he was coaching," he says. "I started skating on teams when I was four or five, and the rest is history."
Somerby attended high school at Kimball Union Academy in Meriden, N.H. It was there, he says, that he experienced what it's like to be a part of an elite hockey culture—something that would serve him well when he got to BU and began playing as a defenseman for the Terriers.
"It was a good taste of what the next level was going to be like. We had a lot of guys that were committed to play Division I," Somerby says. BU teammate Nick Roberto (CGS'15, COM'17) "was with me there, and we'd been playing together since we were eight years old. It was nice to play with that caliber of players before heading into college."
Somerby, it turns out, played an integral part in getting his Kimball teammate in Terrier red. Roberto had originally committed to play for Maine, but rescinded his commitment after a coaching change.
"He was always on my doorstep and calling me," Roberto says. "It was special knowing someone going into college. It made my decision pretty easy." He says Somerby's 6-foot-5, 225-pound frame belies the gentle giant inside. "Everyone thinks he's a big, tough kid, but he's probably the biggest teddy bear out there," he says. "He always looks after me and I look after him. It's a special friendship that we have."
Somerby's own college decision came down to two choices: Maine and BU. "In the end—I grew up coming to the Beanpot and Hockey East playoff games—there was no other way than BU," he says.
Terrier head coach David Quinn (CAS'89) says his captain has earned the respect of the hockey community through both his play on the ice and his demeanor away from it.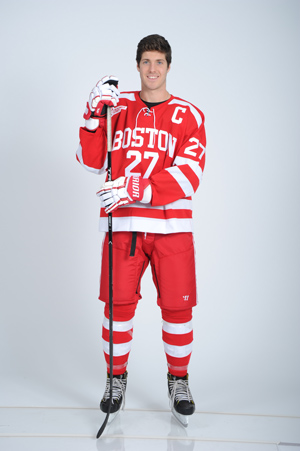 "I don't know if I've ever coached a nicer person. He's sincerely a great guy, and he has incredible respect within the hockey world," Quinn says. "He demands such respect in the locker room in a quiet way, and with a team as young as ours, he's a valuable member of our team."
Somerby was drafted by the NHL's New York Islanders in the fifth round of the 2012 NHL Entry Draft, but chose to wait to join the Islanders until after graduation, committed to finishing his four years in a Terrier uniform. Quinn says the decision reveals a lot about the 22-year-old's values.
"BU means an awful lot to him, and he loves being in school. His degree is important to him. Obviously, he thought there was an opportunity for us to have a special year this season, and he knew he was going to be a big part of it," Quinn says. "It just speaks to the type of person he is."
Off the ice, Somerby is completing a degree in journalism and plans to become a broadcast journalist when his playing days come to an end. The day he was drafted gave him a hands-on taste of what the profession entails.
"I went down to Pittsburgh for the draft," he says. "I always liked sports journalism, so I wanted to be able to see all the interviews in person and watch the first round. If I was going to get picked, I wanted to be there for it." When he was picked, he recalls, "I almost blacked out a little bit. I was there with my family, and it was a really special moment."
The Beanpot Tournament, a 65-year Boston hockey tradition, begins Monday, February 6, and every member of the 17-7-2 Terrier team is psyched for a rematch with Boston College, which wrested the trophy from them in last year's 1-0 overtime heartbreaker.
Heading into the home stretch of his final hockey chapter at BU and his final Beanpot, Somerby isn't letting a single moment get away. The captain, who has experienced the low of being ejected from a Beanpot game as freshman, after receiving a controversial five-minute major for checking a BC player from behind, and the high of hoisting the trophy a year later, says he never takes the chance to compete for the title of "Boston's best" for granted.
"It's pretty tough realizing you're already a senior. When I was a high school freshman, I used to hop on the train after school and come in and watch both Beanpot games and take the train back after," he says. "It's something you always want to play in no matter what, and luckily I have the opportunity to do that."
Teammate Tommy Kelley (Questrom'17) says that appreciation for the game carries over into everything Somerby does.
"He's always been a guy that works extremely hard. He's very dedicated to everything he does. Every time he's outside the rink, he's doing something that will help him inside it," Kelley says. "He takes that aspect of his life into being a captain on our team. He leads by example, but when he needs to say something, he steps up and says it. People listen to that."
No matter how the Beanpot and the rest of the season turn out, Somerby says, he knows that the people who nurtured his love for the game will be there cheering him on.
"It's been really special having my parents so close," he says. "Being 35 minutes away, they're here every game. They travel with us as much as they can and treat our away games like it's a vacation. It's been really special for my family and me to go through the process of playing at BU."
The BU men's hockey team plays in the second game of the 65th annual Beanpot Tournament opening round Monday, February 6, against rival Boston College, at 8 p.m. The first game pits Northeastern and Harvard at 5 p.m.; both games are at TD Garden, 100 Legends Way, Boston. Purchase tickets on Ticketmaster or Stubhub. The Beanpot second round is on Monday, February 13, with the consolation game at 4:30 p.m. and the championship at 7:30 p.m., at TD Garden.
Taylor Raglin can be reached at traglin@bu.edu.