POV: How BOLD Is BU?
With Climate Action Plan vote before Board of Trustees, we must rise to the challenge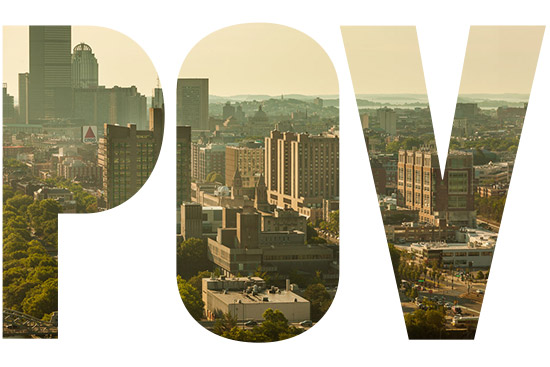 The scientific consensus is unwavering. Climate change is an urgent and dangerous threat to the health of populations and the well-being of our planet. Our world is in a global crisis, a crisis that our federal government is currently failing widely to address. This week Boston University has an opportunity to respond directly to this crisis with trailblazing leadership if the Board of Trustees votes to implement a broad and meaningful Climate Action Plan.
In autumn 2016—in recognition of the threat that climate change poses worldwide, to the city of Boston, and to our own University infrastructure—the Board of Trustees charged the University with creating a Climate Action Plan (CAP). President Robert A. Brown convened the Climate Action Task Force to examine the current state of affairs and to make recommendations for a broad-ranging and meaningful plan. The Board of Trustees will meet this week to discuss the recommendations made by the task force in a report released this past September. You can find the recommended BU Climate Action Plan here.
As BU public health and medical students and future health care professionals working to enhance the health of both populations and individual patients, we strongly believe that it is our institution's obligation to act immediately and forcefully to address climate change.
From both a public health and a medical perspective, we are deeply concerned about the increased risk of both acute adverse events and chronic illnesses, primarily driven by rising temperatures, decreased air quality, extreme weather events, flooding, and increased transmission of vector-borne diseases.
The effects of climate change on health are diverse and multifactorial, but one commonality is their unequal distribution in the population. The most dramatically threatened groups are also the most extrinsically vulnerable and intrinsically susceptible, including racial minorities, those in lower socioeconomic strata, children, and the elderly.
As the BU CAP highlights, the direct threat to BU infrastructure posed by increasing sea level and rising storm surge is significant. While both campuses are at risk, threats to the Medical Campus are particularly alarming. Based on multiple projections, a severe storm could put the Medical Campus underwater in the coming years, bringing the operation of the city's largest safety net hospital and the performance of the world-class research and education within its walls to a screeching halt. While measures to address the vulnerabilities of BU facilities proposed in the CAP will be costly, the cost of inaction is unthinkable.
From an academic standpoint, we support the recommendations of the task force that BU establish an Initiative on Climate Change and Sustainability and deepen offerings related to climate change in the curricula. As the BU CAP states, climate change issues "encompass such a broad scope of science, ethics, diplomacy, engineering, health, and a regard for global citizenship that it is hard to imagine a situation in which they do not touch nearly every aspect of an educational program." In order to become effective leaders, it is imperative that we are trained at BU to specifically address the most pressing issues of our time.
While climate change is one of the greatest threats facing humanity today, it also presents the greatest opportunity for positive action. The Task Force Climate Action Plan proposes three possible abatement scenarios—BU GOOD, BU BETTER, and BU BOLD; the report recommends the implementation of the most ambitious of the three—BU BOLD. BU has a clear opportunity for direct and positive action through the implementation of BU BOLD. Under the BU BOLD scenario, the University will achieve carbon neutrality by 2040. The plan is rightly named—it is bold and trailblazing and will place BU at the forefront of climate change institutional action through our own emissions reductions and through outstanding climate change research and scholarship.
Our great city has emerged as a leader in the fight for climate change solutions, and BU BOLD will place our institution in a position of continued and enhanced leadership within the city. Boston aims for carbon neutrality by 2050; BU BOLD will have the University there by 2040. As an employer, our institution is among the largest in Boston. As an educational institution, we aim to improve the fabric of this city and the global enterprise through our pedagogy. And as an educator of health care professionals, we aim to achieve the healthiest urban population in the world. We are already recognized for our thought leadership across many disciplines and for the profound opportunities we provide our students and our city.
But to great leaders with great opportunity comes great responsibility. And we have a responsibility to lead action on climate change. Through implementation of BU BOLD, we have the opportunity to establish ourselves as one the greatest leaders in the fight for climate change solutions and to inspire other institutions and individuals that they can do the same.
Boston University's mission statement emphasizes that we are reflective, we are resourceful, and we are able to live, adapt, and lead in this ever more interconnected world. As evidenced by the outpouring of enthusiastic support for BU BOLD from students, faculty, and staff, it is clear that we are ready to do just that—lead. We call on the Board of Trustees to reflect on this opportunity and let us be great by choosing to be bold.
Lindsey Butler (SPH'19) can be reached at ljbutler@bu.edu. Nayan Sanjiv (MED'21) can be reached at nsanjiv@bu.edu. They are members of the BU Medical Campus Climate Action Group.
"POV" is an opinion page that provides timely commentaries from students, faculty, and staff on a variety of issues: on-campus, local, state, national, or international. Anyone interested in submitting a piece, which should be about 700 words long, should contact Rich Barlow at barlowr@bu.edu. BU Today reserves the right to reject or edit submissions. The views expressed are solely those of the author and are not intended to represent the views of Boston University.