Trustee Gives $10 Million to Redirect Fight against Prostate Cancer
Shipley Foundation gift will fund research in personalized medicine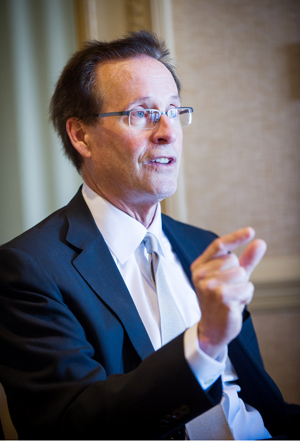 Each year, more than 100,000 men diagnosed with prostate cancer in the United States undergo a prostatectomy, a surgical procedure that can leave them with temporary—or occasionally permanent—sexual dysfunction or incontinence.
It's "Dark Ages" medicine, says Richard C. Shipley (Questrom'68,'72), who was diagnosed with prostate cancer in 2014 and eventually sought out a new, less invasive treatment, called focal laser ablation. The successful technology investor and former CEO wants to see such humane, high-tech treatment become the norm for all men with prostate cancer. To help that happen, the Boston University trustee is giving the BU School of Medicine (MED) $10.5 million to create a prostate cancer research center on the Medical Campus and a website with information about treatment options.
"There are options, good options, that men don't hear about," says Shipley, "and I want to get that message out."
The Shipley Prostate Cancer Research Center will focus on personalized medicine, finding genomic approaches to better determine which cancers are aggressive and need to be removed or radiated and which can be dealt with less aggressively, eliminating unnecessary treatment with devastating side effects.
"Research can provide a paradigm shift in how we diagnose and treat prostate cancer," says Avrum Spira, director of the BU/Boston Medical Center Cancer Center. "There is a new, broader vision for what we can accomplish in prostate and other cancers in terms of precision genomic medicine." Spira (ENG'02), the Alexander Graham Bell Professor in Health Care Entrepreneurship and a MED professor of medicine, pathology, and laboratory medicine and of bioinformatics, is a lung cancer specialist. He created a successful genomic test for early diagnosis of lung cancer, and believes prostate cancer could yield a similar outcome.
When Shipley learned that he had high PSA (prostate-specific antigen) levels, which can indicate cancer, he chose to have a closer examination by a powerful 3T magnetic scanner, a procedure that is less invasive than the common course of blind biopsies. Such biopsies take many cores of the prostate without knowing if there are any lesions. And when lesions were found in Shipley's case, he chose to have them treated with laser ablation, which is far less damaging than a prostatectomy. Shipley, who compares his chosen treatment to lumpectomy versus radical mastectomy for women with breast cancer, learned of these new treatments not from the usual medical sources, he says, but by using "Dr. Google."
In most cases, says Spira, "we biopsy a prostate, look under the microscope, and unfortunately, we often don't know what to do next because it's often a low-grade lesion." He says it's almost always impossible to distinguish an "indolent" and essentially harmless form of the cancer from a form that may become aggressive and needs immediate attention.
Such uncertainty leads to overtreatment and damage to quality of life. Although statistics vary widely, and outcomes depend on the surgeon and on surgical technique, anywhere from 30 percent to 70 percent of men will have erectile problems in the long term after prostatectomy. Urinary incontinence affects a smaller, but still significant number of men.
Shipley hopes that the Shipley Center website, offering accurate, impartial information about alternatives in plain English, will become a resource for patients and a hub for scientific exchange on the disease.
"We are all very excited about this gift, which will catalyze research around determining the optimal treatment for a specific patient," says Karen Antman, dean of MED and provost of the Medical Campus.
She says that $1.5 million of the gift, plus a $500,000 contribution from BU, will go toward building the Shipley Center labs in existing space on the Medical Campus. The gift, which comes through the Shipley Foundation, allots $400,000 a year for 15 years to fund research projects, such as developing genetic tests to determine the threat posed by lesions or blood or urine tests to screen high-risk individuals. Antman estimates that, with support staff, the center will comprise 20 to 30 people, and continue to grow as pilot grants lead to additional federal and industry funding.
Shipley's gift will also create an endowed professorship designated as "at any rank"—full, associate, or assistant professor—to allow BU to choose the candidate most at the forefront of the research. Antman says that researcher could start as early as January 2017.
A community engagement group, with men who are either in a high-risk group or are already diagnosed with prostate cancer, will be organized at the center as well. The group will meet at least quarterly to provide a patient perspective on issues and procedures related to the disease.
Shipley, of Sanibel, Fla., is the founder of Shiprock Capital, a private equity firm investing in early- and expansion-state technology companies. Previously, he was president and CEO of Shipley Company, LLC, a firm founded by his parents in 1957, which became a world leader in electronic materials and
 process technology development.
Prior gifts from Shipley to BU are $2.5 million in 2008 to endow the Richard C. Shipley Professorship in Management at the Questrom School of Business and $4 million in 2013 to endow the Beverly A. Brown Professorship for the Improvement of Urban Health. He is chairman and a founding fellow of the University's William Fairfield Warren Society.