Quirkiness Steals the Show
Cameras, MacBooks awarded at 36th Redstone Film Festival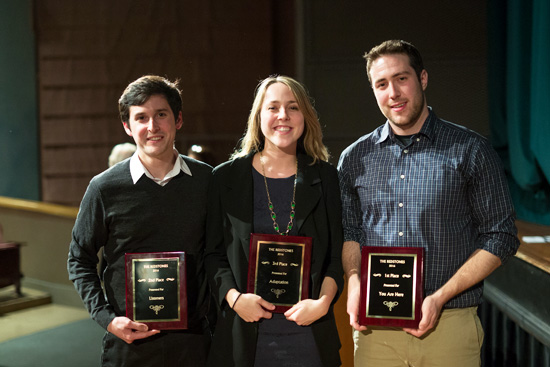 You Are Here, a sweet, quirky film about sneaking inside a mall to live in a model RV, took first place as well as two other prizes at the 36th annual Redstone Film Festival Friday night. Directed by Wes Palmer (COM'16), the film easily garnered the greatest applause of the evening.
"It's such an honor to just be selected and involved in the process," says Palmer, whose first place film also won best editing and best screenplay, sending him home with Canon camera equipment, Avid editing software, and a MacBook Pro. Friday night was the first time the film had been screened to an audience other than faculty, friends, and family. Many of them had contributed to the film's Kickstarter campaign, which raised more than $6,600 to produce the film.
Second place, best sound design, and best cinematography went to Listeners, a futuristic sci-fi story about the efforts of two friends to combat the government's use of mind reading, directed Sara X. Robin (COM'15). Because Robin is in Tanzania, producer Joseph Dwyer (COM'14) picked up the second place prize of Canon camera equipment and ProTools sound editing software. Emily Sheehan (COM'15), who made Adaptation, a documentary that explores the process of the ancient Chinese art of batique, or tie-dye, and its place in today's world, was the third place winner and received Canon camera equipment.
Festival coordinator Jan Egleson, a College of Communication associate professor of the practice of film and television, said that he couldn't recall two films sweeping the major awards before.
The Redstone Film Festival, sponsored by Sumner Redstone (Hon.'94), chairman emeritus of CBS and Viacom, showcases films and screenplays created by undergraduate and graduate students in a COM film, television, or video production class or as a graduate thesis project.
This year's six finalists were first chosen by a committee of production, screenwriting, and film-studies graduates. The final judges consisted of a panel of film industry professionals: filmmaker, casting associate, and actress Maura Smith (COM'13), cinematographer Paul Goldsmith, and actor, director, and producer Lewis Wheeler.
Other festival finalists were Dan Behar (COM'16), whose mockumentary-style film Jump is about competitive jump roping; Tara Kavanaugh (COM'16), who directed More, the story of a young woman struggling with relationship boundaries; and Anneliese Scheck (COM'15), whose film Postal features a mailman who falls in love with a woman with agoraphobia, an anxiety disorder that can cause panic attacks and social withdrawal.
The annual $5,000 Adrienne Shelly Production Grant went to Melissa Bennett (COM'16) for her screenplay Butterflies, about a girl who develops post-traumatic stress disorder (PTSD) after surviving a mass shooting. "I suffer from anxiety, and like with depression and other mental health problems, people think they understand, but they often don't. I hope my film can help with that," said Bennett, who had just wrapped up two weeks of production on Butterflies in North Carolina. The award is given to a female filmmaker by the Adrienne Shelly Foundation in honor of producer, writer, and actress Shelly (COM'87), best known for her film The Waitress. (A musical adaptation of the film starring Tony-winner Jessie Mueller opens next month on Broadway.) Shelly was murdered in her New York City apartment in 2006.
The winners of the Fleder-Rosenberg short screenplay contest, sponsored by screenwriters Gary Fleder (COM'85) and Scott Rosenberg (COM'85), were also announced at the festival. First prize of $1,500 went to Lucy Gamades (COM'17) for We Need to Talk; second prize of $1,000 was awarded to Laura Mendelzon (COM'17) for All for a Few Weeks with a View; and third prize of $750 was won by Claire Jennings (COM'18, CAS'18), for Uno, Due, Tre.
A Redstone festival will be held in Los Angeles on April 7.