Robert Lowell Memorial Poetry Reading: Rita Dove
Pulitzer winner and former poet laureate tonight's headliner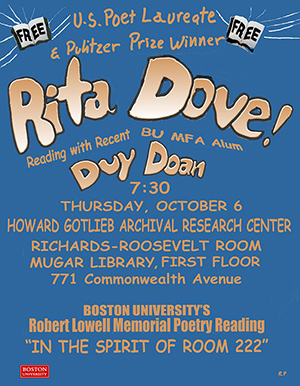 From the moment she learned to read, Rita Dove knew she wanted to be a poet.
"I was writing poems from the time I could write," says Dove. "That's where I became most alive, but it wasn't until college that I realized I could become a poet. That is, that I could carve out an existence as a poet and that poets were living creatures who walked the earth instead of just a name on a book."
Born in Akron, Ohio, Dove graduated high school as a Presidential Scholar and earned a bachelor's at Miami University. She held a Fulbright scholarship from Eberhard Karls University, Tübingen, Germany, and later received an MFA from the University of Iowa's Iowa Writers' Workshop.
Today, she is one of the nation's most celebrated poets. She won the 1987 Pulitzer Prize for Poetry for her collection Thomas and Beulah, inspired by her maternal grandparents. She is the first African American to be named US poet laureate, a post she held from 1993 to 1995.
Dove's work is often grounded in historical events, such as the civil rights movement (On the Bus with Rosa Parks), the career of little-known biracial violinist George Polgreen Bridgetower (Sonata Mulattica), or the 1927 massacre of thousands of immigrant Haitian cane-cutters at the hands of Dominican Republic dictator Rafael Trujillo ("Parsley" from her collection Museum). Her poems also draw on her own life: the collection American Smooth was inspired by her passion for ballroom dancing. Similarly, her love of music (she plays the cello and viola da gamba and is an accomplished singer) informs much of her work. "I feel that if a poem doesn't have its own cage of sound, it really isn't a poem," says Dove.
In the New York Times review of her most recent book, Collected Poems: 1974–2004 (W.W. Norton & Company, 2016), Dwight Garner writes that "to read the poems of Rita Dove, to go where they take you, is to follow her deeply into a series of themes and their subsets: African Americans in history and right now, ideas of indenture and independence, sex, travel, language, family, motherhood, roomy adult love, and whatever is coming out of the radio… Ms. Dove's poems have earthiness, originality, power, and range." The LA Times calls the collection "an absolutely astounding body of work."
Tonight, Dove will read from Collected Poems: 1974–2004 at this fall's Robert Lowell Memorial Poetry Reading at Mugar Memorial Library. She says she also plans to read from assorted new poems. The collection was just named a fianlist earlier  in the poetry category for this year's National Book Awards, one of the nation's most prestigious literary prizes.
"Rita is sensitive to historical, cultural, and political matters like race and racism, and her response to those matters is often penetrating, because it is expressed in and through particular people and their stories," says three-time US poet laureate Robert Pinsky, a College of Arts & Sciences professor of English.
"My belief is that poetry comes from life itself," Dove says. "I could be walking down the street and hear someone humming a song and wonder why they are humming that song, what inspired them to start humming that at that particular moment, and before long, I've given them a backstory and actually started to imitate the rhythm of that particular tune. Or I could be driving along the West Virginia Turnpike and stop at a welcome center and discover that there is a marble contest or tournament in a little town on the Ohio River, and suddenly, I wonder how marbles are made. And the poem may not be about marbles in the end, but it might be about the idea of the cool smoothness of a marble's curve."
For Dove, "every poem happens in a different way. I sometimes start in the middle of a poem with a phrase or at the end, and I will work on several poems at once." A firm believer in revision (she often writes 20 or 30 drafts before she feels comfortable with a poem), she says that her poems "exist in a fragmentary state for quite a long time—that is, bits and pieces scattered in various colored folders—when they finally begin to coalesce, I can complete several poems in just a few days." She writes by hand at first, because, she says, she needs "that physical feeling of the pen against the page" before turning to a computer for revisions.
Dove is also an editor, a novelist, an essayist, a short story writer, a playwright, and a lyricist—she collaborated with Oscar-winning composer John Williams (Hon.'85) on the song cycle Seven for Luck. Each genre, she says, presents its own difficult challenges. "Just because I love to write poetry doesn't mean that it's the easiest discipline for me," she says. "It's just the one genre in which I can truly revel in the language, down to the silences between syllables."
Joining Dove at tonight's reading is Creative Writing Program alum Duy Doan (GRS'10), the director of the Favorite Poem Project, which was started by Pinsky when he was poet laureate and is housed at BU. Doan's work has appeared in Slate, the Cortland Review, and elsewhere.
Growing up as a first-generation Vietnamese American in a large family in Texas, Doan's poems focus largely on the subject of loss. "I'm deeply afraid that it's possible to lose something and never be able to regain it," he says.
Like Dove, he finds inspiration in many places: art, movies (the Hong Kong filmmaker Wong Kar-wai is a particular favorite), and music have all been muses, as has soccer. "My favorite soccer players are Lionel Messi and Zinedine Zidane—beautiful players," Doan says. "I watch the same soccer goals over and over again for the beauty, skill, technique, creativity, and the emotions of the celebrations. I'm always moved by sublime creativity and technique."
"Duy Doan's poetry, full of quick, rich, and unexpected images, has a marvelous specificity of language and observation," says Pinsky. "His writing about love, about growing up in Texas, about soccer is infused with his awareness of Vietnamese culture and language. He approaches that material freshly, with a poignance and detail, often with laughter as well as tears, with a grace far beyond the clichés of identity."
Doan acknowledges that he's more nervous about introducing Dove at tonight's reading than he is of reading his own poems. "It's one thing to be reading with a great poet; it's another to be reading with a great poet whose work means a lot to you. For me, she has everything I look for in a poet: spiritual insight and skill, both in abundance."
The Robert Lowell Memorial Poetry Reading, with Rita Dove and Duy Doan (GRS'10), is tonight, Thursday, October 6, at Mugar Memorial Library's Richards-Roosevelt Room, 771 Commonwealth Ave., first floor, at 7:30 p.m. The event, presented by BU's Creative Writing Program and cohosted by the Howard Gotlieb Archival Research Center, is free and open to the public. A book-signing and reception follow.
The Robert Lowell Memorial Poetry Reading series is funded by Nancy Livington (COM'69) and her husband, Fred M. Levin, through the Shenson Foundation, in memory of Ben and A. Jess Shenson.