Jennifer Haigh Reads Tonight at the Castle
Best-selling writer is this year's Ha Jin Visiting Lecturer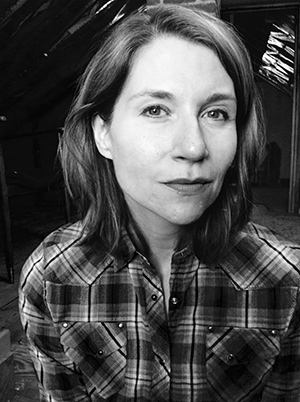 The coal country of western Pennsylvania has long held sway over Jennifer Haigh's imagination. The prize-winning novelist and short story writer grew up in the small town of Barnesboro, Pa. By the time she was born, the boom years of coal mining were over, good union jobs replaced by hard times.
Haigh introduced readers to the fictional town of Bakerton, Pa., a composite of her hometown and surrounding communities, in her 2005 novel Baker Towers, which chronicles the town's rise and fall in the years following World War II. Bakerton was also the setting for her 2013 short story collection News from Heaven.
The novelist returns once more to the fictional coal town in her latest novel, Heat & Light (HarperCollins, 2016), about how gas drilling divides the community, with some residents vociferously opposed to fracking and others eager to sign on, hoping for a financial windfall. The sprawling novel examines the drilling controversy from several points of view. It took five years to complete, and Haigh says it wound up being a much different novel than she had anticipated.
"At the outset, I thought I was simply writing a book about fracking," she says. "I came to see that the fracking story was just the latest chapter in this much larger story of energy. So I found myself needing to learn about all the facets of Pennsylvania as an energy state."
Haigh writes with great empathy about a community that has seen more than its share of boom and bust and about working-class people who find themselves on the outskirts of the American dream. She refuses to take sides in the debate over the merits of fracking, instead allowing her characters to present nuanced perspectives. And she writes with great feeling about the land itself.
"More than most places, Pennsylvania is what lies beneath," one character observes late in the novel. "Accidents of geology, larger than history, older than scripture: continents colliding, seas encroaching and receding, peat bogs incubating their treasures like a vast subterranean kiln."
As this year's Ha Jin Visiting Lecturer, Haigh will read from Heat & Light tonight at the Castle. The annual event is sponsored by the Creative Writing Program. Jin, a College of Arts & Sciences professor of creative writing and program director, is a winner of the National Book Award, among many others. He says that book by book, Haigh "has grown stronger and more ambitious. Her most recent novel, Heat & Light, demonstrates her extraordinary skill and vision. Steadily she is becoming a major novelist of her generation."
Janet Maslin writes in her New York Times review of Heat & Light: "Ms. Haigh is an expertly nuanced storyteller long overdue for major attention. Her work is gripping, real, and totally immersive, akin to that of writers as different as Richard Price, Richard Ford, and Richard Russo. They are part of the stellar literary lineup of her admirers. With this book, she moves one big step closer to being in their league."
Haigh, who won the PEN/Hemingway Award for her first novel, Mrs. Kimble, spoke with BU Today from Shanghai, where she has just completed a two-month fellowship, about the prodigious research she undertook to write Heat & Light, why she returns again and again to the fictional town of Bakerton, and the challenges of writing.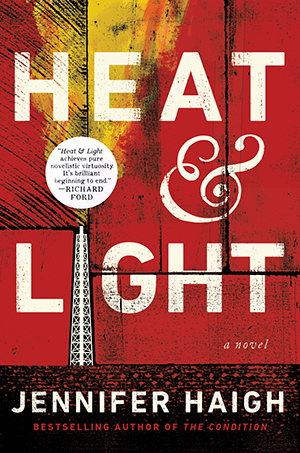 BU Today: How did the idea for Heat & Light come about?
Haigh: I had written the first Bakerton book, Baker Towers, about 10 years ago, and that story had to do with the rise and fall of a coal mining town. And it had a natural end point: the decline of the mines. And after I wrote that book, I thought, okay, I did it, I've always wanted to tell the story of this place, now I've done it, I can move to something else, and I did. But to my surprise, I found I wasn't finished with that town, and I ended up writing this collection of short stories about what life was like there after the mines failed and the town sort of lost its raison d'être and had to reinvent itself. Then I thought, okay, for sure I'm done with this town, because nothing else is ever going to happen here. And that seemed to be true for a while, and then the gas boom came along. And it really was this kind of surprise third act, where a place that everybody had given up for dead and it seemed that nothing was ever going to happen in that town, and then something did. And it was just too good a story not to write.
You've said that you do your best research by talking to people. Is that true for this book?
Yes, it is. I knew so little about fracking when I started working on it that in order to make it comprehensible to a reader, I had to first make it comprehensible to myself, and I came at the subject as a total novice and had to ask a lot of really dumb questions. That's where my research process began. I talked to a lot of guys who work on drill rigs. I talked to geologists. I talked to environmental activists. I talked to landowners who had leased their mineral rights and landowners who had refused to lease their mineral rights, and that's really how it became this large-scale book with a complicated structure.
I found that to write about this sort of complex subject matter, I needed many different point-of-view characters to do justice to it. I started out writing from the perspective of the landowner trying to decide whether to lease his mineral rights, and I found that I couldn't tell the whole story from that point of view, because there were so many other sides to it. I needed to look at the perspective of somebody who works in the industry, I needed to look at the perspective of somebody who's opposed to fracking and is politically engaged. As I went, I kept adding more point-of-view characters because it was necessary to do justice to the entire subject.
What kind of challenges did that hand you?
It was like being trapped in a fun house. I really don't recommend it. It was a very disorganized writing process. I usually work in a more linear way. What I found with this story was that I would start with a point-of-view character and that would lead me in a direction I didn't expect to go, and I would add another character and that would lead me in another direction I didn't expect to go. So it was very suspenseful for me, because I really had no idea where it was going for most of the writing process.
You write with enormous empathy about these characters. There are no villains here. Does that empathy come naturally to you as a writer?
I think of writing fiction like reading fiction, as an act of extreme empathy. Really, that is what you're doing when you're reading a novel. It's as close as you can ever come to inhabiting another person's consciousness, and I think that my desire to write that way comes out of a kind of greed. It seems to me that the central human tragedy—and this is universal—is that we only get one life. And it's my acute awareness of that that leads me to write fiction, because I want to steal more lives, I want to inhabit more people's lives, and I want to know what it is like to be a priest, to be the CEO of a gas company, to be a coal miner, to be all the different characters I have written. I kind of want to steal their lives. It's like being a vampire in a way.
You've been quoted as saying: "I hate writing beginnings and I hate writing endings." Can you talk about both of those challenges?
Well actually, it's the same hatred. I hate writing endings because I hate writing beginnings. When I finish writing a novel, I know that I will very soon not have that novel to write and I'll have to begin something else. Beginning to me is terrifying. It seems like a magic trick every time, that making something out of nothing. It defies the laws of physics. And I'm always convinced I'll never be able to do it again. So, it's really my fear of starting that makes me not enjoy finishing a novel, which you would think would be exhilarating. It is not for me. It fills me with despair.
You've written novels and a short story collection. Do you know at the outset whether it's going to be a short story or a novel?
I know right from the beginning. I've never mistaken a novel for a story or a story for a novel. They're just different beasts. For me a short story is centered on an episode and even though some of my stories jump ahead in time or travel back in time, they're still concerned with this episode and its consequences. A novel has an entirely different causality. It's a much more complicated thing.
To me, a novel begins with the moment after nothing will ever be the same. Heat & Light is about a town transformed by gas drilling—the fracking controversy—and how it plays out in people's lives.
Do you prefer writing short stories to novels?
I love both and struggle with both. When I'm writing a novel, I miss stories. When I'm writing stories, I long to be deep in a novel. Getting a story exactly right is as great a satisfaction as I have ever experienced, but because I hate both starting and finishing, I'm happier—and saner—when I'm working on a novel. My favorite part of novel-writing is the long boring middle, years two and three, when the phone never rings and my editor has forgotten I'm alive.
You occasionally teach in BU's Creative Writing Program. What advice do you have for aspiring writers?
I think the most important thing you do as a writer is to read with purpose. You know, as a writer you're reading in a kind of surgical way. The best way to understand how a novel or story is made is to pull one apart and examine its components and see how they fit together. I feel this is how I taught myself how to write novels, and I think it is the best way to learn how to write novels. You find those novels that humble you with their greatness, and then you try to pull them apart and look at how they're made. Those novels will be different for every writer. Every writer could probably identify for you the 5 or 10 novels that elicit that response for him. And you find what those novels are, and you pull them apart and look at them in kind of a mechanical way. I mean, a novel is a machine.
Do you still read reviews of your work?
I do read them. I don't have the self-control not to. I have a writer friend who claims that he never reads his reviews. I think he's lying. I think most writers can't resist. Whether good or bad, it is so gratifying to be read with that kind of deep attention. As a writer, you are alone with your subject for years, it is the most important thing in your life, and it is completely a figment of your imagination. So when it finally does come out into the world and the reader takes the time to read it with deep attention, that's very seductive to the writer. I can't resist reading reviews.
Have you started something new yet or are you still in the gestation period?
I have the beginnings of what I think is a novel. It's another Boston novel. Although I have put it down temporarily while in China. It seems counterintuitive to write about Boston from Shanghai. Boston will be there when I go back, so I've been actually writing a story set here in Shanghai and that's been lovely.
Jennifer Haigh, this year's Ha Jin Visiting Lecturer, will read from her latest novel, Heat & Light, tonight, Wednesday, November 9, at 8 p.m. at the Castle, 225 Bay State Rd. The event is free and open to the public and will be preceded by a reception at 7:30 p.m. The reading will be followed by a Q&A and a book signing.
The Ha Jin Visiting Lecture series, made possible by a gift from BU trustee Robert J. Hildreth, brings internationally renowned fiction writers to BU to teach master classes and give public lectures. The series is named for award-winning novelist Ha Jin, a CAS professor of creative writing, who attended the Creative Writing Program.