Two CAS Scholars Win Respected Fellowships
Sweden and California beckon for Litvin, Blower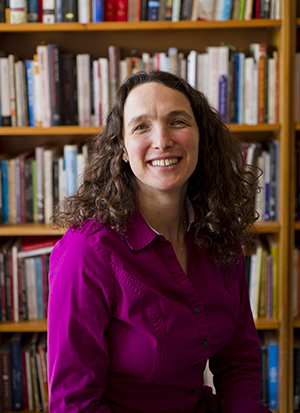 Margaret Litvin came to the United States from Russia as a child with her family, yet her academic research never intersected with her personal heritage until she was researching her 2011 book on Arabic adaptations of Hamlet, titled Hamlet's Arab Journey: Shakespeare's Prince and Nasser's Ghost. The admiration that Arabic writers had for Russian and Soviet literature and art caught her eye.
"It was funny for me to see my Arab interlocutors mention some of the same plays and movies that had been important to my parents back in 1960s and 1970s Moscow," recalls Litvin, a College of Arts & Sciences associate professor and director of the Middle East and North Africa program at the Pardee School of Global Studies. "I started asking why." Her findings will be the topic of her next book, tentatively titled Another East: Arab Writers, Moscow Dreams, and they've already earned Litvin a year in Sweden.
She'll spend the 2015–2016 academic year at the Swedish Collegium for Advanced Study, courtesy of a $75,000 fellowship from the American Council of Learned Societies (ACLS). The ACLS also awarded the same fellowship to Brooke Blower, a CAS associate professor of history, who will spend the next academic year at Stanford's Center for Advanced Studies in the Behavioral Sciences, researching World War II and the millions of American non-soldiers on six continents who participated in some way. ("More Casablanca World War II and less Saving Private Ryan," Blower says of her subject.)
New York City–based ACLS is a nonprofit group of scholarly organizations that promotes humanities and social science research. It awarded the BU duo its Frederick Burkhardt Residential Fellowships for Recently Tenured Scholars, given to promote boundary-pushing scholarly projects by recipients "in the crucial years immediately following the granting of tenure." Blower and Litvin were among 23 winners of ACLS fellowships.
"These are among the most prestigious fellowships scholars in the humanities and related social sciences can win," says Dean of Arts & Sciences Virginia Sapiro. "That Boston University faculty captured 2 of the 23 awards granted this year is testimony both to the quality of these excellent faculty, and also to the strength and support of the humanities at BU."
Matthew Goldfeder, ACLS director of fellowship programs, says the opportunity to spend an academic year in residence at a national residential research center provides fellows with "the opportunity to reach more broadly across disciplines and expand the significance of their research for the humanities and social sciences."
Blower, whose project also will result in a book, Hidden Fronts: New American Histories of World War II, concedes that the scholarship-saturated Second World War seemed "a preposterous subject to take on." Yet she found that earlier research was limited to three themes: battlefront accounts, social and political developments at home during the war, and studies of wartime leaders. "When you start tracing the paths of noncombatants," she says, "you begin to see that there are whole dimensions to the American war experience that historians have not thought about in enough depth."
Those topics—"from air routes between South America and Africa to radio networks linking the United States to Java and Australia—can tell us a lot about how key the war was for Americans as they articulated new global roles for themselves," which became the foundations of globalization, Blower says. "Time to devote to this work and get close to finishing this book manuscript will be priceless."

Litvin has long been interested in "how writers and artists choose their influences from among all the models and sources that world culture makes available to them," she says. "This award will support my research, but I expect it to feed back into my teaching and program design work as well." She directs BU's Middle East and North African Studies program. "The way we do regional studies is changing, and needs to change more, to recognize unexpected connections between different parts of the world. Just because Russia and the Arab world might be studied under different centers or programs doesn't mean students shouldn't look at both and think about how they're related."